Enhancing Community Resilience through Energy Efficiency
Enhancing Community Resilience through Energy Efficiency, produced by the American Council for an Energy-Efficient Economy, evaluates the effectiveness of energy efficiency as a resiliency strategy. This report aims to aid local governments, businesses, and community decision makers in assessing risk, and integrating energy efficiency into resilience planning.
The report defines risk as a function of the hazards a community faces, the community's vulnerability to the effects of those hazards, and its capacity to withstand those effects. Resilience is defined as a community's reduction of and preparation for risk. The report emphasizes that it is impossible for communities to eliminate all risk, and therefore resilience is a continuous process. Climate change is described as a potential risk amplifier. Within the energy sector, climate change interruptions can have cascading effects. For example if a region experiences a power outage due to high demand for energy on a hot day, a water utility without a backup power source may not be able to provide water to residents who need it.
The report argues that prioritizing energy efficiency can improve the resilience across systems. It discusses in detail the various types of resilience benefits associated with the following energy efficiency measures: combined heat and power(CHP), microgrids, transportation alternatives, district energy systems, utility energy efficiency programs, green infrastructure, cool roofs and surfaces, and transit-oriented development.  A simplified summary of the benefits is presented in Table ES2.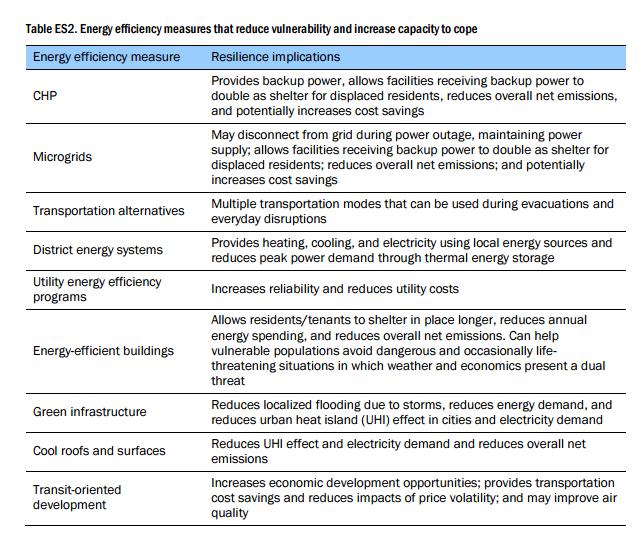 The report provides guidance for local governments looking to incorporate energy efficiency into their community's resilience planning by examining current efforts made by local governments of varying size.  It provides examples of cities that initiated their own planning processes, as done in Boston, San Francisco, and New York. The report also recognizes that not all communities can go at this alone, and provides examples of places that are leveraging federal programs such as the Sustainable Communities Initiative grant program. For energy resiliency, the report suggests that energy assurance plans (EAPs) are an effective way to plan for climate change, and have been used by cities like Denver and Portland. Hazard mitigation plans and partnerships with utilities are other promising avenues.
The report also offers a few potential indicators for assessing the resilience of energy systems, including the reliability of the system, the existence of programs to reduce system peak, the percentage of critical facilities served by distributed energy, and access to public transit.
While many local governments are committed to resiliency, the report states that their commitment continues to undervalue the benefit of energy efficiency. The report urges communities of all sizes to adopt energy efficiency as a core resilience strategy because of its ability to provide reliable energy, and reduce a community's vulnerability to climate change impacts.
Publication Date: October 2015
Authors or Affiliated Users:
David Ribeiro
Eric Mackres
Brendon Baatz
Rachel Cluett
Michael Jarrett
Meegan Kelly
Shruti Vaidyanathan
Related Organizations:
American Council for an Energy Efficient Economy (ACEEE)
Sectors:
Resource Category:
Resource Types:
Impacts: