EPA Drought Response and Recovery Guide for Water Utilities
This guide from the U.S. Environmental Protection Agency (EPA) provides practical solutions to help drinking water utilities respond to and recover from drought -  although it is not intended to serve as regulatory guidance. The interactive, user-friendly guide provides worksheets, best practices, videos and key resources for managing drought emergencies and building long-term resilience. It also relays lessons learned and case studies for seven small- to medium-sized utilities nationwide that have faced extreme drought conditions.
The guide contains four main sections: 
• Staffing, response plans and funding
• Water supply and demand management
• Communication and partnerships
• Case studies and videos
Each section provides explicit detail and advice for both before and after a drought, and includes best practices and related examples of successful implementation.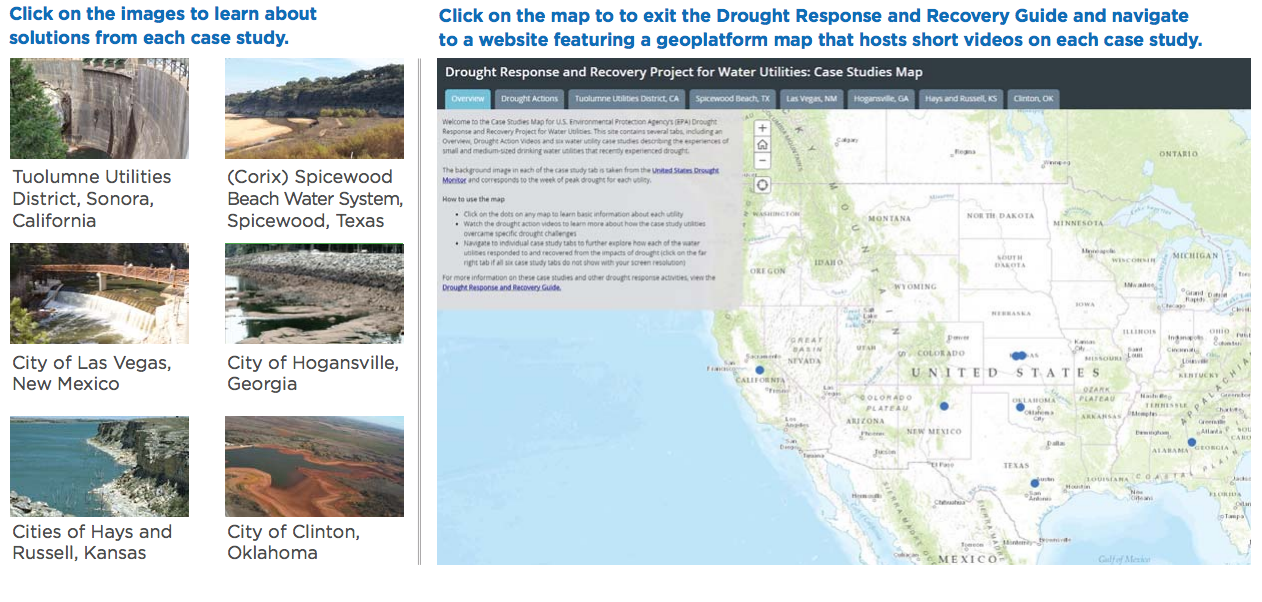 The 'Case Studies and Videos' section showcases seven diverse utilities in California, Texas, Georgia, New Mexico, Kansas, and Oklahoma that were challenged by drought impacts, and how they were able to successfully respond to and recover from drought. Their best practices and real-world examples are referenced throughout the guide. The Case Studies and Videos section will link you to the "Drought Response and Recovery Project for Water Utilities: Case Studies Map." This website features a GeoPlatform map that hosts short videos on each case study.
The case studies map and videos GeoPlatform also features three additional videos describing how utilities addressed specific drought challenges, on the topics of: 
- Reducing customer demand;
- Managing water supplies; and
- Partnerships.
Publication Date: March 10, 2016
Related Organizations:
Sectors:
Resource Category:
Resource Types:
Best practice
Case study
Planning guides
Tool (general)
Impacts: