FEMA: How to Prepare for a Wildfire
This wildfire safety brief from the Federal Emergency Management Agency (FEMA) offers strategies to help protect yourself before, during, and after a wildfire. It also reviews how to protect your property -  describing construction and fire-resistant materials, as well as creating landscaping zones designed for defensible space and reducing flammable vegetation.
Protect yourself before a wildfire 
Protecting yourself in advance of fire is described as having sources for information, preparing your home or workplace, developing an emergency communications plan, and knowing what to do when a wildfire is approaching your home or community.
Strategies are discussed on staying informed, knowing your evacuation routes, and planning  transportation and a place to stay. The brief describes how to practice: communication with family members, how to use an ABC-type fire extinguisher, fire prevention, and first aid skills and emergency response actions through training classes.
Protect yourself during a wildfire
This section describes the "Five Ps of Evacuation": People, Prescriptions, Papers, Personal Needs, and Priceless Items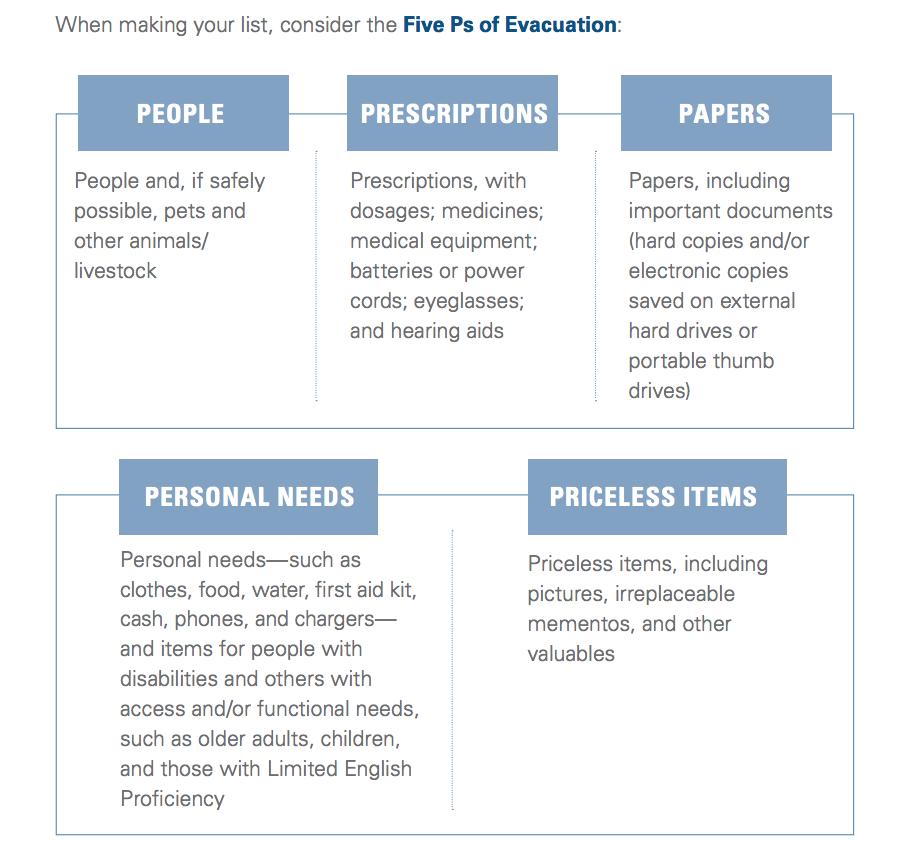 Also, strategies are offered for what to do if you are trapped in your home or a vehicle.
Protect yourself after a wildfire
This section describes how to determine or create safe conditions inside and outside of the home after a wildfire strikes. Other strategies are discussed for: Communications; Health and sanitation concerns - such as burns, smoke infused food, and the water source; Care for loved ones - to look for signs of depression; and Insurance coverage. 
For a full list of supplies for an emergency supply kit, visit https://www.ready.gov/build-a-kit
Related Organizations:
Sectors:
Resource Category:
Resource Types:
Education/training materials
Impacts: