Forest Resilience Bond - Fighting Fire with Finance
Blue Forest Conservation is developing the Forest Resilience Bond (FRB) to monetize the benefits of forest restoration for climate resilience. Similar to an Environmental Impact Bond or sustainable infrastructure financing, the FRB is a public-private partnership that deploys private capital to support climate resilient national forests. The FRB creates value for a diverse set of stakeholders or beneficiaries of healthy forests - including the U.S. Forest Service (USFS), water and electric utilities, private water-dependent companies, state governments, and insurance companies.
The report provides a thorough investigation of the FRB, opening with an overview of the need for forest restoration, the demand for investment in forest health, and the market for conservation finance. Restoration measures improve forest health for greater resilience to climate impacts - decreasing the risk of severe wildfire while protecting air quality, water supply, rural communities, and habitat. Climate resilience increases the economic value of USFS forests, and supports an array of other beneficiaries such as water and electric utilities that rely on watersheds located within public forest land for water supply and hydroelectricity generation, for example.   
The primary sources of capital for FRB projects are derived from monetizing water, fire, and other ecosystem services created by forest restoration activities. The FRB is built on a flexible, scalable, low-cost financial structure that can be customized to meet the needs of stakeholders and investors. Beneficiaries make cost-share and pay-for-success payments over time (up to 10 years) to provide investors competitive returns based on the project's success. The FRB is based on three main components:
measuring of benefits conferred by restoration activities (also known as ecosystem services),

contracting to convert benefits into payments from beneficiaries, and

financial structuring to turn beneficiary payments into cash flows for investors.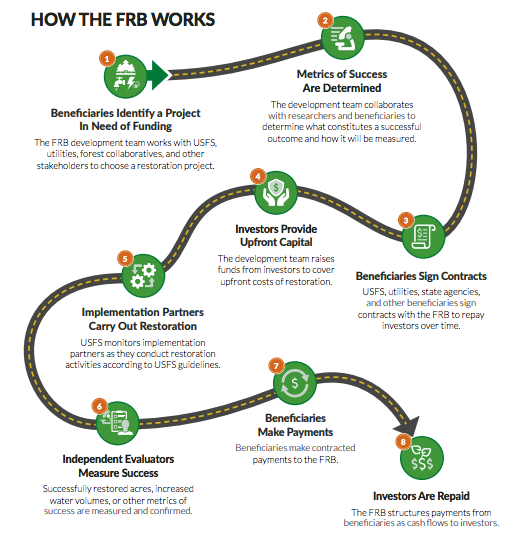 Part II of the report explains how the FRB enables the supply of investor capital to meet the demand for forest restoration. Potential approaches to measuring the ecosystem services and other impacts of forest restoration are detailed, along with how such benefits provide value to stakeholders - and how these benefits will be monetized through contracts with beneficiaries. Instead of relying exclusively on market-rate capital, diverse capital sources are prescribed including grant capital in the early stages of concept development, followed by concessionary funding such as program-related investments to validate new models through pilot projects. Ultimately, market-rate capital can play the integral role of replicating and scaling natural infrastructure investments such as the Forest Resilience Bond.
Blue Forest Conservation is collaborating with a number of organizations to help bring the Forest Resilience Bond to market including Encourage Capital, the World Resources Institute, the U.S. Forest Service, the Sierra Nevada Conservancy, the American Forest Foundation, the U.S. Endowment for Forestry and Communities, the Sierra Nevada Research Institute, Natural Capital Project, and the National Forest Foundation.
Publication Date: 2017
Related Organizations:
Blue Forest Conservation
Encourage Capital
Sectors:
Resource Category:
Resource Types:
Best practice
Funding program
Impacts:
Precipitation changes
Wildfires