Getting Ahead of the Curve: Corporate Strategies that Address Climate Change
This report provides a "how to" guide and six detailed case studies to assist companies in developing a strategy to mitigate climate change related risk. The report also offers perspective on corporate views on greenhouse gas (GHG) regulation, government assistance for technology advancement, and other business related policy issues. Findings are the result of research and best practices from 31 corporations surveyed by the Pew Center on Global Climate Change (now the Center for Energy and Climate Solutions or C2ES).
The six case studies describe leading multinational corporations that have developed and implemented strategies to address climate change, including Cinergy, Swiss Re, Dupont, Alcoa, the Shell Group and Whirlpool. Each of these companies have successfully implemented and integrated climate change programs within their organizations. The case studies describe how they have conducted external outreach on climate change to increase consumer awareness and demand, how these corporations have collaborated with external organizations like NGO's to increase the effectiveness of their climate strategies, and outlines key climate challenges these corporations face going forward.
The report explains how a company can prepare a climate change strategy in eight highly detailed steps, grouped into three stages (Develop a Climate Strategy; Focus Inward; and Focus Outward). These 8 steps illustrated in the report along with case studies and actionable strategies include:
Assessing emissions and exposure to climate-related risks,
Gauging risks and opportunities,
Evaluating action options,
Setting goals and targets,
Developing financial mechanisms,
Engaging the organization,
Formulating policy strategy, and
Managing external relationships.
For example, under the 4th step - Setting goals and targets - the report describes three overarching drivers which emerged from the survey: cost savings, social responsibility, and reputation. "These drivers are linked by a common desire to ensure the long-term success of the organization," and are discussed in more detail.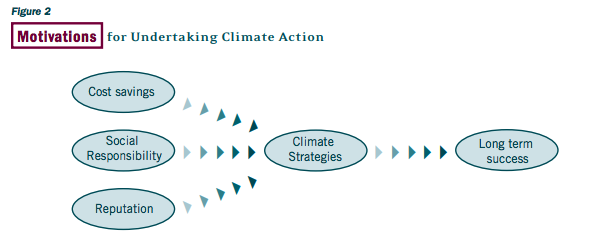 Publication Date: October 2006
Author or Affiliated User:
Related Organizations:
Sectors:
Resource Category:
Resource Types:
Impacts: