Guide to Public-Private Collaboration on City Climate Resilience Planning
This guide is designed to be a first step for city leaders and planners to be able to promote public-private collaboration on city climate resilience planning in their communities. Based on years of research conducted by the Center for Climate and Energy Solutions (C2ES) on resilience planning in the private sector, the report reviews common themes that emerged about the value cities and businesses find in working together, and provides recommendations to city resilience planners for how they can begin to cooperate with the private sector. The report notes that local governments and the business community already interact regularly in a collaborative way, and, in many cases, these climate adaptation strategies may be simple extensions of existing efforts, or reflect actions that city resilience planners already intend to take. 
C2ES conducted a one year pilot study with four U.S. cities which explored best practices for engaging businesses on city climate resilience planning. The pilot study found that both the public and private sector have common interests and needs, notably, both suffer when climate change affects infrastructure, power and water supplies, and public health. The private sector therefore has a vested interest in public sector action to drive community resilience, and collaboration makes commercial sense to business enterprises. The pilot study also found that as the public and private sector have distinct but complementary strengths, collaboration can enhance climate resilience planning through common interests.
The Report recommends 13 actions for city planners to drive private sector collaboration on climate resilience planning (see Table ES-1 on page 10). These actions are organized in accordance with five key insights on city-business collaboration:
Resilience planning is an extension of existing programs and partnerships:

 cities use existing offices and communication channels with business to collaborate on climate resilience planning.

Businesses respond to city leadership:

 businesses are more likely to act if climate resilience planning is prioritized by local government.

Businesses respond to data

: businesses are more likely to collaborate on climate change if the city has data to show the impact of climate threats to their operations.

Business is not a monolith:

 businesses are varied, and cities should acknowledge that different businesses have distinct needs. Cities should therefore modify their approach to collaboration based on the business in question.

Innovative financing can help promote collaboration

: businesses are more likely to participate in climate resilience planning when it is clear the city is committed to exploring all options for financing the steps in the climate resilience plan.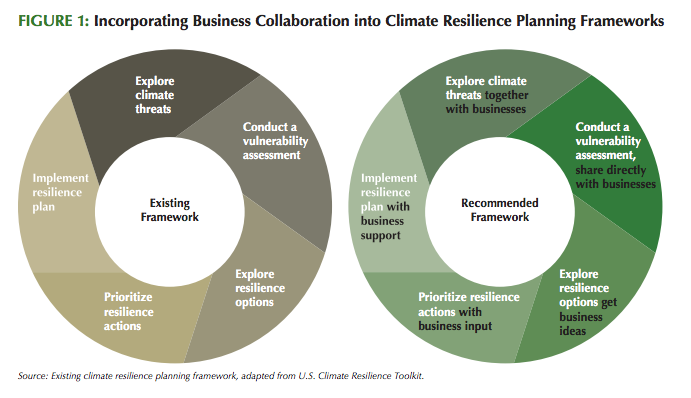 Publication Date: May 2017
Authors or Affiliated Users:
Ashley Lawson
Janet Peace
Related Organizations:
Sectors:
Resource Category:
Resource Types:
Policy analysis/recommendations