Lac du Flambeau Climate Change Resilience Initiative
The Lac du Flambeau Band of Lake Superior Chippewa (Ojibwe) Indians have developed the Climate Change Resilience Initiative incorporating traditional knowledge and western science to better understand how the land, waters, species and resources have been and will be affected by climate change. The Initiative is built around the greater goal of protecting minobimadiziiwin (culture and way of life) and the economy of the Waswagoning (Lac du Flambeau) community for the next seven generations.
Four climate related plans were developed by the Lac du Flambeau including an Energy Reduction Plan, Hazard Mitigation Plan, Climate Change Vulnerability Assessment, and a Climate Change Adaptation Plan. The Tribe designed the plans and initiative through an integrated community  engagement effort to identify the tribe's priorities and concerns; assess vulnerability; plan for action; and design an implementation process.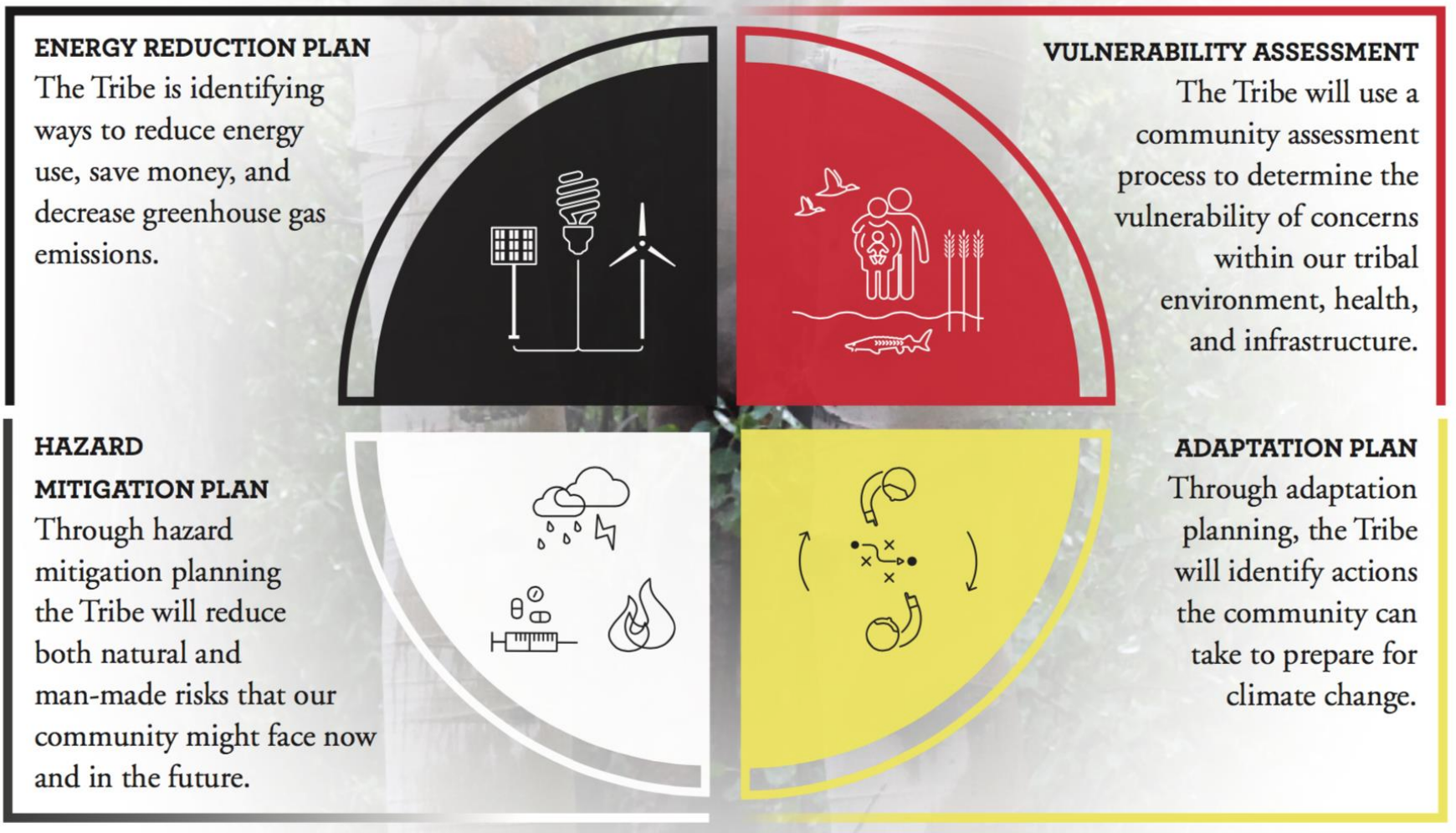 In building the Adaptation Plan, the tribe has identified hundreds of actions to respond to both natural and man-made impacts on three focal areas of Natural Resources, Community and Public Health, and Infrastructure. 
Natural Resources
20 individual species across four natural resource species groups of Trees and Plants, Fish and Amphibians, Birds and Bees, and Mammals.are included in the Climate Resilience Initiative. The 20 species were chosen through a consensus building process which consideration of the cultural significance for each, whether it was a Clan species, or if it was an indicator species. The Tribe assessed the vulnerability of each using a the Climate Change Vulnerability Index tool developed by NatureServe. All 20 priority species - such as black bear, snowshoe hare, walleye, great blue heron, sugar maple tree and wild rice - are profiled with results of their assessment. Key characteristics such as projected climate impacts on: Dispersal and Movement Ability, Temperature Range, Hydrologic Changes and Phenology (biological timing) are described for each, and Featured Adaptation Actions are given alongside these vulnerabilities.
For example, some of the high priority adaptation strategies for wild rice - long held sacred by Ojibwe - include to:
Manage water levels in wild rice beds to assist with dispersal of wild rice seeds using techniques such as draining, damming, or otherwise adjusting flows

Test and incorporate Traditional Ecological Knowledge into wild rice management practices

Expand wild rice lake monitoring to new areas
Public Health
Four public health issue areas are included in the Climate Resilience Initiative, with climate vulnerabilities and adaptation actions identified in the Adaptation Plan for:
Extreme Heat (including Heat Waves) Impacts on Elders and Youth

Increases in Vector-Borne Diseases

Mental Health Impacts from the Loss of Natural Resources (due to Climate Change)

Increases in Allergies, especially for Elders and Youth.

Using a community-driven assessment process, the Tribe identified the relative vulnerability of each of the Community & Public Health issue areas, and found that "Mental Health has a low vulnerability ranking as compared to other issues. In large part, the Tribe feels that they have demonstrated their resilience in the face of many changes over generations."
Extreme heat is a serious concern as mid-century projections in a "business-as-usual" climate scenario indicates up to 5.3 degrees F average increase in annual temperatures, and increased and more variable precipitation.
Infrastructure
Four infrastructure issue areas are addressed:
Wildfire Affecting Homes and Buildings

Severe Thunderstorm Impacts Affecting Run-Off

Flooding Affecting Homes and Buildings

Flooding Affecting the Water Treatment Plant
Each infrastructure issue area was assessed through an inclusive process, using both outside Western research, and local and traditional knowledges. The Initiative website offers Adaptation Actions for each of the Infrastructure categories in the Adaptation Plan. For example, for Wildfire the following are shared: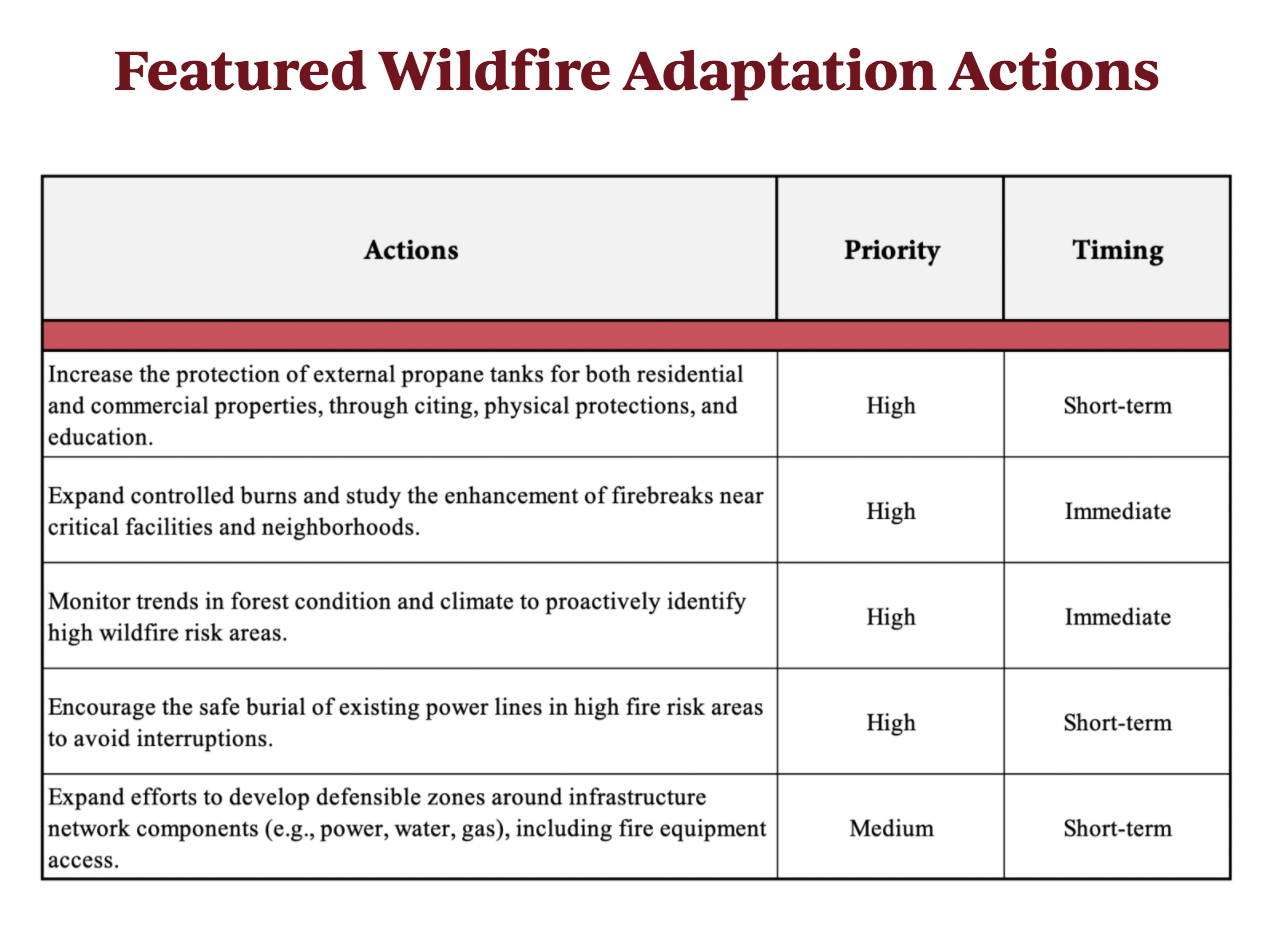 Fourteen initial Adaptation Actions for Implementation of the Climate Change Resilience Plan were identified that have will support each of the primary issue areas. For example, some of the high priority Adaptation Actions for Phase 1 Implementation include to:
Monitor vegetation changes in the watershed through ground cover surveys

Invest in green infrastructure to help control runoff, capture stormwater, and support water supply

Expand community education on ways to avoid vector-borne diseases, especially for youth and elders.
Adaptation International was the lead consultant on the Climate Resilience Initiative, and GLISA led the efforts to summarize climate projections for the region. ICLEI led development of the Energy Reduction Plan, including making recommendations for energy reductions for the Tribe, and Bullock & Haddow led the Hazard Mitigation Planning efforts, providing guidance to the Tribe throughout the process.
Related Organizations:
Lac du Flambeau Band of Lake Superior Chippewa (Ojibwe) Indians
Bullock & Haddow
Sectors:
Resource Category:
Resource Types:
Adaptation plan
Assessment
Plans (other)
States Affected: