Neighborhoods First Engagement Model
This training tool, while not focused on climate change adaptation specifically, offers useful insights into community engagement at the neighborhood level. It describes what is called the "Neighborhoods First Engagement Model" (NFEM), a resident-led method of creating positive community change. This model encourages widespread participation in advocating for a better quality of life in all neighborhoods and improving communications among neighborhood groups, community development organizations, city officials, institutions and businesses. It is intended to be used primarily by volunteer neighborhood organizations or neighborhood-based community development organizations. This document walks users through guiding principles, a suite of strategies and tools, and a mapping activity based on a scenario experienced by the Eastside Community Network.
| | |
| --- | --- |
| | REFLECT ON YOUR PLANNING PROCESS AND THINK THROUGH OPPORTUNITIES TO GIVE RESIDENTS A LARGER ROLE. |
The guidebook explains that most neighborhood plans or strategies tend to be top-down, created by government, corporations, or institutions. It advocates for new methods that reorients decision-making power to prioritize residents, with government and technical support in that process. This is done by giving residents the opportunities to learn about core issues, create collective projects, and organize to make them a reality.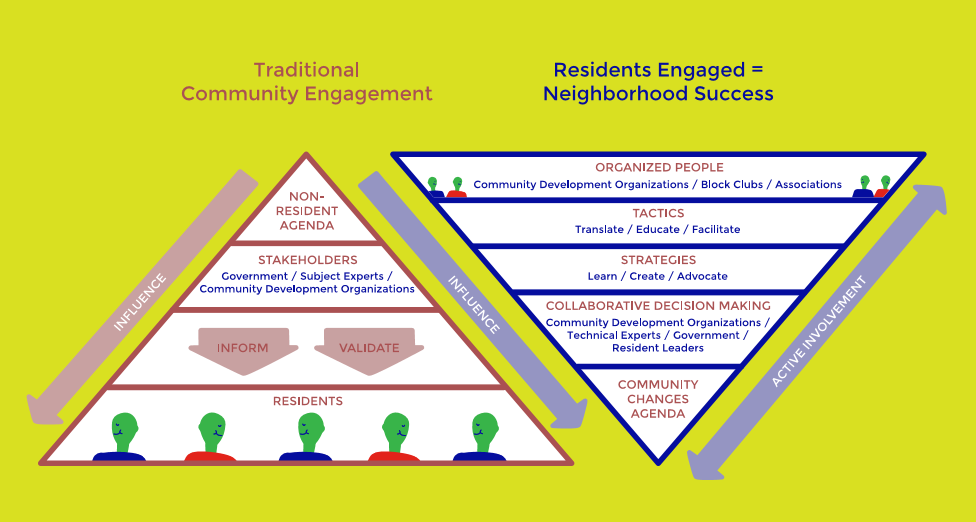 To accomplish the NFEM strategies, the document outlines three primary tactics:
Translate: Create a shared language that is accessible to everyone

Educate: Welcome mutual learning and open information sharing

Facilitate: Nurture conversations and bring diverse perspectives together in safe spaces
The guidebook also offers tools on who should be involved in neighborhood-based processes and how they can be brought to the table.
In the "tools" chapter, the report briefly describes methods for  pursuing community education, building relationships, and fostering leadership and community change. The guidebook also offers a scenario that can be used for a group exercise. The scenario describes changes to a city's Housing and Urban Development Consolidated Plan governing spending through a Community Development Block Grant. After offering an example roadmap of responses to the scenario, users are able to create their own roadmap.

Publication Date: April 2016
Related Organizations:
Eastside Community Network
Sectors:
Resource Category:
Resource Types:
Education/training materials
Engagement