Professional Societies and Climate Change
This report provides an analysis of how urban-focused professional societies are integrating  climate change into their member engagement activities. The results indicate that most urban-focused professional societies in the United States are working to educate their members on climate change issues, but few have adopted a holistic approach that includes adaptation, mitigation and the explicit consideration of social justice.
The report relies on publicly available materials and follow-up interviewers with professional societies. The researchers included a diverse set of 41 professional societies operating at the local level that play a significant role in building resilience, including: architects (such as the American Institute of Architects for example), builders and developers, medical professionals, elected officials and city/county managers, emergency management professionals, engineers, planners, public works officials, social advocates, transportation officials, and water resource professionals (such as the American Water Works Association).
Examples of key themes include:
The need for stories of adaptation or mitigation from peers in an actionable format

Sustainability and disaster preparedness/resilience are common frames

Adaptation/resilience is an easier sell to members than mitigation

Federal action (top-down) and public demand (bottom-up) are both needed to activate members

Millennials and progressive members are often drivers of climate and sustainability work

Collaboration is essential

Competing priorities and limited capacity are limiting factors for action

Professional societies are hungry for metrics

Those focused on social equity tend to be weak on climate change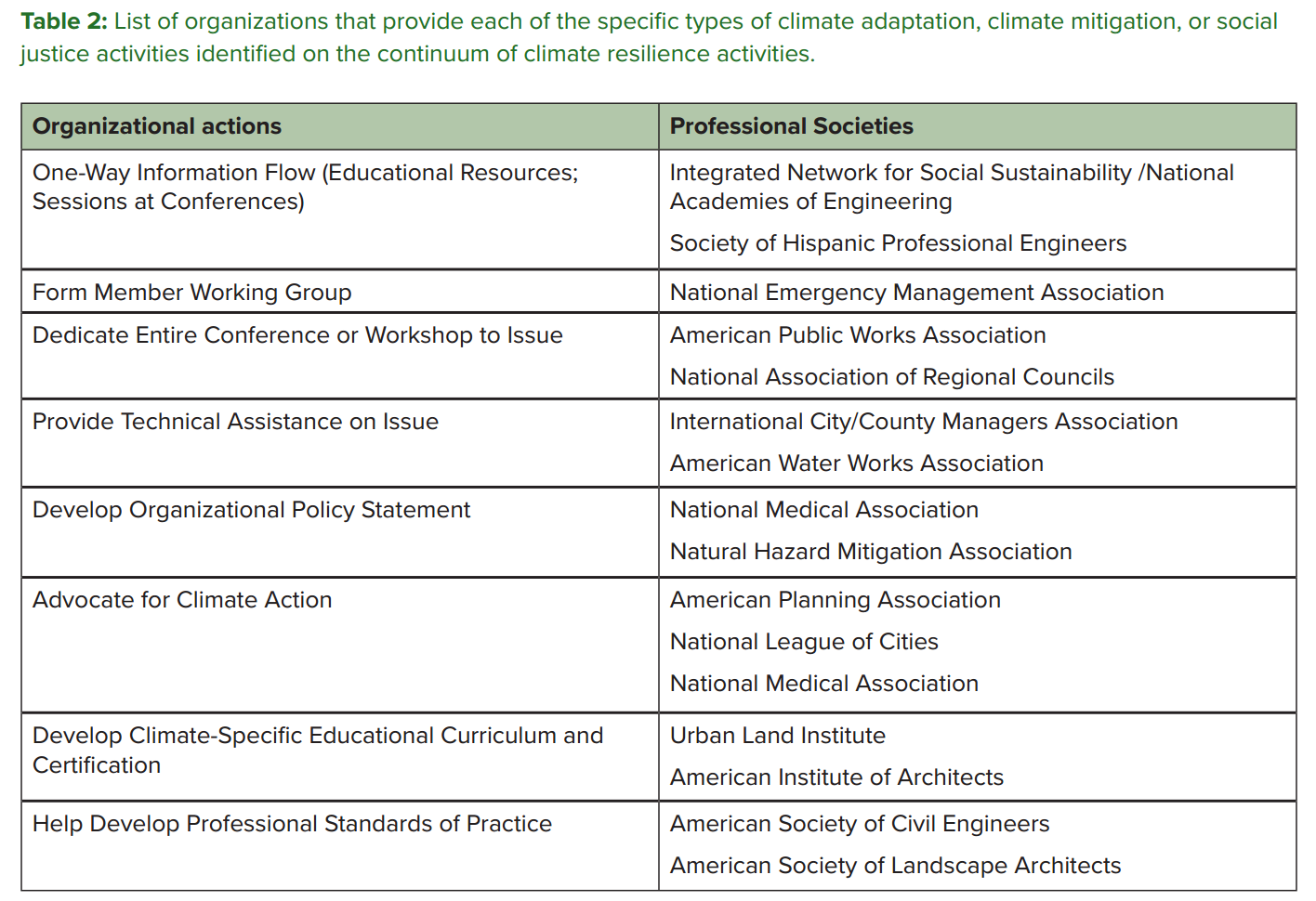 The report concludes with the following recommendations to mainstream climate change and social justice into the operations and engagement strategies of professional societies whose members are key urban stakeholders:
Unite social justice and climate change organizations

Disseminate stories, especially those from members and in short, digestible formats

Survey membership to assess knowledge, activities, and needs

Invest in peer networking and a learning network
The report includes organizational profiles for 15 professional societies, the majority of which have strong climate change engagement and examples of activities relating to mitigation, adaptation, and social justice.
Publication Date: January 2017
Authors or Affiliated Users:
Related Organizations:
Sectors:
Resource Category:
Resource Types:
Academic research paper
Communication