Resilience, Equity, and Innovation: The City Accelerator Guide to Urban Infrastructure Finance
The City Accelerator Guide offers tools and processes for city governments seeking to finance capital infrastructure projects that address climate resilience and social equity issues. The strategies in this guide offer tested methods for incorporating long-term resilience and equity into the capital planning process. Cross-disciplinary teams from four cities - including Pittsburgh, PA; San Francisco, CA; Washington, D.C.; and Saint Paul, MN - worked together to develop innovative finance strategies. The best practices and challenges experienced by this cohort of cities inform the suggestions offered, and can help other cities develop comprehensive, diverse, resilient, and inclusive capital plans.
Methodologies to incorporate resiliency measures into the capital planning process are presented in Chapter 3. The guide encourages the rethinking of the conventional model of infrastructure performance to consider long-term resilience and the service the infrastructure provides. For example by:
Expanding the scope of project analysis to include operations and maintenance (O&M); applying life cycle cost and resilience analyses to all projects (typically included in alternative procurement arrangements such as Public-Private Partnerships), regardless of the financing option chosen; and using asset inventories to predict future O&M costs and needs.

Seeking diverse funding streams to avoid deferred maintenance that, over time, can lead to degraded service and less funding for maintenance

Outcomes-based-financing, or "pay-for-success" financing, for infrastructure projects in which impact investors get repaid only if desired social goals and outcomes are produced. This type of financing allows governments and non-profits to try innovative technologies and approaches while transferring the financial risk to the private sector.

Centralizing information on city-owned land and capital assets; and seeking ways for individual departments or agencies that manage city-owned assets to benefit from revenue generation of those assets to incentivize use of surplus property.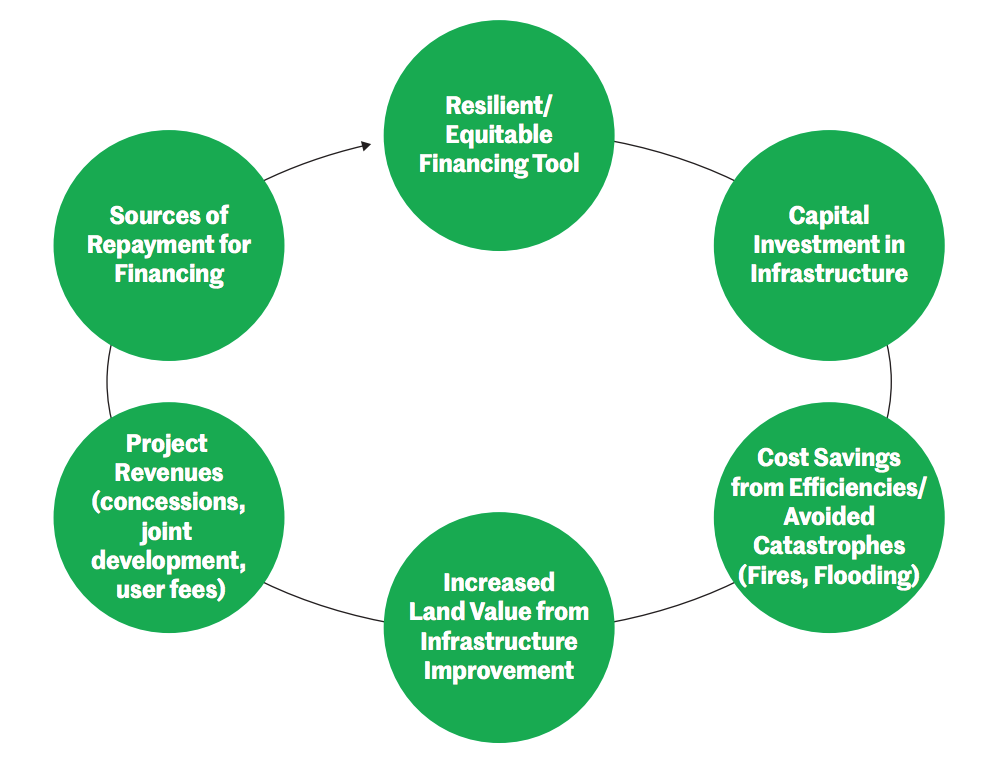 The guide includes a framework for developing a comprehensive financial strategy for individual projects in four primary steps: 
Framing

- A focus on building an inclusive, equitable, responsive, and resilient vision for the project, including consideration of long-term operation and maintenance of infrastructure.

Exploring

- Types of funding and revenue sources are reviewed to help identify appropriate and diverse revenue and finance options and tools. Alternative delivery models are also discussed such as Public-Private Partnerships and Nonprofit-Public Partnerships. The Appendices offer further details on select revenue and financial tools as well as alternative project delivery models.

Screenin

g - To narrow down finance options by identifying short- and long- term project risks and gathering data.

Implementation

- Staging finance options in a logical and feasible order to ensure funds are available when needed; best practices and challenges are also presented.
Examples from cities across the country are provided throughout the report. In particular, four city governments - Pittsburgh, San Francisco, Washington, D.C. and Saint Paul - joined the City Accelerator's Infrastructure Finance Cohort assigning cross-departmental teams to a peer-learning exploration of best practices and new ways of financing capital projects that incorporate resiliency and equity considerations. Common themes emerged from the different projects of this cohort, including tips to focus on revenue and stakeholder engagement; to consider the long-term costs and maintenance and the services provided by the infrastructure; to reach out to other city counterparts; and to allow staff to invest their time in project innovation through an inclusive, multidisciplinary process that can benefit many projects into the future.
 

"Cities don't have to choose between fixing ailing infrastructure, building resilience, or mending inequity; these issues are inherently linked."

This report includes a full chapter on addressing equity in the capital planning process. It discusses the inequities built up in part by historical infrastructure development practices and credit policies, and presents tools for addressing economic and racial equity.  In particular, this section encourages the use of the visual tool "Framework for Long-term, Whole-system, Equity Based Reflection" (FLOWER) developed by Climate Interactive, to consider co-benefits of any given strategy and how they are distributed within the community. FLOWER looks at six types of co-benefits: 1) health, well-being, and safety; 2) food and water; 3) jobs and assets; 4) resilience to extreme events; 5) energy industry and mobility; and 6) connection to the environment and human communities. Also discussed are workforce development plans, mobilization funds, Community Land Trusts, and tax credits for Community Development Entities.

The Appendices offer an overview of many Selected Revenue Tools (grants, direct user fees, value capture options, general taxes); Selected Financial Tools (bonds, and equity investment tools); and Selected Alternative Product Delivery Methods (surplus land development and swaps, commercializing government owned assets, and urban wealth funds).  
Publication Date: November 2017
Author or Affiliated User:
Related Organizations:
Sectors:
Resource Category:
Resource Types:
Impacts: