Resource Guide for Planning, Designing and Implementing Green Infrastructure in Parks
This Resource Guide provides basic principles and innovations in green stormwater infrastructure in support of implementation into parks and park systems nationwide. Written as a starting point for planners, designers, and decision-makers, the guide provides a design and management framework for integrating these green practices into park design, construction and maintenance. The report also offers quantifiable water quality benefits from green infrastructure, best practices in adaptation, and encourages integrated social equity goals.   
The National Recreation and Park Association provides guidance in this report for conducting park assessments and pre-planning, including how to determine feasibility of employing green stormwater infrastructure given existing resources. They suggest including green stormwater infrastructure in a new park development or redevelopment project at the earliest planning stage in order to significantly reduce the total cost of planning and installation.
Implementing green infrastructure can have environmental and economic value, social equity benefits, and revitalize communities. However, the NRPA warns that "creating new high performance public spaces by adding green infrastructure elements is not without social and economic impacts. In some cases, such infrastructure can contribute to environmental gentrification."

Some of the existing best practices in parks as described in the report focus on social equity. The Site Design best practice, to Design for Equity and Inclusivity, includes strategies such as to:

Develop and incorporate levels of service standards that encourage equitable access to parks when siting projects.

Accommodate as many ages, abilities, activity levels, and amenities as possible given site constraints; plan for a diversity of uses and users, according to community needs.

Use equitable employment practices. Make efforts to recruit and hire parks and recreation employees that reflect the demographics of the communities in which they work.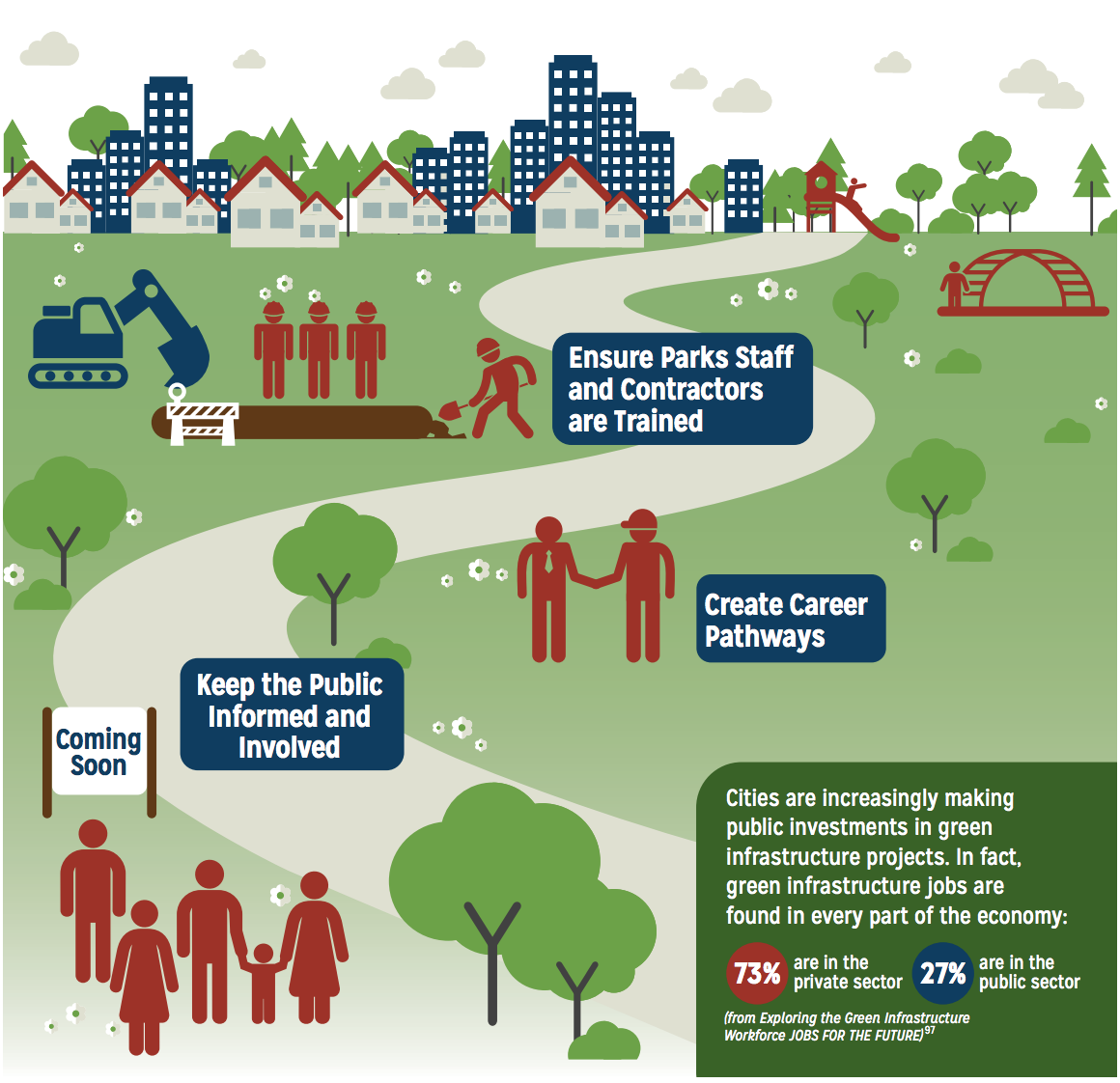 The final section – Best Practices – provides model examples of the design, construction, and maintenance of green stormwater infrastructure in parks through a collection of best practices from across the U.S. These green stormwater infrastructure practices are best utilized in a system-wide approach. Existing, implemented best practices are detailed for Site Design, Site Construction, and Site Maintenance and Operation.  For example, best practice topics discussed for Site Design include to:
Involve a multi-disciplinary team

Listen to and empower the community

Understand and communicate the benefits

Design for equity and inclusivity

Establish a demonstration project

Support public health

Plan for connectivity and accessibility

Ensure designs are biddable and buildable
Publication Date: December 2017
Related Organizations:
National Recreation and Park Association
Sectors:
Resource Category:
Resource Types:
Best practice
Planning guides
Impacts: