Safe haven in the storm: Protecting lives and margins with climate-smart health care
Climate-smart health care as described in this report addresses how hospitals and health systems can prepare for climate change and its implications for public health, with a focus on extreme weather events. The costs for hospitals and care facilities associated with lack of preparation for these events - including severe storms, flooding, extreme temperatures, wildfires - are discussed in detail. The report also describes the benefits of preparedness, how "smart executives can take action," and provides case studies of adaptation to extreme events in the health sector.
The first section gives an overview of the costs that can occur during extreme weather events, as related to: disruption in operations and supply chain; increased costs for operating and supplies; and reduced revenue due to reduced demand (outside of emergency treatment), lower rates of reimbursement (increased rate of uninsured etc.). Here's a portion of the graphic on associated costs: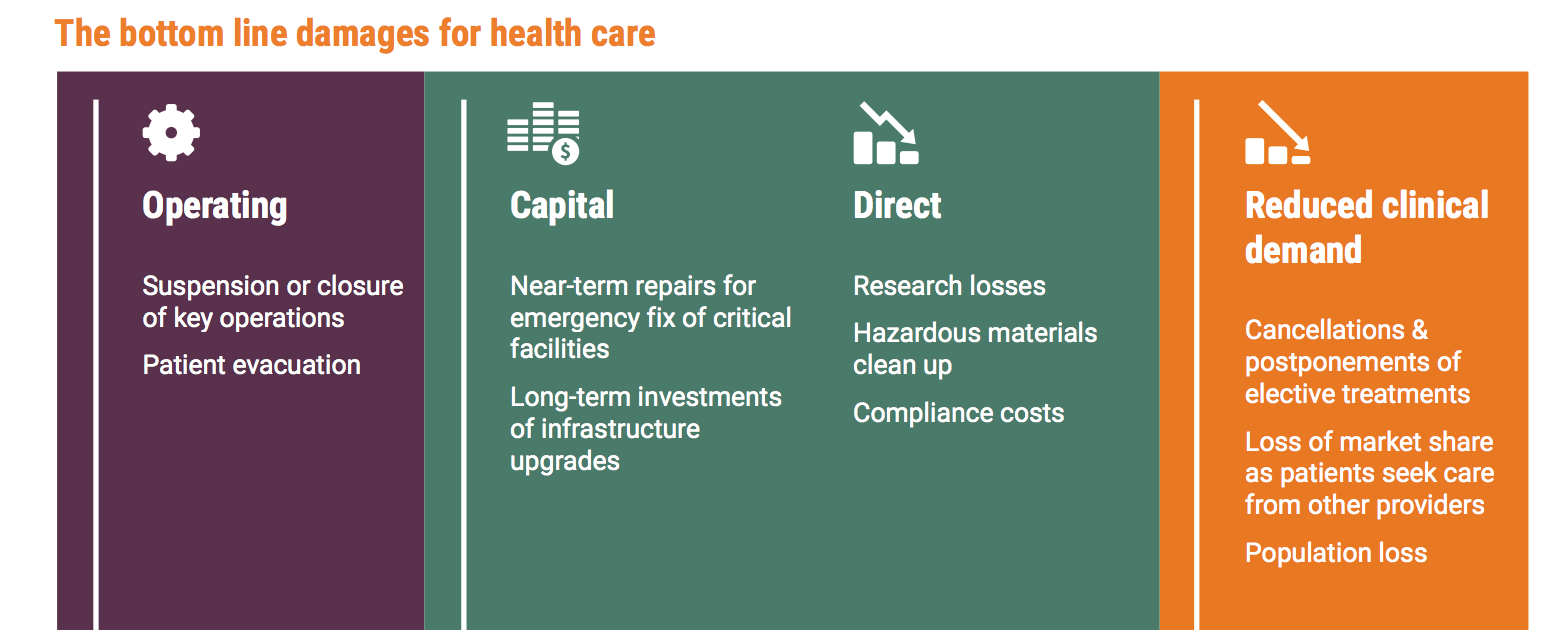 Section Two: The Benefits of Preparedness describes how risk management and investments in climate resiliency support health systems for four reasons:
ROI and risk management - For example, relatively small investments in hazard management can significantly reduce the costs incurred during an extreme weather event.

Fiduciary responsibility - Resiliency planning is required in many jurisdictions; as well as financial impact assessments can reduce liability and improve chances for, and amounts of, reimbursement.

Enhanced reputation - Systems that respond well in catastrophic conditions boost the brand, differentiate from peers, and improve staff loyalty and recruitment.

Coverage stability - Hospitals in resilient communities have fewer un/underinsured patients and their costs are more predictable.
Case studies illustrate these unanticipated extreme weather events on hospitals, and the difference preparedness can make:
NYU Langone's struggle with Sandy and its aftermath

Mercy Joplin reels after the deadliest tornado to occur in the US since 1947 (2011)

Resilience measures that pay for themselves at Partners HealthCare

Successful storm proofing at Texas Medical Center

Wildfire – a growing risk to health care
The paper ends with a discussion on "How smart executives can take action" including four key strategies of: managing extreme weather events, reducing emissions, investing in community health and resilience, and becoming a leader on policy. Implementing climate resilience and preparedness in health systems becomes a public policy issue as federal, state, and municipal actions largely determine what changes can be made to institutional and community infrastructure. 
Publication Date: January 2017
Related Organizations:
Sectors:
Resource Category:
Resource Types:
Impacts: