Status and Progress in Engaging Communities of Color to Advance Resilience to Climate Change: Experience of 15 U.S. Cities
From the Texas Health Institute and the Joint Center for Political and Economic Studies, this report documents a study of the progress made by major U.S. cities in engaging vulnerable communities of color in climate change planning and adaptation. A large variation was found in cities across the country, and lessons learned of the most socially equitable and progressive adaptation planning strategies are shared. The report offers community level "bottom-up" engagement strategies to inform national, state, and local policies and programs on socially equitable climate change planning.
The cities analyzed for this study include: Atlanta, GA; Baltimore, MD; Boston, MA; Chicago, IL; Cleveland, OH; Dallas, TX; Denver, CO; Detroit, MI; Las Vegas, NV; Miami, FL; New York, NY; Oakland, CA; Philadelphia, PA; Phoenix, AZ; and Sacramento, CA. Each city is profiled with a comprehensive Overview of Climate Change Planning, and Emerging Programs and Lessons for Building Community Resilience. Basic demographics, climate impacts, and climate policies are outlined also.
Among the 15 cities, climate change related policies and programs with implications for vulnerable populations - and in particular, low-income and people of color - were identified.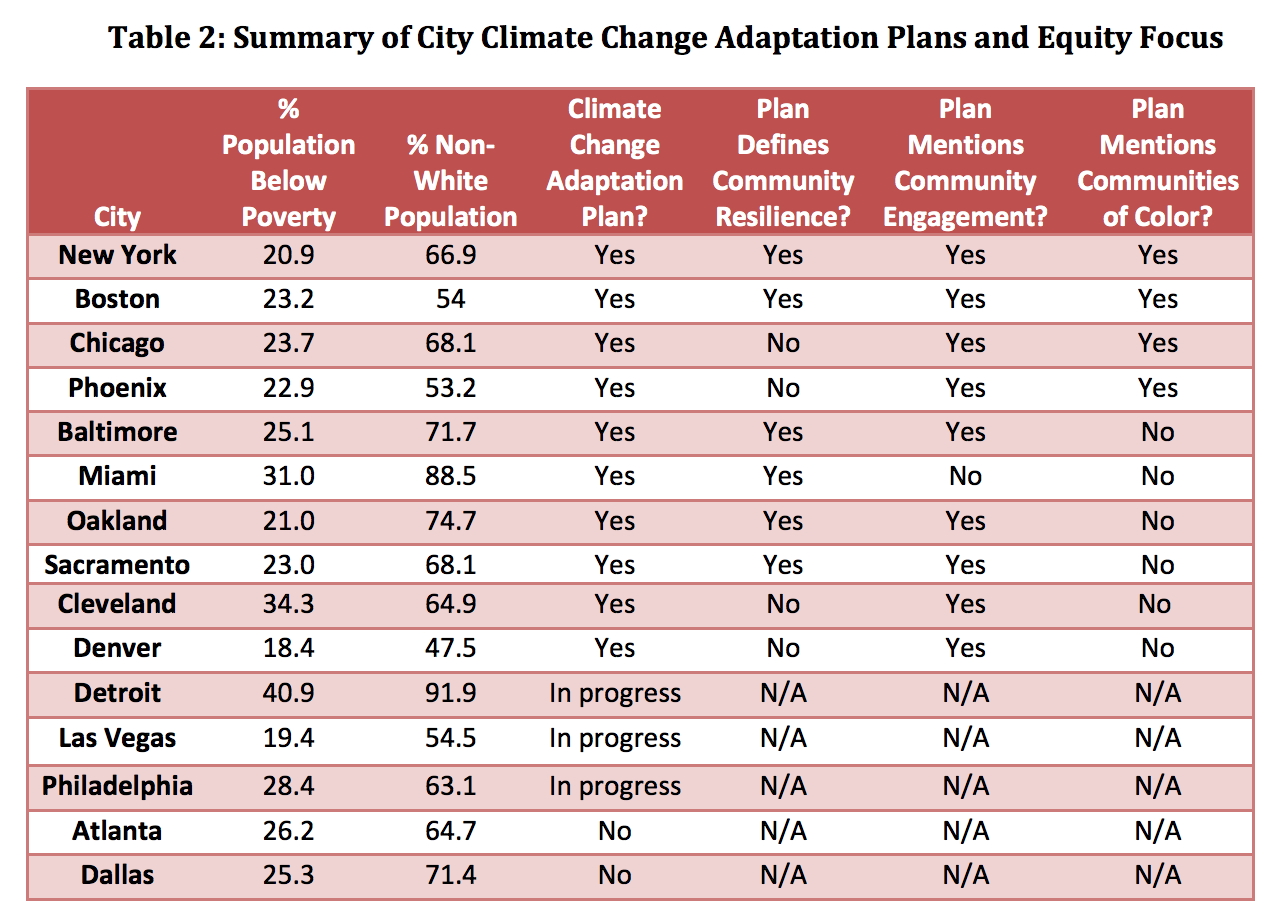 Some of the cities were identified as leading in equitable climate planning engagement - Baltimore, Boston, Chicago, New York and Oakland; and six as moderately progressing - Sacramento, Miami, Phoenix, Cleveland, Denver, and Detroit. 
Common characteristics of these leading cities were identified including that they have: 
a visible "champion" on climate change

clearly defined policies and goals for addressing needs of communities of color in climate change, and

strong support from the nonprofit sector including partnerships with community-based organizations representative of and trusted by vulnerable populations.
Some of the primary challenges to integrating communities of color include that climate change is not a top priority for communities already facing poverty, unemployment, and environmental health threats. Funding, and language and cultural barriers also impact equitable engagement.   
Publication Date: December 2014
Related Organizations:
Texas Health Institute
Joint Center for Political and Economic Studies
Sectors:
Resource Category: