The Business Case for Responsible Corporate Adaptation: Strengthening Private Sector and Community Resilience
This report details both the benefits of and barriers to responsible corporate adaptation. The report includes 17 case studies that provide examples of innovative solutions used by companies to overcome the most pressing challenges to responsible corporate adaptation such as information gaps, uncertain risk, planning challenges, and policy, regulatory and socio-cultural barriers (see an overview of the case studies on pages 25 – 27). The report includes recommendations for businesses and policymakers to enhance "responsible corporate adaptation, strengthen collaboration and incentivize the development of adaptation solutions." Developed by Caring for Climate - a joint initiative of the UN Global Compact, UNEP and UNFCCC secretariat - together with partners, this report shares lessons learned and provides actionable guidance for both public and private sector leaders.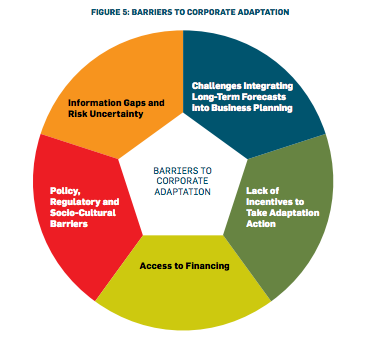 Climate change poses significant risks to business operation, through factors such as fluctuating commodity prices, changes in natural resource availability, and the impact of extreme weather events on community infrastructure. For these reasons, responsible corporate adaptation makes "business sense" and can benefit a business's bottom line, through improved competitiveness, protected value chains, new business opportunities, and strengthened brands.
The report makes four recommendations for business leaders to enhance responsible corporate adaptation:
Identify critical climate risks and uncover opportunities:

companies should determine how climate change will impact their operations and value chain through research and risk management techniques. The report includes a list of free online resources corporations can use to assist companies in undertaking a climate risk assessment (see page 80).

Determine your company's climate adaptation strategy: determine climate adaptation goals, how these goals will be measured, how the company will take action towards achieving these goals, and how these goals will be integrated into "existing risk management processes and…core business strategies."
Develop strategic partnerships focused on shared value creation:

adaptation efforts will be more successful if companies engage in partnerships with research institutions and local stakeholders to develop constructive knowledge networks, training and guidance tools and drive innovative solutions to "community and sector-specific vulnerabilities."

Report on progress and increase transparency:

companies should report regularly, publicly and transparently to stakeholders on efforts to identify, manage and measure adaptation risks and opportunities. Companies should also report on how the company has integrated adaptation efforts into its business strategies and operations.
The report also makes three recommendations for policymakers to enhance responsible corporate adaptation, including:
Build a Foundation for Private Sector Investments and Action:

policymakers should create an "enabling environment" for responsible corporate adaptation and public-private sector collaboration by communicating "the business case for corporate adaptation" and clearly identifying "clear roles and responsibilities for the private sector in national adaptation planning and implementation."

Align public and private adaptation interests:

policymakers should determine local "vulnerabilities and needs and outline the roles that local businesses could play in addressing these issues while advancing their own corporate adaptation strategies." Policymakers should also publish best practices and case studies of successful responsible corporate adaptation as a guide for local businesses.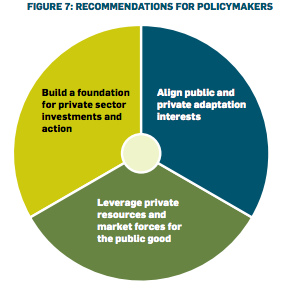 3. Leverage private resources and market forces for the public good: policymakers can incentivize private sector investment in adaptation through legislation, planning and the creation of institutions to support long term adaptation processes. Policymakers should seek to leverage "private sector expertise and resources" to develop solutions to local vulnerabilities and "consider providing financial incentives…to stimulate the uptake of climate resilient technologies and services."
Publication Date: 2015
Related Organizations:
United Nations Global Compact
United Nations Framework Convention on Climate Change (UNFCCC)
United Nations Environment Program (UNEP)
Sectors:
Resource Category:
Resource Types: