The Value of Resilience for Distributed Energy Resources: An Overview of Current Analytical Practices
This analysis from the National Association of Regulatory Utility Commissioners (NARUC) evaluates existing practices of calculating the value of resilience in Distributed Energy Resources (DERs) installed within an energy distribution system. The report examines how the value of resilience was calculated and was applied in both regulatory decision-making and non-regulatory cost-benefit analyses, and provides state regulators with guidance for taking resilience into account when evaluating investments in DERs in the face of high-impact, low-probability extreme weather events. Several options for analyzing investments in resilient DER are discussed.
Climate change's high-impact events have interrupted the energy generation and distribution system causing electricity resilience to be put on the forefront of adaptation planning and policy. This report addresses questions that utility regulators across the country have identified as being of interest:
Have regulators identified and utilized a value of resilience in regulatory decisions related to resilient DERs?

Is the value of resilience being used to analyze resilient DERs in venues other than regulatory proceedings?

What are the different methods to value energy resilience?

What are the pros and cons of different methods used to value resilience?

Can regulators adopt or improve value of resilience methods to support their decisions?
This report focuses on microgrids and on resilient solar as "resilient DER" projects and identifies four valuation methodologies including the Contingent valuation method, the Damage Cost method, the Input-output model and the Defensive Behavior method. The different methods were evaluated according to usefulness to regulators using four criteria including: the method's ease of use, scope of outputs, geographic scalability, and power interruption duration analysis capability (see ES-Figure 1 below). Each method is demonstrated by case study examples and are all potentially useful in regulatory decision-making:
NYC Solar+ storage: demonstrated DERs for critical infrastructure as a result of lessons learned from Superstorm Sandy and used the ICE calculator to determine the value of resilience with the Contingent valuation method.
Buffalo Medical Microgrid: case study on the value of microgrids for critical services to improve resilience against the effects of severe weather events and used the Federal Emergency Management Agency Benefit-Cost Analysis (FEMA BCA) to determine the value of resilience with the Damage Cost method.
Rockwell Center Microgrid: DERs used for community economic security in the case of a major power interruption, and used IMPLAN as a tool to conduct an Input-output analysis.
Military Microgrid case study: DERs for military bases to assure national defense and used Generator cost calculation as a tool for the Defensive behavior method.
It was concluded that none of the methods reviewed met all four criteria for regulator usefulness and usability and that no single method can capture all regulatory concerns regarding the resilience value of DERs.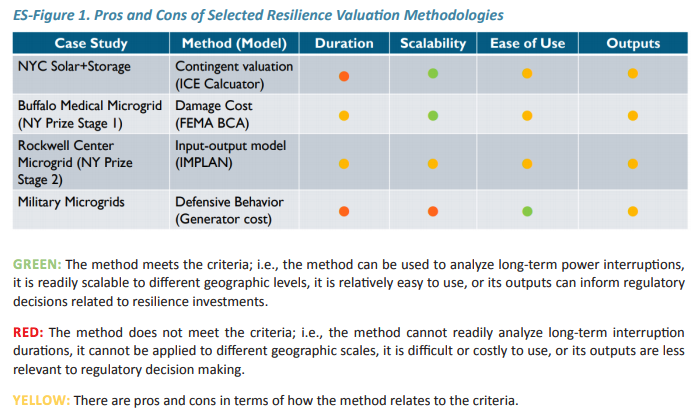 As no standardized approaches to analyzing investments in resilient DER were found, NARUC offers the following options for regulators, which are detailed further in the report's conclusion:
Omit consideration of the value of resilience in cost-benefit analysis.

Utilize decision-making approaches that do not require a resilience benefit to be quantified, such as cost effectiveness analysis.

Adopt one of the methods examined in the case studies.

Adapt other methods that have been used to value avoided power interruptions but have not yet been used to quantify the resilience value of DERs.

Actively engage with the ongoing research efforts focused on new approaches to valuation.
Publication Date: April 2019
Authors or Affiliated Users:
Wilson Rickerson
Marisa Bulkeley
Jonathan Gillis
Related Organizations:
National Association of Regulatory Utility Commissioners
Sectors:
Resource Category:
Resource Types: