2016 Report on the Health of Colorado's Forests: Fire and Water
The 2016 Colorado State Forest Service (CSFS) report provides information on the health of Colorado's 24.4 million acres of forested land framed by the role that fire and water play in the state's forest ecosystems. The report also details the impact of insects and diseases, especially the mountain pine beetle epidemic, which has killed over 3 million acres in the state and fueled an increase in forest fires. The CSFS recognizes that these risks, including increasingly severe wildfires, drought and insect infestations are likely to be amplified by climate change in the future.
CSFS explains that resilient forest ecosystems can support climate mitigation and adaptation as healthy forests store and absorb carbon - while dead or burned trees conversely release GHGs back into the atmosphere. CSFS helps landowners to handle climate impacts by supporting ongoing forest management to increase forest resiliency, reduce the risk for catastrophic wildfire, and improve resistance to insects and disease
In the report's section on fire, a graph depicts the sharp increase in the annual acreage burned by wildfires since the 1960s. It points to the pine beetle epidemic and climate change as causes of the longer, more expensive, and more deadly fire seasons. Also included in the fire section is a callout box on the public health impact of smoke and the role that prescribed fire can play in reducing negative health impacts. This section also outlines Community Wildfire Protection Plans and summarizes resources and tax breaks for individuals to adapt and manage fire-related risks.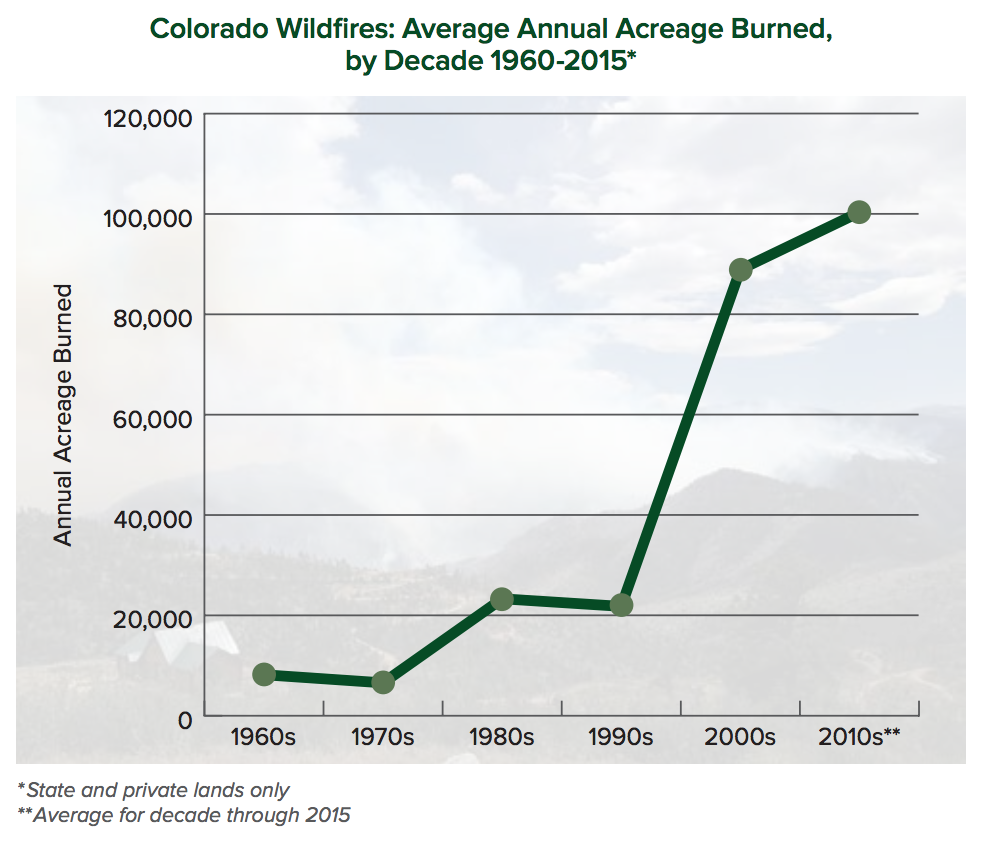 The report's section on water highlights the forest water quality monitoring program at State Forest which addresses quality issues through the implementation of best management practices. Throughout this section, the important role of forest management in maintaining healthy watersheds is emphasized.
In its conclusion, the report addresses the importance of adaptive management as an approach to stewardship. It points out that responsive and innovative management is necessary for Coloradans to successfully protect their "diverse forest environments for the benefit of present and future generations," both now and as conditions continually change.
Publication Date: January 2017
Related Organizations:
Colorado State Forest Service
Sectors:
Forestry
Land management and conservation
Resource Category:
Resource Types:
States Affected:
Impacts:
Air temperature
Invasive species and pests
Precipitation changes