A Risk Assessment of California Key Source Watershed Infrastructure
This comprehensive assessment of five key watersheds in northeastern California, details the climate risks and watershed restoration and conservation activities needed to improve the long-term quality and security of the state's water supply. Following California AB 2480 which defined source watersheds as integral to the state's water infrastructure and therefore eligible for repair and maintenance funding, this report lays out a framework for restoring and maintaining resilient watersheds. The Feather, Pit, McCloud, Upper Sacramento, and Upper Trinity watersheds are the primary source of California's water supply, and reliance on these watersheds is expected to increase with advancing climate change. Restoration and maintenance of these key source watersheds is considered a "least-cost" approach to adapting California's water supply to changing climatic conditions.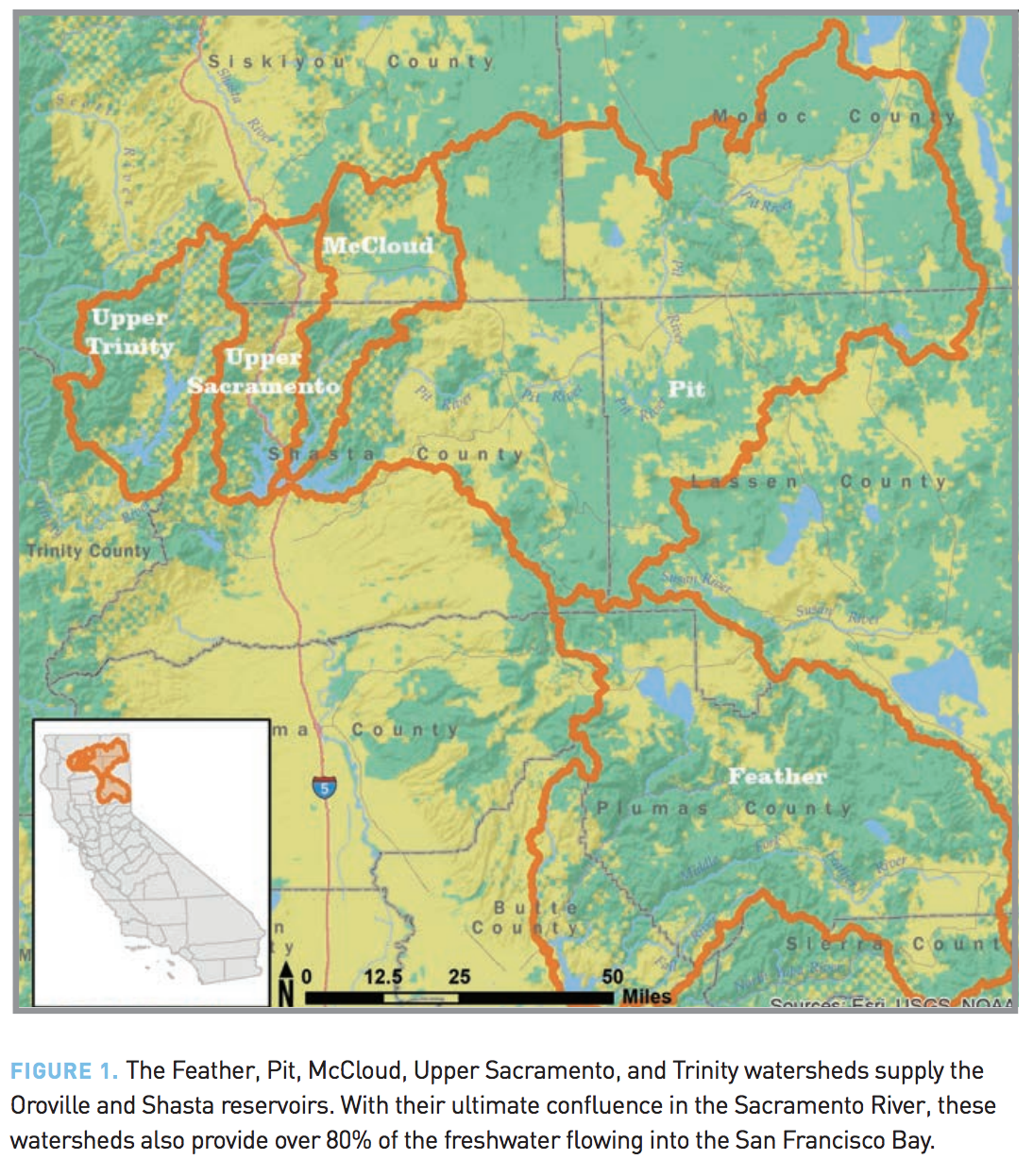 The conditions of five watershed characteristics (forests, meadows, streams, roads and trails, and watershed integrity/intactness) were analyzed, and it was determined that across all five watersheds, almost half of the source water infrastructure (including 64% of all forests, 85% of wet meadows, 100% of dry meadows, and 10,513 miles of streams) is degraded and merits restoration action.  
The report identifies the types of restoration actions that would have the greatest impact on watershed health and function, including, forest fuels reduction (thinning), prescribed fire, meadow and stream channel restoration, road repair, and protecting watershed integrity by preventing fragmentation and future degradation. Restoration of the watersheds will reduce flood events and intensity; increase water supply, storage, and availability; and improve water quality - all leading to improved system resilience.
Publication Date: August 16, 2017
Related Organizations:
Sectors:
Land management and conservation
Resource Category:
Resource Types:
States Affected:
Impacts:
Precipitation changes
Wildfires