Adaptation Capability Advancement Toolkit (ADAPT-CA)
The Adaptation Capability Advancement (Adapt-CA) Toolkit was developed to support local government climate change adaptation initiatives through an agency self-assessment process on institutional capacity. Adapt-CA helps to identify opportunities to build capacity for adaptation integration into local government agency's operations, leadership, technical capacity and engagement. The tool was designed for California communities, but is relevant and can be useful to local governments throughout country.
Each component of Adapt-CA is organized by four process areas, which are "the core areas of control within local governments and where institutional barriers to pursuing adaptation commonly arise." The four process areas are:
Leadership and organizational culture

Staffing and technical capacity

Stakeholder engagement and partnerships

Operations and institutional processes
Four "maturity levels" are then identified for each of the 4 processes: Initiation, Development, Standardization, and Optimization - representing a continuum in the level of experience with each process.
The Toolkit includes a Matrix, Roadmap, and Checklists:
The Matrix is an informational overview that describes the high-level core adaptation capabilities of a local government for each process area, at each maturity level.
The Checklists describe core adaptation capabilities in greater detail for each process area, as well as the benefits of advancing capabilities. Local government staff can use the checklists for self-assessments of capacity in order to navigate the Roadmap. For example, this is a portion of the Staffing and Technical Capacity Checklist: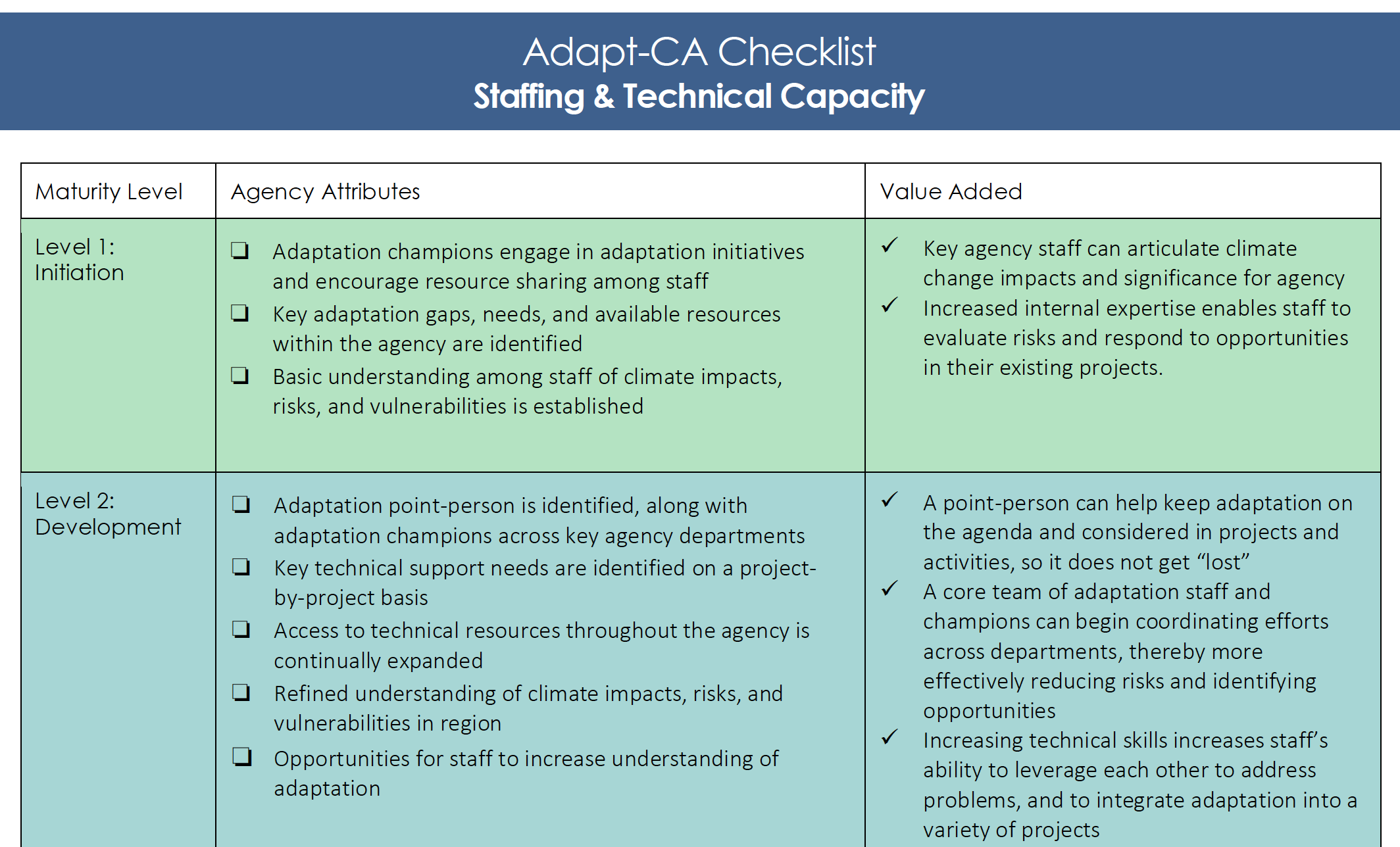 The Roadmap is a comprehensive review of each of the processes and maturity levels with specific actions to take, guidance, and recommended related resources. By using the Roadmap, agency staff can assess where they are in the adaptation lifecycle for each process, and determine the next best steps to take with adaptation initiatives.
Adapt-CA is a product of the Overcoming Institutional Barriers to Implementing Local Adaptation Strategies project under California's Fourth Climate Change Assessment. The toolkit has been developed by the Local Government Commission, ICF International, and Susanne Moser Research & Consulting in partnership with the Alliance of Regional Collaboratives for Climate Adaptation (ARCCA). 
Publication Date: 2019
Related Organizations:
Resource Category:
Resource Types:
States Affected: