Adapting to Climate Change Using Your Business Continuity Management System
This report provides guidance to businesses on how to incorporate climate change preparedness into their business continuity management system (BCMS). A BCMS is a framework for adaptively responding to disruptive events or disasters, that may impact all areas of a business. Through business continuity management, organizations can identify and mitigate risks and minimize disruption to standard operations. The report identifies 13 tasks that businesses should undertake to integrate climate preparedness into their BCMS.
The first step toward climate preparedness involves reviewing the context of and understanding existing conditions within the organization. This includes a baseline assessment of how climate change may directly and indirectly impact business factors - for example, by affecting the supply chain, or shifting demand for a service. The guide considers all interested parties, for example, how extreme weather events impact staff's ability to travel to and from work (see a summary of potential impacts below from page 19 of the report). Managers should also review their current business continuity systems, and focus on areas with long planning horizons, as these areas may be most affected by climate change.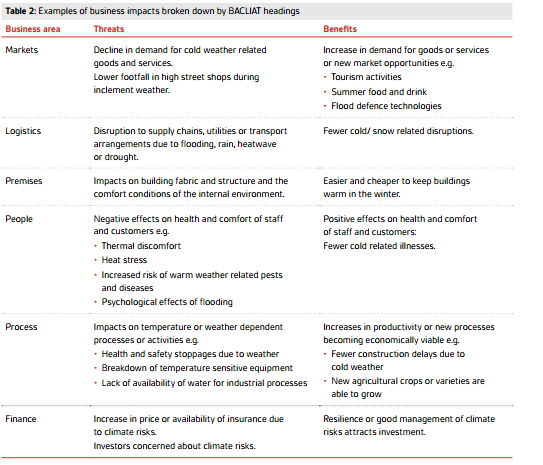 Leadership plays a critical role in business continuity and climate adaptation. The second step involves developing strong top leadership that can secure commitment across the organization toward adaptation. However, business continuity managers may face challenges in making a clear business case for adaptation. To address this challenge, the report provides strategies that managers can employ when approaching leadership, such as replacing climate science jargon with business relevant language, and drawing upon experiences of other organizations within the industry.
After approaching leadership, assessing risks and conducting a business impact analysis, managers should identify and implement adaptation options and amend business continuity strategies. The report presents a case study of how a hypothetical paper printing company can address supply chain disruptions that result from an extreme weather event through short- and long-term adaptation options.
The final step toward integrating climate preparedness into the BCMS is performance evaluation, which includes monitoring the business impacts of weather events, and reviewing and modifying the BCMS as needed.
Publication Date: 2014
Related Organizations:
Related Toolkits:
Sectors:
Resource Category:
Resource Types:
Impacts: