American Flood Coalition - Flood Funding Finder Tool
Launched by the American Flood Coalition, the Flood Funding Finder (FFF) helps small communities identify federal programs that fund flood resilience efforts including flood mitigation and risk reduction projects, planning efforts, and more. To create the FFF, the Coalition analyzed hundreds of funding programs across 26 federal agencies to identify the programs most likely to assist small community efforts related to flooding and sea-level rise. 
The FFF is aimed at communities with a population of 50,000 or lower, although any local government or anyone else can use the tool. The tool can be used for free and enables users to filter their searches for flood funding by:
Characteristics of the program:

Prioritizes small communities (population);
No cost share or matching funds required from smaller communities;
In kind contributions can be used to meet cost share requirements;
Environmental restoration is prioritized as a flood defense;
Disaster declaration is required for the program;

Type of assistance desired:

Data and scoping, e.g., data gathering, assessments, and environmental analysis;
Design and planning, e.g., preconstruction design and planning activities, feasibility studies;
Implementation, e.g., shovel ready projects, construction, green infrastructure, etc.

Estimated funding levels:

Up to $25K;
$25 to 100K;
$100 to 250K;
$250K to $1 million;
$1 to 5 million;
More than $5 million

Federal support mechanism:

Funding;
Finance;
Technical assistance; and

Whether the application deadline is imminent.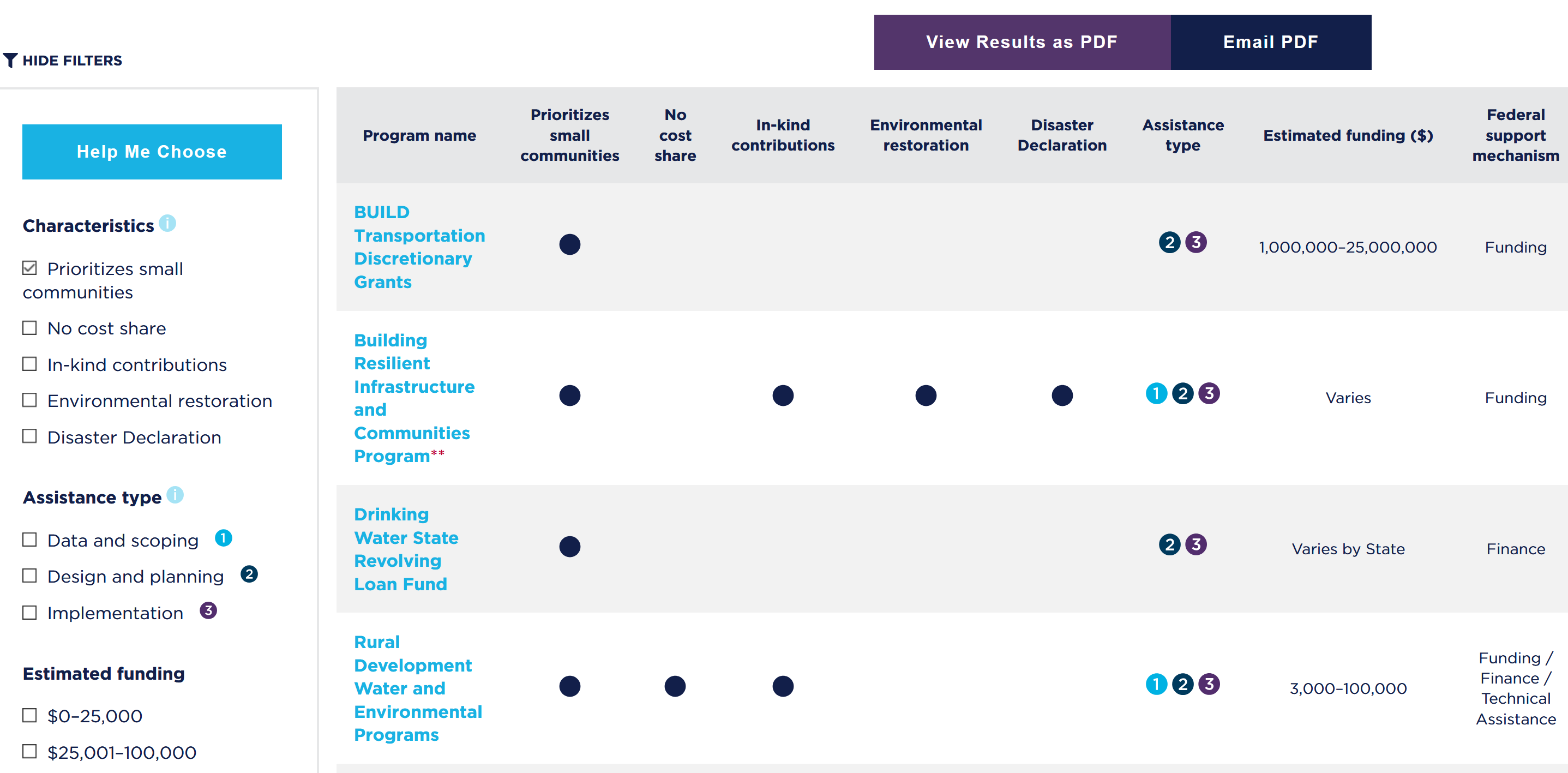 For example, selecting "prioritizes small communities" yields several programs, one of which requires no cost share: the Rural Development Water and Environmental Programs. Users can click on a program shown through the tool to find out more information about it, including amounts funded, need-to-know details, eligible activities, and application information. Users can also download results from the FFF as a PDF document.
The FFF was created by the American Flood Coalition, a 501(c) 3 nonpartisan group of cities, elected officials, military leaders, businesses, and civic groups that promotes adaptation to sea level rise, stronger coastal storms, and more frequent flooding of coastal and inland areas. The Coalition was formed in 2019. The Coalition also published the "Dual Disaster Handbook" which provides guidance to local officials and emergency managers on how to handle flooding during the COVID-19 pandemic; and a report "Turning the Tide: Opportunities to Build Social Equity Through Federal Flood Disaster Policy."
Publication Date: September 2020
Related Organizations:
Sectors:
Resource Category:
Resource Types:
Funding program
Tool (general)
Websites
Impacts: