C2ES Maximizing Benefits: Strategies for Community Resilience
Center for Climate and Energy Solutions (C2ES) developed this set of briefs on resilience strategies for extreme climate events, primarily to support local government officials in adaptation planning. Key climate resilience strategies are discussed including the co-benefits they provide, and quantitative assessments of the costs and benefits of each strategy. Each brief includes a case study of a model city that has successfully employed a number of climate resilience strategies. The five briefs of the compendium focus on:
Extreme heat and heatwaves

Flash flooding

Drought

Wildfire

Power outages
All of the Resilience Strategies are treated comprehensively with Cost and Benefit evaluations, as well as recommendations for raising awareness and preparing for the climate event. 
For example, Resilience Strategies discussed for Extreme Heat include: Cool roofs, Cool pavements, and Increasing Canopy cover and vegetation. The Cost of increased canopy cover is assessed by a study of five cities that averaged the cost per tree per year, and the benefits per tree. The study found - For every dollar invested in management, the returns ranged from $1.37–$3.09 per tree, per year, for the five cities (when considering stormwater runoff, energy savings, air quality and aesthetic benefits). The Benefits of increased canopy cover are described in terms of: Reduced Energy Use, Improved Public Health, Improved Air Quality, Reduced Stormwater Run-off, and Social Benefits.
Each brief reviews co-benefits of every resilience strategy, and includes a summary Table of Co-Benefits to help evaluate them.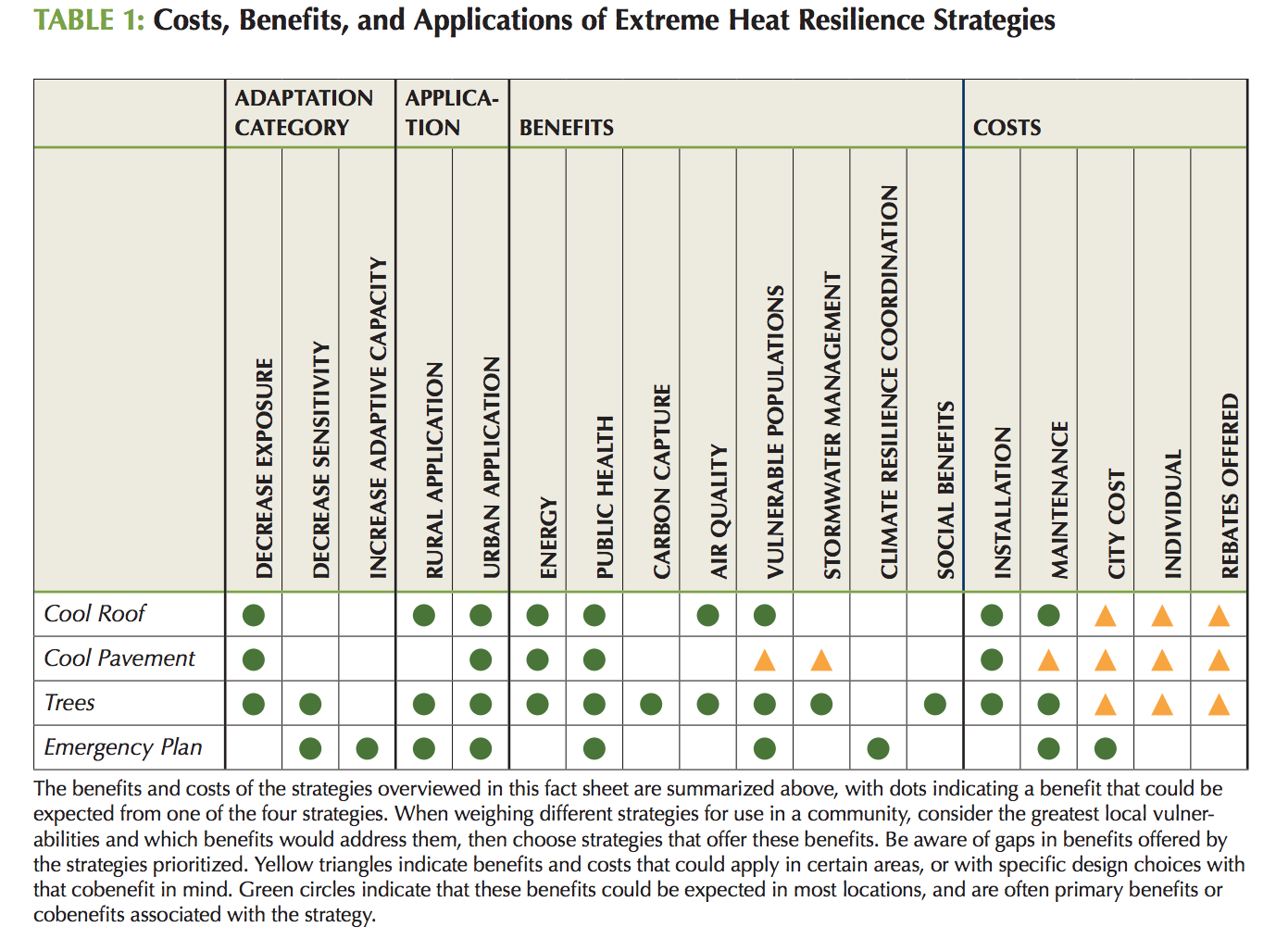 The Case Study included in the Extreme Heat brief discusses Louisville, Kentucky's Combined Urban Cooling Strategies.
Publication Date: December 2018
Related Organizations:
Sectors:
Resource Category:
Resource Types:
Impacts: