Changing Climate, Changing Wildlife: A Vulnerability Assessment of 400 Species of Greatest Conservation Need and Game Species in Michigan
The Wildlife Division of the Michigan Department of Natural Resources assessed the climate change vulnerability of 400 animal species in Michigan. Using the Nature Serve Climate Change Vulnerability Index (CCVI) tool, all resident terrestrial game species and all Species of Greatest Conservation Need (SGCN) with enough life history data were assessed. The species considered "vulnerable" to climate change are those expected to experience reductions in range extent or abundance by 2050.
The CCVI analysis indicates that 17% of terrestrial game species and 61% of terrestrial and aquatic SGCN are vulnerable in Michigan. Other conservation threats or efforts aside, these species will likely experience range or population reductions due to climate change - even without factoring other impacts or conservation efforts. 
The assessment found that certain boreal species are unlikely to return to past levels, and will experience population declines due to climate impacts. For example, the American marten scored Moderately Vulnerable and snowshoe hare, common loon, and moose scored Highly Vulnerable. SCGN such as the federally endangered Karner blue butterfly and federal candidate eastern Massasauga rattlesnake also scored Highly Vulnerable. Both species already face significant conservation challenges, and climate is likely to cause further population declines. The full list of species' vulnerabilities is available in the Appendices.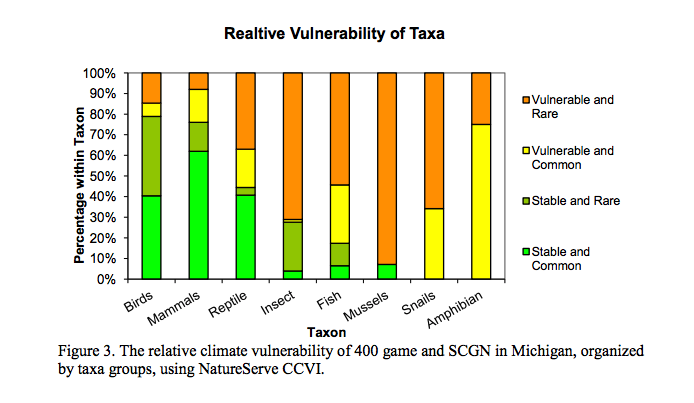 DNR suggests that the CCVI assessment outcomes can be used when revising lists of SGCN for State Wildlife Action Plans, when amending state or federal lists of threatened or endangered species, or whenever conservation groups need to create a list of priority conservation species for a forest, park, sanctuary or easement. This information can also help managers prioritize which game management plans or species recovery plans need to be updated to include information on climate threats.
Publication Date: April 2013
Related Organizations:
Michigan Department of Natural Resources
Sectors:
Resource Category:
Resource Types:
States Affected:
Impacts:
Air temperature
Precipitation changes