City of Lumberton, North Carolina: Lumberton, North Carolina Community Floodprint
The City of Lumberton is a small community in North Carolina built along the Lumber River. The river and its floodplains are an integral part of the landscape and Lumberton's history and cultural and economic identity. Meanwhile, flooding has become more frequent and severe — requiring new adaptive flood mitigation solutions. In 2016, the community was devastated by Hurricane Matthew when the river flooded hundreds of homes and businesses. Just as the city was beginning to rebuild two years later, Hurricane Florence resulted in similar compounding damages. As hurricane recovery continues, Lumberton is planning ahead for a more flood resilient future. The Lumberton Community Floodprint was developed by a team of landscape architects, parks and recreation specialists, and graphic designers from the North Carolina State University College of Design and Coastal Dynamics Design Lab. The goal of this project and resulting guidance or Floodprint was to increase both landscape and community resilience by offering land-use recommendations and design strategies for vacant parcels left behind after catastrophic flooding. 
While the Floodprint does not propose how to keep water out of Lumberton, it offers holistic land-use strategies that reduce the risk of flooding while improving natural floodplain functions, promoting the development of public amenities for recreation and water storage in areas most acutely affected by floodwaters. These recommendations address open space management and flood hazard mitigation, across spatial and temporal scales, which can support adaptation planning in other flood-prone communities. The Lumberton Community Floodprint development process, vulnerability assessments, strategic recommendations, lessons learned, and steps towards successful project implementation are provided in detail — offering an informative blueprint for other decisionmakers planning flood-resilient communities and landscapes. 
The Lumberton Community Floodprint research team analyzed private and public lands in Lumberton that: 
were directly impacted by Hurricanes Matthew (2016) and Florence (2018) floodwaters, 

are within floodways and 100-year and 500-year floodplains, and 

adjoin or are near existing parklands. 
Within these parameters, there are many underutilized, vacated, and repetitive flood loss parcels in Lumberton that are noncontigous in nature, in terms of location, condition, or ownership. In turn, one of the primary goals of the Floodprint is to propose methods for connecting these parcels to existing public open spaces, such as parks or greenways — creating more open space and new public amenities that also help to manage floodwaters.
The Lumberton Community Floodprint project was developed in two primary phases. Phase 1 included an assessment of flooding risks and vulnerabilities across Lumberton's floodways and floodplains, with a focus on vacant parcels primarily resulting from repetitive flooding and federally supported buyouts.  Some of the land-use strategies developed were then adopted by the City of Lumberton for implementation. 
Phase 2 completed research, engagement, design, and communication activities in support of the implementation of two greenway restoration projects for flood mitigation that also provide miles of community open space. There are independent reports for each phase included as part of the complete Floodprint, both of which are summarized here. 
The resulting products of both phases strategically combine Federal Emergency Management Agency (FEMA) bought-out repetitive flood-loss properties with existing parks and recreation assets for a connected system of educational, recreational, and environmental amenities across Lumberton. These "greenways" are projected to significantly reduce flood risk, enhance public safety and improve long-term environmental function within historically flood-prone areas of Lumberton.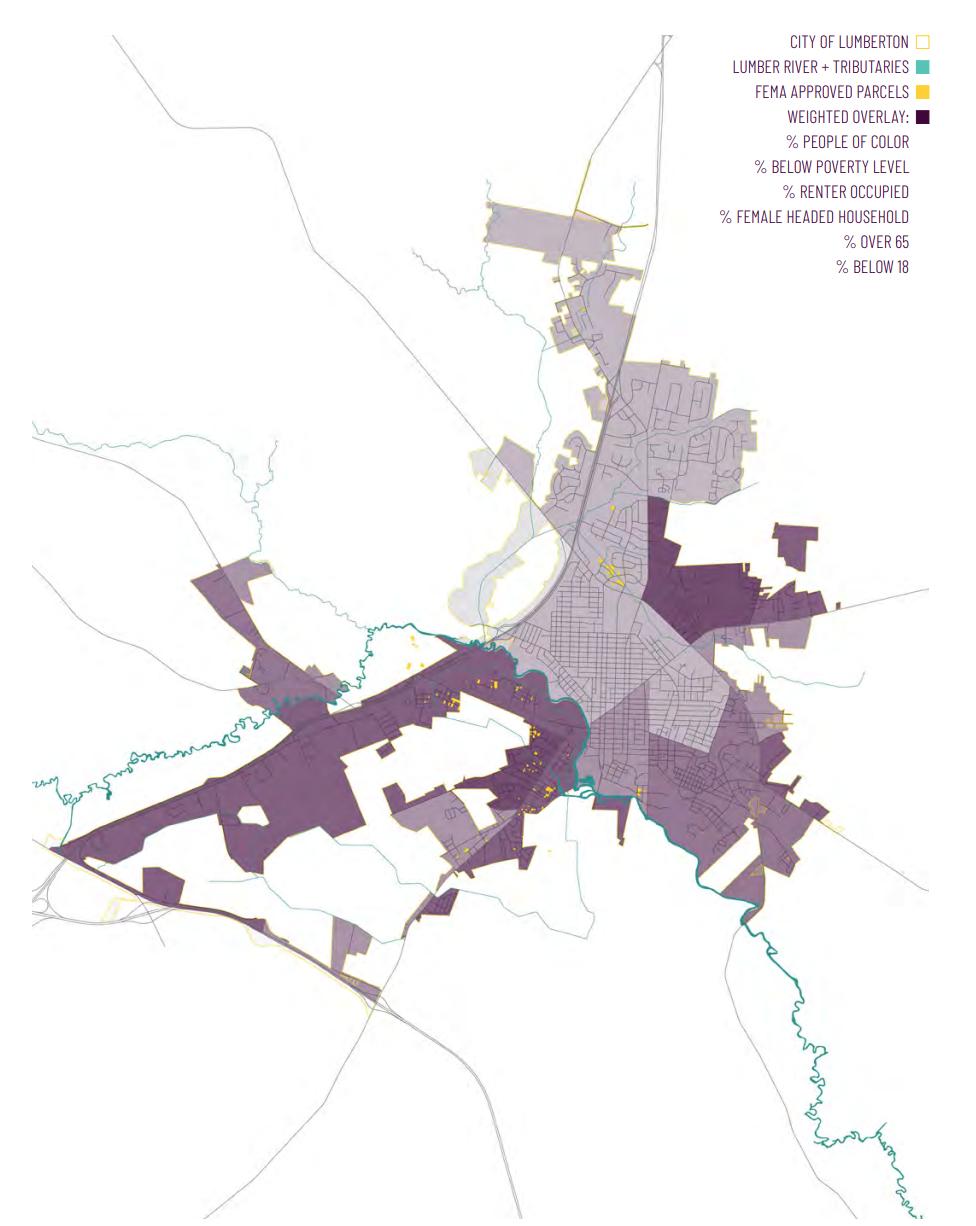 There are three Parts to the Lumberton Floodprint — Phase 1 report: 
Part One: Learning From the Past describes why Lumberton floods, identifies the most flood vulnerable communities, and provides an overview of local policies and initiatives that aim to support these communities. 
Part Two: Responding to the Present offers strategies and recommendations to make informed land-use decisions for individual site-, neighborhood-, and city-level scale solutions; with "visualizations that illustrate possible outcomes resulting from the implementation of phased, transformational land-planning decisions." 
Part Three: Preparing for the Future describes the results of a vulnerability assessment undertaken for this study of environmental, social, and economic conditions and future flooding vulnerabilities across a range of scales — from individual parcels to city-wide. Population demographics for various preexisting vulnerabilities are mapped across the floodplain and floodways. Notably, the Lumber River's floodplains and tributaries contain historically flood-prone areas, which are the same places where some of Lumberton's most underserved populations reside.
Following Hurricane Matthew, Lumberton was supported by funding from FEMA's Hazard Mitigation Grant Program. A total of 107 flooded properties were approved to be either bought out, elevated, or renovated. Forty seven of those approved properties have been bought out. The Lumberton Floodprint plan recommends that connecting these acquired properties, specifically those around the Lumber River, would be ideal for public open space, such as parks, recreational use, and trails. These areas can be designed to support periodic flooding and stormwater management, and "substantially contribute to the safety and economic vitality of the region, along with enhanced quality of life for local residents."
In 2019, the research team presented the findings and recommendations generated in Phase 1 to the Lumberton City Council. The primary recommended project from the Floodprint, named the "Lumberton Loop," is a citywide trail network that would connect more than 800 acres, over 99 percent of which are in the 100-year floodplain — offering a "landmark recreational and flood infrastructure asset for the City of Lumberton." The Lumberton Loop Plan was adopted by the City Council, and the Floodprint design team was asked to conduct additional research, engagement, and design assistance for two primary flood-impacted areas on the route. The two neighborhood-level projects include: (1) the Meadow Branch Floodway Restoration adjacent to the Best Drive neighborhood; and (2) Repurposing the Scottish Packing Plant property into a recreation and environmental education amenity associated with the Lumber River State Park and/or North Carolina Wildlife Resource Commission. These projects are the focus of Phase 2 of the Lumberton Community Floodprint, which further developed proposals and long-range plans for these two areas along the Lumberton Loop.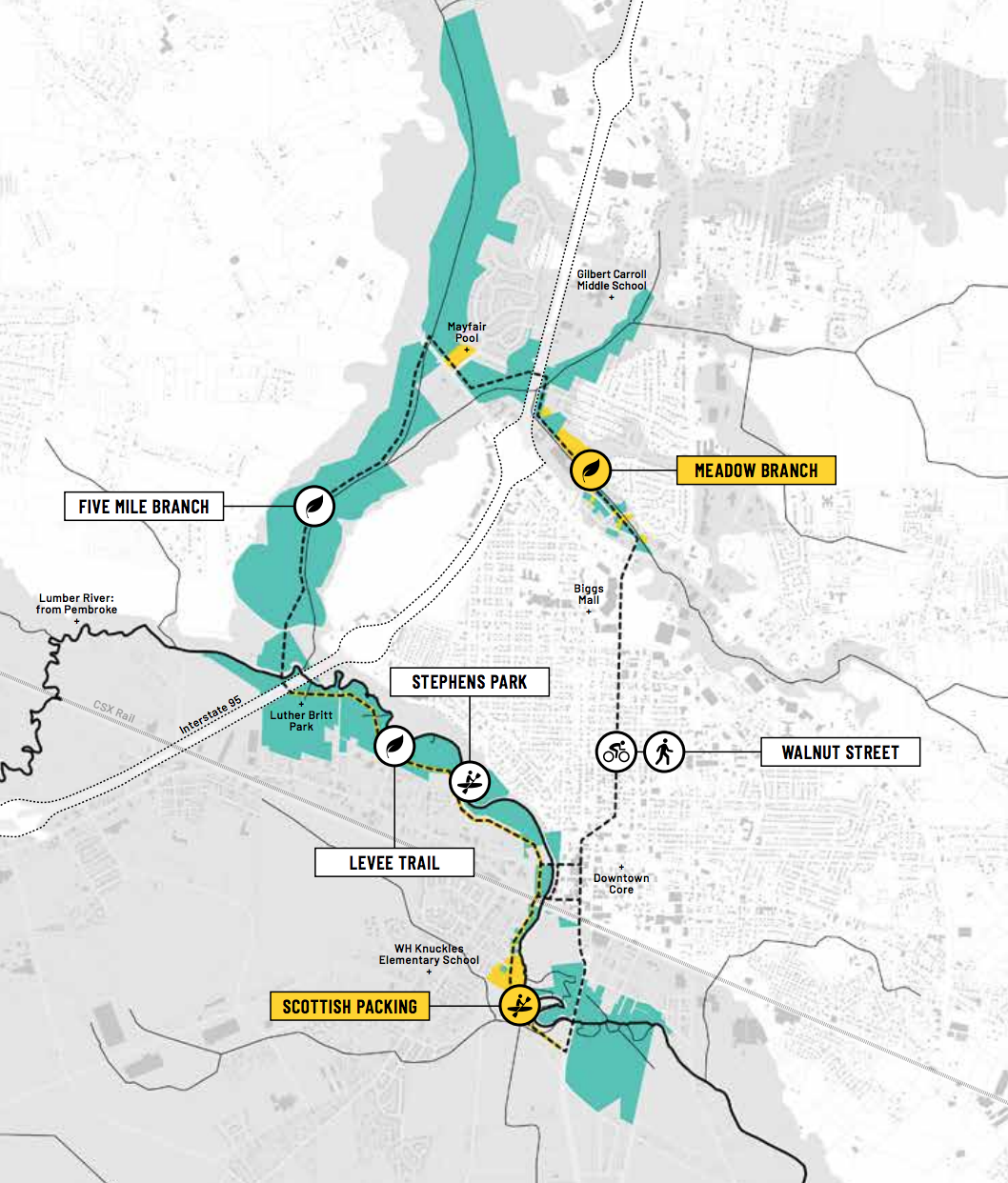 The Meadow Branch project identifies parcels that both intersect the floodway, and connect adjacent properties within the floodplain to combine and consolidate acquisitions within riverside neighborhoods. There are many ecological, recreational, and economical benefits for the area, including connecting nearby residences to this amenity, while also helping convey and store stormwater during high-volume flood and precipitation events.
The Scottish Packing facility operated for decades without flooding despite its location on the riverside of an earthen levee that wraps around South Lumberton — the city's most flood-prone region. The combined flood damages from Hurricane Matthew and Florence halted the facility's operations permanently, by exceeding the owner's financial capacity to rebuild. The Floodprint team determined that the Scottish Packing property presents numerous opportunities to benefit Lumberton if it were rebuilt as a public park.  The site offers direct access to the Lumber River, and is adjacent to both residential areas and the downtown central business district — positioning it as the primary in-town destination for Lumberton within the 115-mile long Lumber River State Park system.
As described in the second Lumberton Floodprint report, the primary goals of the Phase 2 effort were to: 
Conduct hydraulic modeling to determine the efficacy of stream restoration and floodplain mitigation measures in reducing the localized elevation and extent of floodwaters along the Meadow Branch between Jerry Giles Park and I-95.

Engage with neighborhood residents to gauge interest in applying for acquisitions and determine programmatic preferences for recreational uses.

Develop plans that combine various mitigation measures with community-defined programmatic preferences.

Analyze property tax loss and maintenance costs resulting from property acquisitions and recommend plans for recouping these losses via municipal revenue streams.
The Phase 2 report describes the results of this effort, including the overall Scope of Work and multiple implementation Scenarios for each of the two focal projects in Meadow Branch and the Scottish Packing Plant. These scenarios present findings for flooding events of multiple severities, and further Recommendations for each study area. The report presents the Floodprint team's approach and lessons learned from the Community Outreach meetings, which included listening sessions, and design alternative workshops for each affected neighborhood. 
The Floodprint study resulted in multiple strategic land-use and "repurposing" or restoration options for each of the project areas, which were presented to the Lumberton City Council and are summarized in the final report. For example, the Meadow Branch analysis resulted in multiple short- and long-term planning strategic design options including: 
Short-Term Scheme: Option for Repurposing Buyouts

Long-Term Scheme: Option for Recovering a Lost Tax Base

Long-Term Scheme: Restoration and Recreation. 
For more information related to Lumberton's hurricane recovery process, please see the Georgetown Climate Center's summary on: Post-Disaster Community Investments in Lumberton Through the North Carolina State Acquisition and Relocation Fund for Buyout Relocation Assistance. This case study is one of many from the Center's Managed Retreat Toolkit, which includes a range of legal and policy tools that state and local governments can consider using to facilitate managed retreat in vulnerable coastal areas experiencing sea-level rise, flooding, and land loss. 
Publication Date: 2019
Related Organizations:
City of Lumberton, North Carolina
North Carolina State University
Related Toolkits:
Sectors:
Resource Category:
Resource Types:
Best practice
Plans (other)
States Affected:
Impacts: