City of Virginia Beach - Nature-Based Coastal Flood Mitigation Strategies
The City of Virginia Beach, Virginia commissioned this study to identify and assess opportunities for including natural and nature-based coastal flood mitigation strategies among the measures that the City can adopt to increase resilience and decrease flood risk in Virginia Beach. The study evaluated a range of natural and nature-based features (NNBF) - including beach nourishment and dune enhancement, marsh creation and restoration, living shorelines, and more - for feasibility given the unique flooding issues in the four different watersheds of the region. The NNBF study is one of multiple studies undertaken to ultimately inform the City's comprehensive adaptation strategy for sea level rise and recurrent flooding, known as "Sea Level Wise," which identifies short- and long-term measures (including policy measures and structural solutions as well as NNBF) that will reduce flood risk in the region's watersheds and prepare communities. 

The NNBF study assessed a range of case studies, guidelines, and literature to identify best practices for implementing NNBF practices from identification and evaluation through to construction and maintenance. Informed by these findings, the report provides foundational information on how to include NNBF in City plans and strategies - including by proposing metrics to assess the success of NNBF strategies, and by identifying the various permitting processes at all levels of government that must be navigated. 
Based on the literature review, the study identified the strategies with the highest risk reduction potential for Virginia Beach. The most effective non-structural strategies included beach nourishment/dune enhancement; wetland restoration, enhancement, or creation; forest restoration enhancement, or creation; submerged aquatic vegetation restoration; and shellfish reefs/oyster restoration. The most promising hybrid strategies included living breakwaters, ecologically-enhanced revetments, and marsh sills/living shorelines. These NNBF strategies were considered in the context of ecological (e.g., presence of wetlands and nearshore aquatic vegetation), physical/geomorphic (e.g., orientation and type of shoreline, depth and slope), coastal dynamics (e.g., tides, storm surge, erosion rates), and land use (proximity to shoreline structures, shoreline land use) to determine the most appropriate strategies for each of the four watersheds. For each NNBF strategy, the study evaluates its application in different locations, and provides example(s) of where the strategy is already being used in the City. Based on the suitability factors, the study found that NNBF strategies might be most appropriate for the City's Southern Watershed, which is particularly prone to repeated flooding due to a low-lying topography with degrading wetlands, and frequent wind tide events.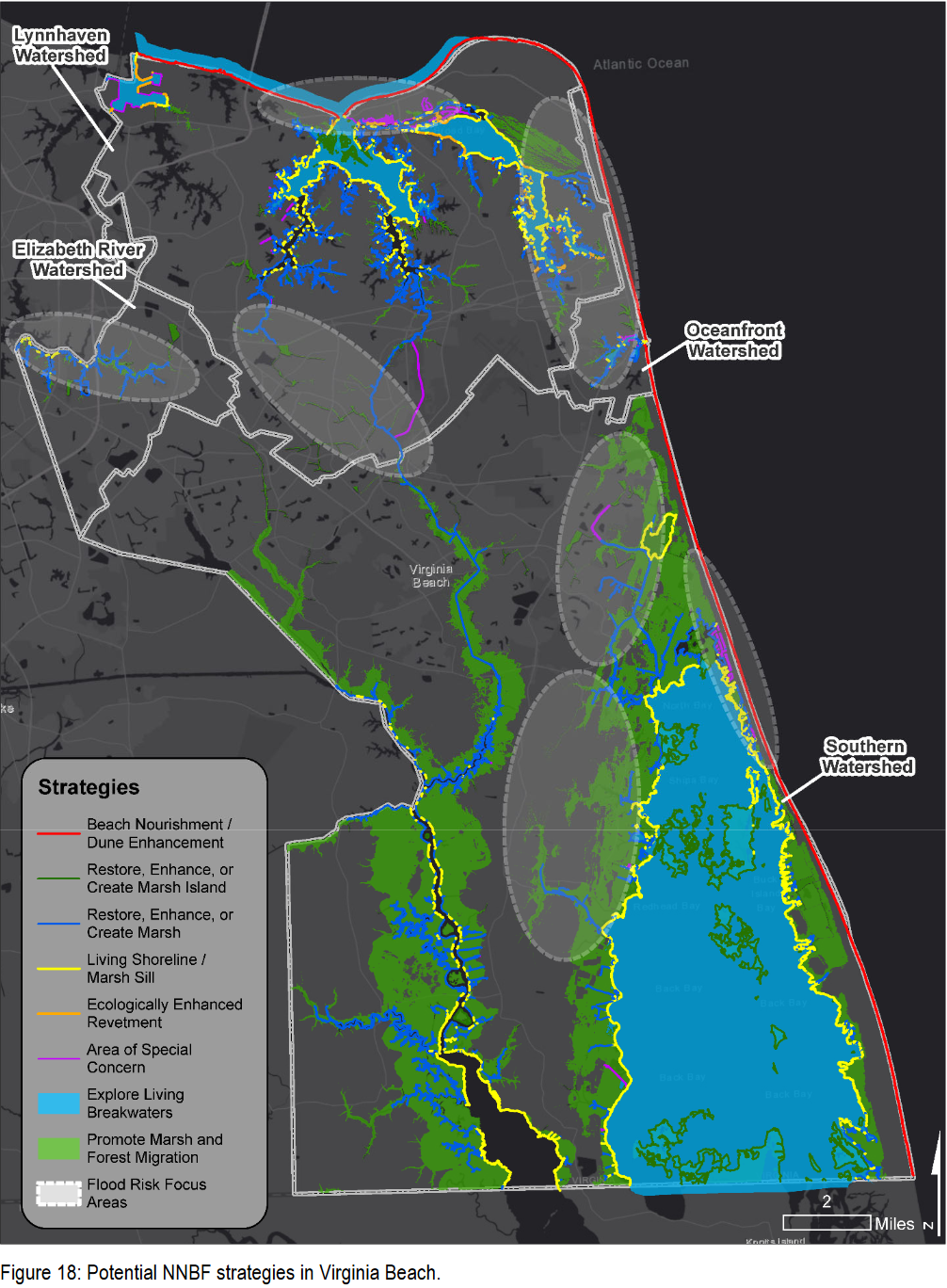 The study also performed a modeling exercise to conduct a more detailed assessment on the effectiveness of marsh island restoration in Back Bay (within the Southern Watershed) and Northern North Carolina at reducing flood risk. The coastal hydrodynamic model simulated flood conditions during wind tide events under current conditions and future conditions considering 3 feet of sea level rise, finding that the marsh restoration could reduce flood depths and flood propagation (i.e., delay the amount of time for flooding to occur in some areas).
Finally, the study provides information and identifies resources from literature review on performance metrics, cost benefit assessment for NNBF strategies, project design of NNBF projects (including consideration of sea level rise in design), and permitting/regulatory considerations. The study notes that further analysis is needed to more holistically compare the NNBF approaches to traditional engineered solutions and to understand how NNBF strategies might complement policy measures and structural solutions. Next steps would include cost-benefit assessments that account for infrastructure, social, and environmental losses avoided as well as risk reduction benefits of NNBF strategies, before ultimately selecting and designing appropriate solutions for a particular location.
Publication Date: May 16, 2019
Related Organizations:
City of Virginia Beach, Virginia
Related Resources:
Sectors:
Resource Category:
Resource Types:
Best practice
Policy analysis/recommendations
States Affected:
Impacts: