Climate Change Adaptation Workshops: A Planning Guide for Local Government Staff
Designed to support local public agencies, this planning guide provides the steps to build a half-day workshop to begin identifying and implementing climate change adaptation strategies. The goal of the workshop is to help teams determine some feasible, near-term actions to prepare for climate impacts that directly affect the local community. Initiated from adaptation planning workshops in Alameda County, California, the guide includes lessons learned and suggestions about how to adjust the approach for any agency. The report includes examples of activities for heat island and air quality issues, as well as sample presentations, agendas, and breakout group activities.

This resource was featured in the August 9, 2018, ASAP Newsletter.
"Check out Alameda County's Adaptation Workshop Planning Guide  for guidance on how an individual community can advance its adaptation work. The Climate Change Adaptation Workshop Planning Guide is a blueprint for success!"
 The guide offers steps within five phases to plan, conduct, and evaluate a workshop for a local department or program. Some of the immediate goals for these workshops are to make a clear case for adaptation, as well as to minimize next steps with feasible methods and a reasonable scope so that staff can easily take action.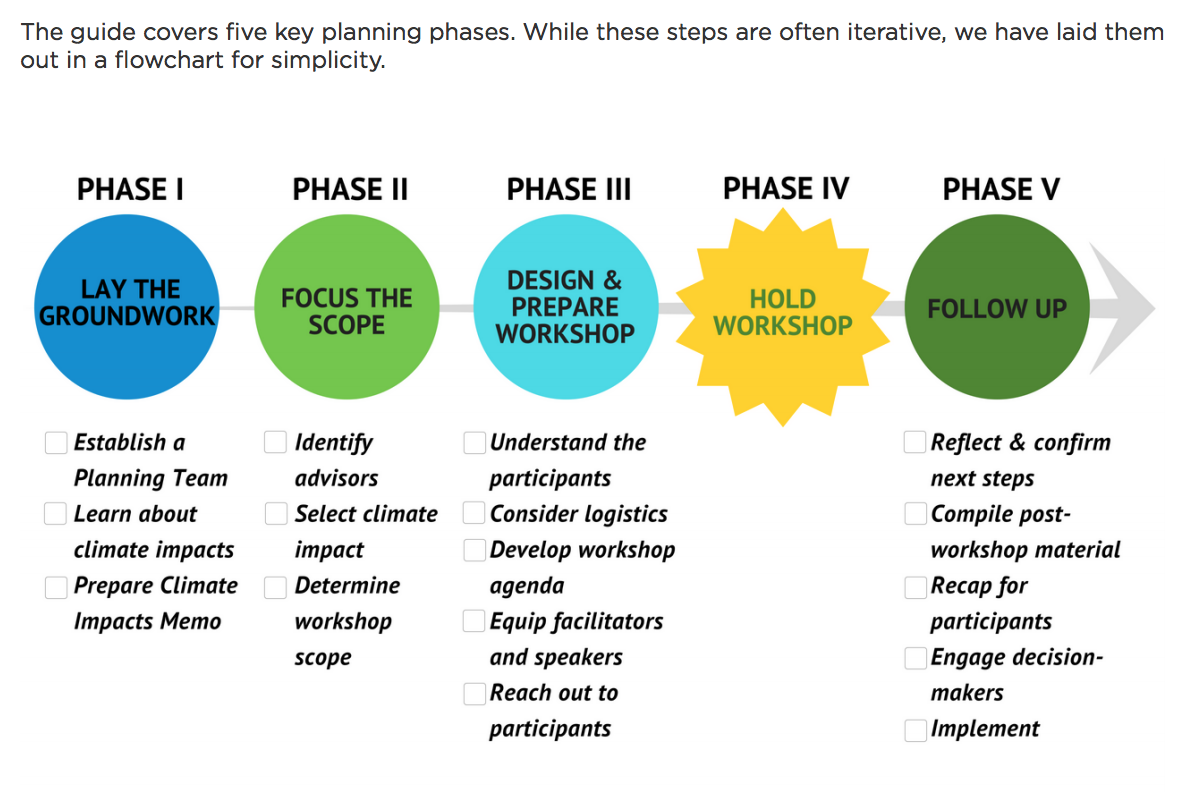 Workshop best practices addressed include to narrow the workshop focus, start small with one impact to get the process started, integrate adaptation goals into existing projects, prioritize social equity, and more. Below is a quick summary of these suggested priorities:
Narrow the Frame: It is often more effective to focus on localized specific climate change impacts that your agency can respond to and not overwhelm the audience.
Start Small and Lay Groundwork: Focus on a particular impact and a set of solutions that are selected for feasibility - which can later be built upon.
Integrate With Existing Goals: Deemed "integrated resilience," climate adaptation projects will be more easily adopted if built to help reach existing organizational goals. Consider how climate impacts relate to participant's existing roles and responsibilities.
Connect to Community Wellness: Adaptation strategies can support existing community health and wellness goals.
Prioritize Equity: Socially vulnerable communities will be the most vulnerable to climate impacts, and therefore must be central to all adaptation strategies explored.
Put Implementers at the Center: Engage the people responsible for implementing next steps early on, as members of the planning team or workshop participants.
Find the Champions: Find people with the passion, capacity, and/or vision to advance adaptation efforts, especially in early stages of engaging local decision-makers.
Publication Date: July 2018
Related Organizations:
Alameda County Office of Sustainability
Resource Category:
Resource Types:
Education/training materials
Engagement