Climate Change Bird Atlas
This tool helps determine suitable habitat for 147 bird species in the Eastern U.S. (east of the 100th meridian), based on current and projected climate scenarios. This information can then be used to develop large-scale projections of species' responses to climate change. By taking current distributions of bird habitat in the U.S., and applying a variety of climate scenarios, land managers can predict which areas will be suitable for which species. Information is presented in the following forms: maps of current suitable habitat; maps of suitable habitat projections for the year 2100 under different climate scenarios; and statistical tables providing quantitative estimates of species habitat changes. Information is also sorted by state and geographic region.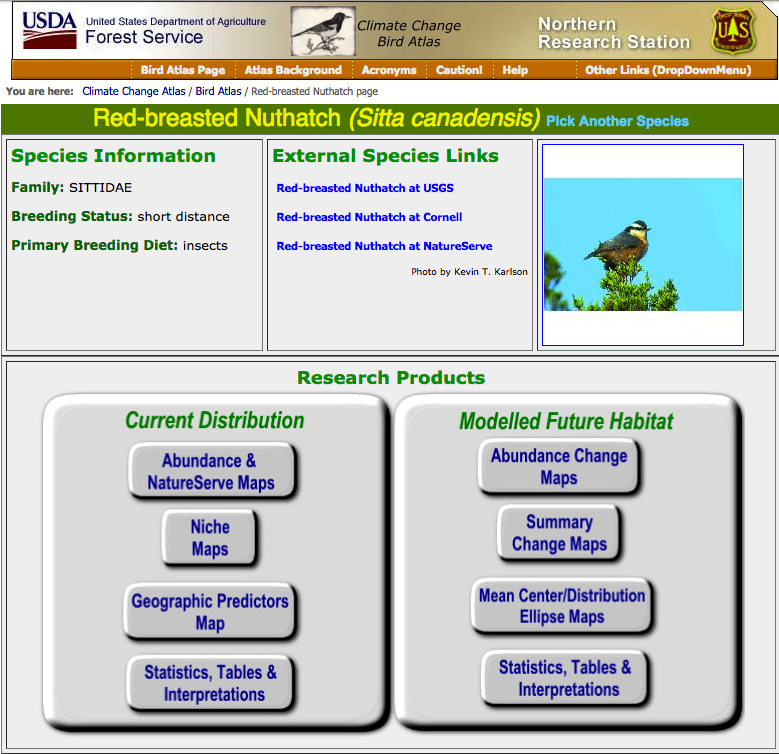 In order to maintain access to this website, we are linking to an archived version of the website saved on October 24, 2016. The original link can be found here: https://www.fs.fed.us/nrs/atlas/.
Publication Date: October 26, 2010
Related Organizations:
Sectors:
Forestry
Land management and conservation
Wildlife
Resource Category:
Resource Types:
Impacts: