Climate Change in the Latino Mind
The Yale Program on Climate Change Communication conducted a national survey of over 2000 Latino adults in the U.S. to determine their thoughts, concerns and engagement with climate change in 2017. The study analyzed results on levels of communication, activism, and desire for change in policy and politics of climate change from Latino's perspectives.
The survey results demonstrate that overall "Latinos are much more engaged with the issue of global warming than are non-Latinos." and that "Spanish-language Latinos are even more engaged than English-language Latinos."
Generally they found that: Latinos are more convinced global warming is happening and human-caused, more worried about it, perceive greater risks, are more supportive of climate change policies, and are more willing to get involved politically.
Survey responses on the Policy and Politics of climate change were based on the questions:
Should the U.S. Act on Global Warming?

Who is Responsible to Act on Global Warming?

Support for Policies to Address the Pollution that Causes Global Warming

Individual and Collective Action to Reduce Global Warming
Some of the Key Findings on Policy and Politics include:
Three in four Latinos want corporations and industry (77%), citizens themselves (74%), President Trump (74%), and the U.S. Congress (73%) to do more to address global warming.
Eight in ten Latinos (81%) support requiring fossil fuel companies to pay a carbon tax.
Many Latinos are willing to take political action on global warming, including a majority who would vote for a candidate for public office because of their position on global warming (60%). A majority are also willing to join a campaign to convince elected officials to take action to reduce global warming (51%), including 61% of Spanish-language Latinos.
Beliefs and Attitudes were surveyed on global warming generally, levels of concern, and perceived risks or climate impacts experienced. The study also looked at Personal and Social Engagement with Global Warming - such as how often it is discussed, and if climate should be included in educational curriculums.
The study found that twice as many latinos as non-latinos have been harmed by extreme heat, drought, and air pollution.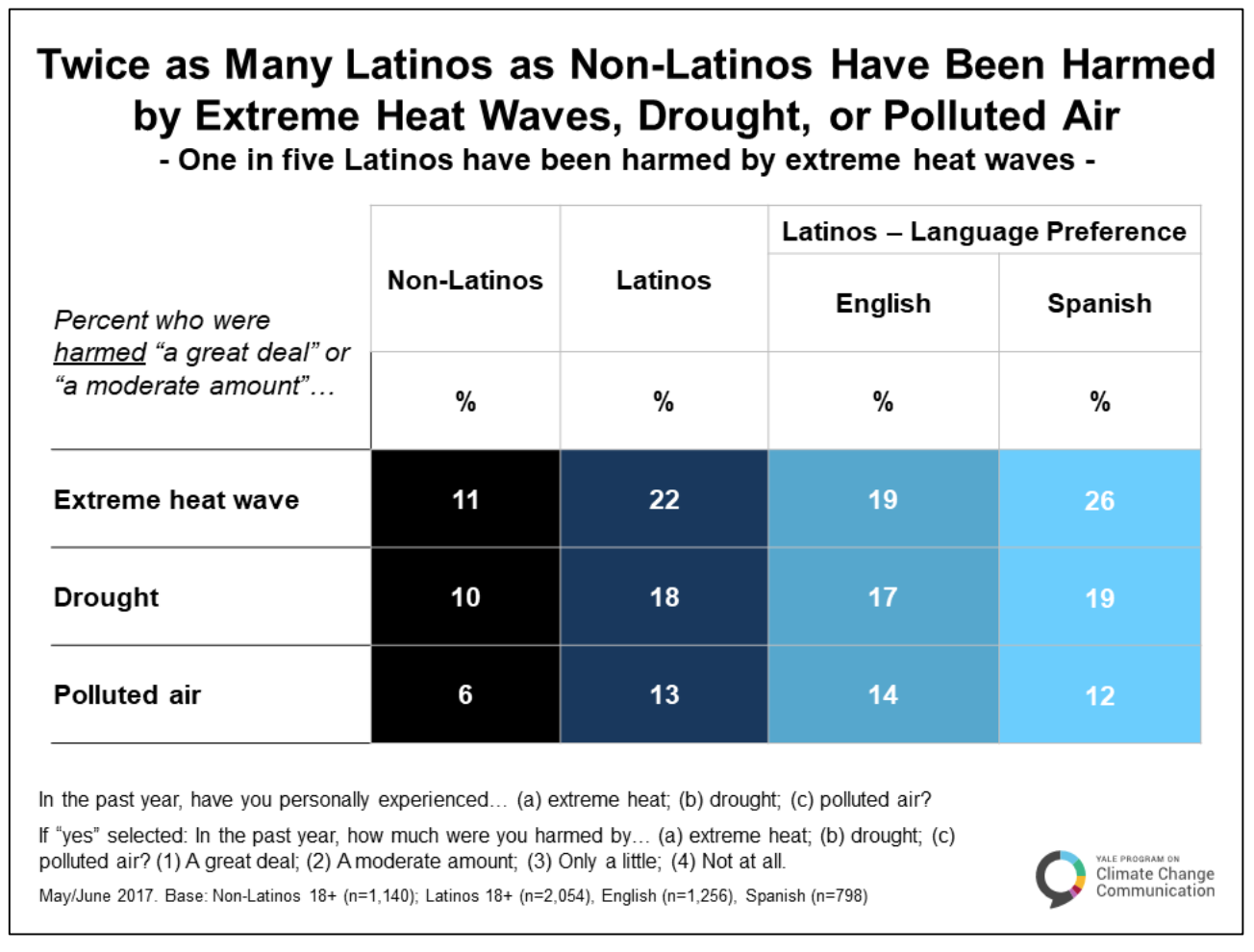 For the purposes of this study, Latinos are defined as individuals living in the United States who self-identify as a member of one of the following groups: Mexican, Mexican-American, Chicano, Puerto Rican, Cuban, Cuban American, or "some other Spanish, Hispanic, or Latino group."
Publication Date: May 2017
Related Organizations:
Yale Program on Climate Change Communication
Sectors:
Resource Category: