Climate Change Vulnerability Assessment for the Upper Snake River Watershed Tribes
The Upper Snake River Tribes include the Burns Paiute Tribe, Fort McDermitt Paiute Shoshone Tribe, Shoshone-Bannock Tribes of the Fort Hall Reservation, and Shoshone-Paiute Tribes of the Duck Valley Reservation that together are represented by the Upper Snake River Tribes (USRT) Foundation. The USRT assessment focused on climate change vulnerabilities of their reservations in the 97,000 acre watershed in the Great Basin region - primarily in Idaho, with reservation lands extending into southwest Oregon and northeastern Nevada. This collaborative study assessed the species, habitats, and resources that are most important to USRT member tribes and are vulnerable to climate change.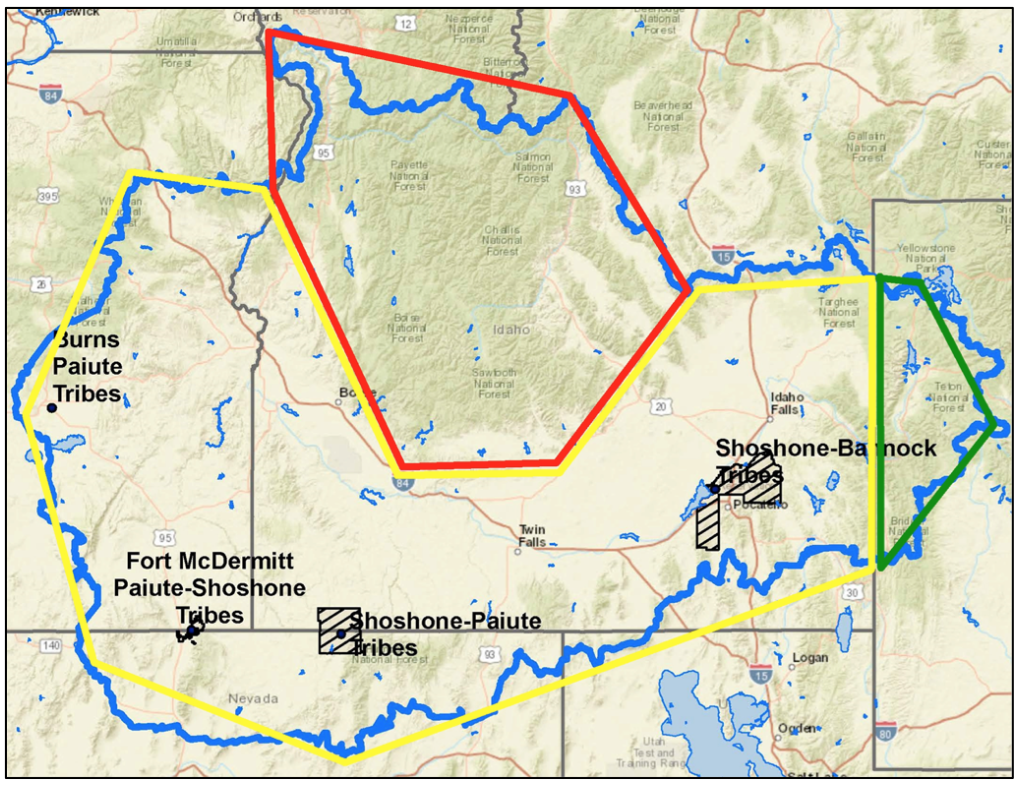 The colored domains in the image here represent distinct climate zones and are outlined in red, yellow, and green. They blue line represents the Upper Snake River Watershed.
The tribes have recognized the impacts of climate change already in the watershed as seen in drying sagebrush steppe habitat, extended wildfire seasons, less winter snowfall and earlier spring run-off, lower summer streamflows, higher water temperatures, reduced flow from springs and seeps, invasive weeds, and decreasing productivity of rangelands. The natural resources utilized by USRT tribes provide vital sustenance and water supply, as well as are essential for cultural practices, spiritual and community health and wellness.
The best available downscaled climate projections were combined with traditional knowledge, tribal priorities, and local observations, resulting in climate change vulnerability rankings for 28 habitats, plants, and animals.
NatureServe's CCVI tool was used to analyze the climate change vulnerability of species identified as primary concerns across tribes - or "Shared Concerns." The CCVI tool was used to generate quantitative vulnerability rankings for the 16 plant and animal species that had sufficient range and life history data to use the tool, and the remaining 12 were given qualitative vulnerability rankings.
Table 2 presents vulnerability rankings for the 16 quantitatively assessed species of Shared Concern for the 2050s. Column titles reflect the climate change scenario with less warming (RCP 4.5) and more warming (RCP 8.5). Labels are the overall vulnerability ranking: EV = Extremely Vulnerable; HV = Highly Vulnerable; MV = Moderately Vulnerable, and LV = Less Vulnerable.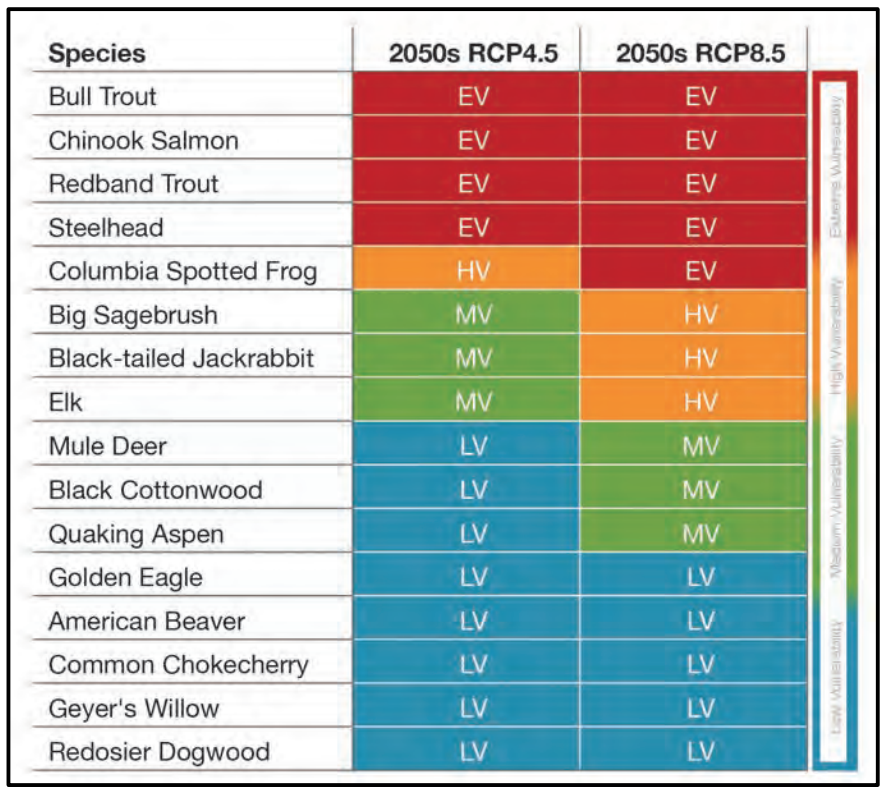 The report details the findings on climate change vulnerability of focal habitats in the watershed including: sagebrush-steppe, riparian and wet-meadow habitats. The assessments for priority plants and animal species are detailed also.
Supplemental handouts were built to summarize climate change vulnerability in the watershed for Big Sagebrush, Black-tailed Jackrabbit, Chinook Salmon, Columbia Spotted Frog, Common Chokecherry, Geyer's Willow, Mule Deer, and Riparian Habitat, which can be found linked on the USRT Foundation's website.
USRT and its four member tribes collaborated with Adaptation International, the University of Washington's Climate Impacts Group, and the Oregon Climate Change Research Institute, to develop this vulnerability assessment.
Publication Date: February 2017
Related Organizations:
Upper Snake River Tribes Foundation
Sectors:
Cultural resources
Land management and conservation
Rural
Wildlife
Resource Category:
Resource Types:
States Affected:
Impacts:
Air temperature
Invasive species and pests
Precipitation changes
Water temperatures
Wildfires