Climate Ready Communities - A Practical Guide to Building Climate Resilience
The Climate Ready Communities guide outlines actions to support the development of a city, town, county or tribe climate adaptation plan. The guidance is built on the Geos Institute's Whole Community Resilience Framework, and offers community level strategic planning for climate adaptation. This "Do-It-Yourself" guide incorporates strategies for community engagement, social equity, and cross-sectoral integration - with detailed instructions for vulnerability assessments and plan development. 
The guide is organized around the following 7 Steps of the Whole Community Resilience Framework: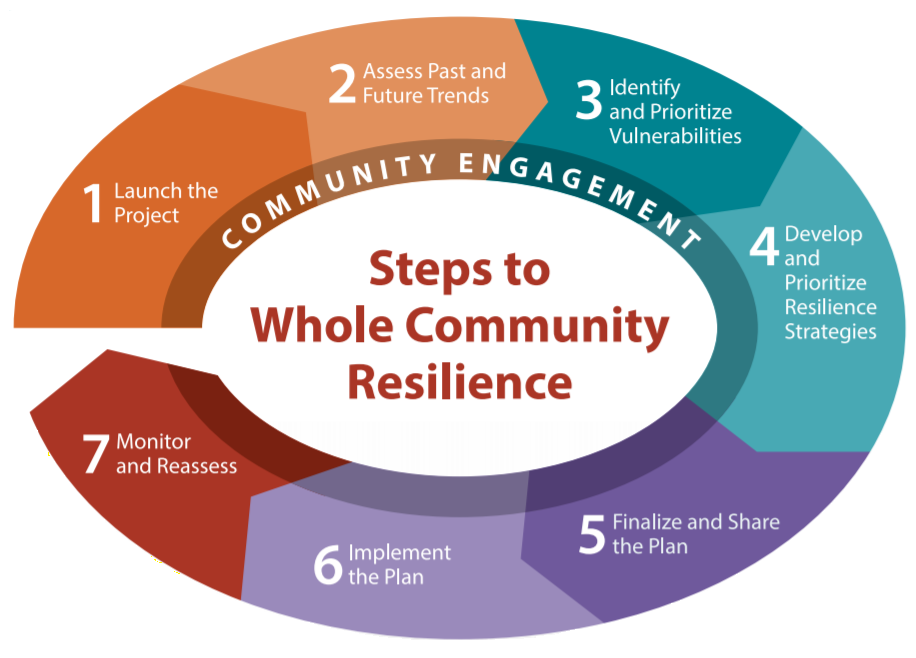 Each of the seven steps are summarized and then delineated with actionable tasks that include suggested outputs, tips for success, and related resources for each task.
For example, in Step 2: Assess Past and Future Trends the broad goals or tasks are:
Task 1: Gather Information About Historical Climate Trends and Future Projections
Task 2: Create a Climate Trends Primer
Task 3: Create a Community Primer
Task 4: Develop an Electronic Presentation of the Primers
The Climate Trends Primer developed in this step is meant to act as a communication tool to help people understand why the community needs to work on building resilience, and then feed directly into the Vulnerability Assessment (Step 3). The Community Primer is designed to inform a common understanding of the community's economic and social trends for further assessment.
Publication Date: 2018, Updated July 2019
Authors or Affiliated Users:
Related Organizations:
Resource Category:
Resource Types: