Climate Resilience Evaluation and Awareness Tool (CREAT) 3.0
This risk assessment tool assists drinking water, wastewater, and stormwater utility owners and operators in understanding potential climate change impacts to the water sector; assessing related risks at their utilities; and evaluating adaptation options. CREAT allows users to perform these analyses using scenario-based decision making in multiple time periods using pre-loaded data and downscaled local climate information. CREAT can support utilities in initiating adaptation planning and provides suggested customizable adaptation strategies that can be implemented at the user's utility.
CREAT contains climate change information at regional and local levels and allows users to assess climate impacts to assets, environmental conditions, communities, and local economic considerations.  Water sector utility owners and operators can use information about their utility to customize results and then apply established thresholds to determine when utility operations are disrupted and assets are impacted. Information from CREAT can feed into reports that help evaluate various adaptation options. 

The Climate Ready Water Utilities initiative has updated its Climate Projection Scenario Map using data provided in CREAT. The map gives access to projected changes in annual total precipitation, annual average temperature, annual number of days over 100°F, 100-year storm intensity, and sea-level rise at their location.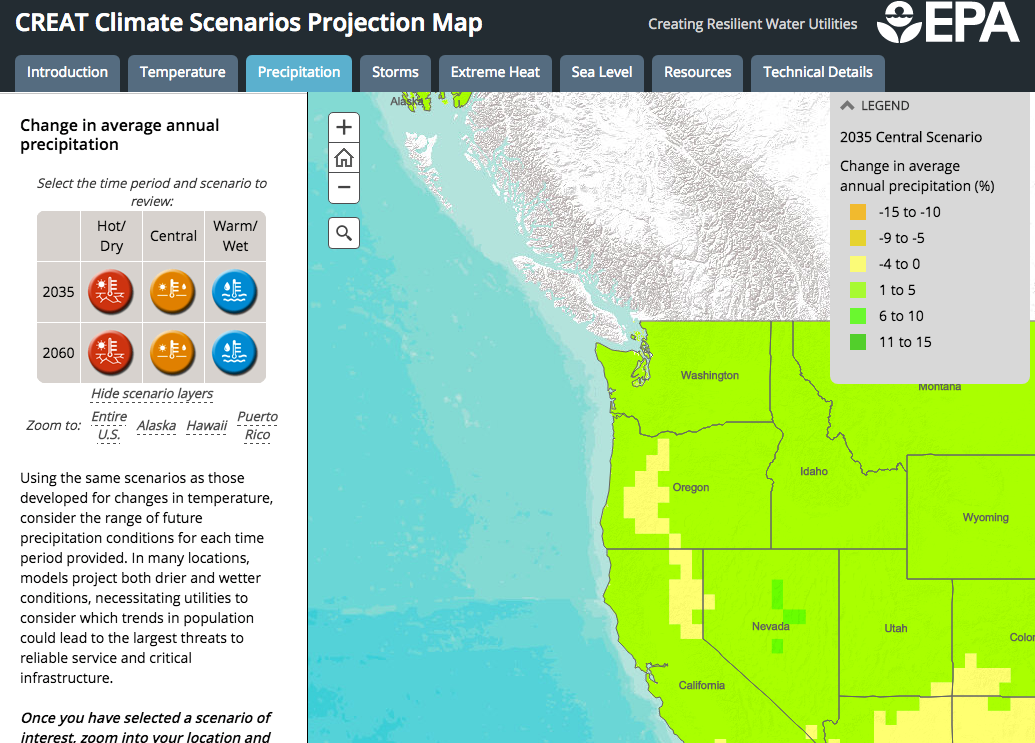 Related Organizations:
Related Resources:
Sectors:
Resource Category:
Resource Types:
Modeling tool
Tool (general)
Impacts: