Community-Driven Climate Resilience Planning: A Framework
In October 2021, the National Association of Climate Resilience Planners and the Movement Strategy Center, in collaboration with various other nongovernmental organizations, released the Community-Driven Climate Resilience Planning: A Framework. The Framework's authors advocate that communities on the frontlines and most exposed to the impacts of climate change be involved in developing any plan that helps build their resilience to these impacts. The more these communities participate in the planning process, any resulting plans will be more effective. Guided by this idea, the report lays out seven essential components of creating a community-driven resilience plan: (1) co-developing the planning model; (2) facilitating community power building; (3) creating a bold visioning strategy; (4) defining the problem with the help of the community; (5) assessing community exposure to climate impacts; (6) developing solutions through leveraging partnerships; and (7) ensuring that the planning process is kept "on track." Made primarily as a guide for community-based organizations assisting in the development of climate solutions, the Framework is also designed to be useful for philanthropic organizations working to address the climate crisis, as well as public officials promoting resilience. 
Before expanding on the components necessary to create an effective, community-driven resilience plan, the authors first establish the definition and common characteristics of this type of plan. The Framework defines "community-driven climate resilience planning" as "the process by which residents of vulnerable and impacted communities define for themselves the complex climate challenges they face, and the climate solutions most relevant to their unique assets and threats." If created in the way outlined by the Framework, the authors suggest that a community-driven climate resilience plan can be effective, specific to the place or community in question, equitable, made democratically, leverages collaboration between the community and alliances with public and private partners, recognizes the cultural traumas and ecological wisdom frontline communities have, and utilizes a "whole systems" approach. 
The authors then provide "five guiding principles that weave through each of the essential components of a community-driven planning process. These principles provide stakeholders some direction on how best to implement planning processes in ways that support necessary shifts." These guiding principles are: 
Whole systems thinking

, which will require drawing on cultural wisdom of local communities and building on the adaptive strategies that these frontline communities have built themselves "over generations of hardships and crises." Whole systems thinking also involves collaborating across multiple sectors and disciplines to create a comprehensive, place-based resilience plan or solution. 

Desired outcomes reflected at every step

, which will involve incorporating equity considerations and integrating health and wellness practices into each step of the planning process.

Planning processes as learning processes

, which will help to ensure that stakeholders and community members are educated about the consequences and causes of climate change and its impacts to their neighborhoods. Placing community leaders in positions of power within the planning process can help to ensure that this type of education takes place, and that policymakers are better informed about community issues in turn. 

Planning into action

, which will involve incorporating practices that encourage that the planning process does not just stop at development, but continues forward into the implementation phase. Strategies that can help to better ensure implementation opportunities include developing and identifying financing and funding sources early on in the process, and building systems changes — like "shared governance practices and removal of barriers to public participation — into advocacy efforts."

Balancing power dynamics among stakeholders

, which will help to increase decision makers' awareness of the oppression and trauma these frontline communities face—both historically and presently. This will also help build the relationships and alliances between these decision makers and affected stakeholders. 
These guiding principles are integrated into the next section of the Framework that outlines the essential components of community-driven resilience planning. Each essential component section defines what that component is and how it works in practice (in a table format) — which includes specific outcomes to look for, steps to take that work towards achieving those outcomes, and resources that are available to decisionmakers and communities that can help to ensure these outcomes can be realized. The Framework also includes a spotlight section for each component, highlighting an instance where an organization or program has achieved the desired outcomes of each essential planning component.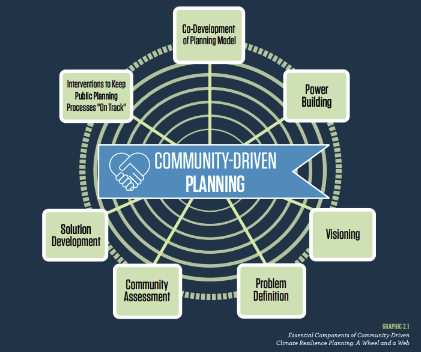 1. Co-Developing the Planning Model
This is a pre-planning phase in which a coalition of community-based groups, community leaders, and public and private partners should work together to identify the community's core values, culture, assets, and unique challenges, so that any resilience plan can reflect and address them. Collaboration often requires hosting town halls or meetings with community members in community-based facilities (e.g., churches, schools), identifying other "change efforts" operating within the community, recognizing and engaging with the local culture of the community — which can include recognizing historical traumas and inequities — and more. When a resilience plan is co-developed with all these entities and individuals in mind, the outcome can lead to a planning approach that not only reflects the needs and interests of the community and is more likely to be implemented, but also one that complements and leverages any existing efforts for change that are already taking place within that specific area. 
The spotlight case study for co-developing a planning model is We Act Environmental Justice in New York City, New York. This organization works to ensure that low-income, frontline communities of color have an opportunity to participate in climate planning processes, specifically the Northern Manhattan Climate Action Plan and the Upper Manhattan Climate Manual. To do so, We Act works not only to educate individuals about the impacts of potential climate-related crises (planning process as learning process), but has also created working groups focusing on and tracking the implementation of different aspects of climate action plans, including construction, design, and financing (planning into action).
2. Facilitating Community Power Building
A climate resilience plan that is truly community-driven is one that ensures that all levels of governance and community members are engaged and participating in the planning and implementation process. "It's not just 'bottom-up/top down' but also 'inside/outside/inside,' meaning that an on-going investment is needed in both people and systems, and in organizing models that engage resident leaders and decision-makers in the interplay between community-based solutions and policy/systems change." In practice, this involves giving stakeholders the opportunity to share their stories with decisionmakers, connecting community organizations with funders and local financial institutions, and identifying and eliminating the barriers that prevent communities from achieving "policy wins" and ultimately, the systems changes that are necessary to build community power. Keeping these strategies in mind, the resilience plan can ensure that community and resident leaders have the capacity to work with and advocate at all levels of governance, and that community-driven institutions are equipped with the tools necessary to effectively implement a community-driven resilience plan. 
The spotlight case study for facilitating community power building is Our Power Richmond, in Richmond, California. A 3,000-acre Chevron refinery facility is located within the lower-income area of Richmond, posing significant environmental justice threats to those living nearby. Community-based organizations engaged with a variety of power-building strategies — such as creating multi-stakeholder groups and coalitions that could better articulate the priorities and needs of the residents when the city was creating its 2012 General Plan (balancing power dynamics among stakeholders). The coalitions consistently held learning forums for decisionmakers to educate them about the impacts the refinery had on their communities. As a result, through the Richmond General Plan, Richmond became one of the first cities in the country to explicitly recognize the correlation between public health and the environment. Additionally, in a 2014 election, residents of the neighborhoods near the refinery rallied to elect candidates that better represented community values and the need to transition away from the refinery towards renewables. 
3. Creating a Bold Visioning Strategy
The visioning phase of developing a plan involves identifying the goals that the resilience plan is intended to achieve. Involving the community early and often at this stage can help to "galvanize [the] community around [the] future you want to build together," which can ultimately help to increase chances of implementing the plan n. Actions that support the "visioning" component of any climate-driven resilience plan include hosting multiple visioning sessions that are also treated as education opportunities to explore past traumas and inequities and opportunities to identify shared values, partnering with local artists, officials, and cultural leaders to educate and engage the community around these visions through art installations to inspire support, and advocating an implementation metrics system that has been derived specifically by the community. Utilizing these strategies can help to ensure that a resulting planning approach galvanizes the community to create a more resilient future that has the shared values of its residents at the heart of it. 
The spotlight case study for the creation of a bold visioning strategy highlights the work of UPROSE in Brooklyn, New York. Their work more recently culminated in the launch of the Sunset Park Climate Justice Center in response to Superstorm Sandy. The Justice Center hosts regular meetings with community members to come together over meals to share stories, resources, and ideas on how to break down the barriers that exist to collaboration. This work has resulted in a "unifying frame that brings youth leaders, parents, business owners, unions, clergy, regional coalitions, green infrastructure specialists, and city representatives together for affordable, accessible projects that strengthen the social fabric of the neighborhood" (whole systems thinking). Essentially, UPROSE works to join together and amplify community voices in frontline neighborhoods. 
4. Defining the Problem with the Help of the Community
Communities on the frontlines of climate change are also typically those that are also affected by other social and economic issues. Many of these problems are unique to each community, due to specific past traumas and inequities. As a result, defining the problems that a resilience plan is designed to address will require significant input from the community. Activities that can help to facilitate community engagement in the problem identification phase of a plan design can include developing media strategies that encourage community members to tell their own stories, taking a whole-systems approach to assessing local climate vulnerability, and creating collaborative spaces where people feel safe to talk about past traumas and the problems within their community. Implementing strategies like this can better ensure that communities are able to better highlight and articulate the issues within their own neighborhoods, which can influence public opinions and ultimately decisionmakers.
The case study spotlight relating to defining climate problems with the help of the community emphasizes Gulf South Rising's work in Texas, Louisiana, Florida, Mississippi, and Alabama, where the organization helps to "build capacity for integrated issue analysis." Using a bottom-up approach, community, faith-based, and civic organizations across the region have worked to unite residents in the communities that are most impacted by rising sea levels, fossil fuel environmental injustices, and other marginalized communities (balancing power dynamics among stakeholders). This collaborative effort helps to create solutions to intersecting issues that span across sectoral boundaries, including "economic inequality, political disenfranchisement, and ecological devastation."
5. Assessing Community Exposure to Climate Impacts
Assessing an area's exposure to climate impacts will require ongoing engagement with residents throughout the development and implementation process to ensure that the most critical and vulnerable assets are protected. Activities that advance this essential component of community-driven resilience planning include researching the history and inequity of neighborhoods including through direct conversations with residents, identifying local experts in the community, and keeping those who participated in the identification process involved with ongoing forums that focus on implementation successes. By utilizing these strategies, a resulting resilience plan will focus on solutions specific to a community's vulnerabilities. 
The case study spotlighted regarding assessing community vulnerabilities focuses on PODER (People Organizing to Demand Environmental and Economic Rights Rooted in Resilience) in the Bay Area of California. Youths in the area have been identified as those among the most susceptible to climate impacts, in conjunction with the economic and racial disparities found within the community. PODER has created a Map Your Future tool which is aimed at helping young people of color in these communities conduct "community-driven assessments of climate vulnerabilities." This tool has led to the implementation of several projects that help to make the most vulnerable assets more resilient. For example, in collaboration with the city's Public Utilities Commission, PODER created a community farm where residents in what was once a food desert can come together to grow their own food and medicine (planning into action). 
6. Developing Solutions Through Leveraging Partnerships
Solutions aimed at addressing the impacts of climate change on frontline communities are most effective and successful where multiple stakeholders across a variety of sectors are committed to enhancing resilience in the ways that the community members have outlined. Activities that better ensure that a multitude of stakeholders will commit to developing and implementing resilient solutions include creating forums or spaces where individuals and organizations from a variety of sectors can come together to discuss potential solutions, implementing smaller pilot projects to demonstrate potential broader successes to wider audiences, and engaging stakeholders in leadership roles in equity training. Leveraging the resources of these organizations, collaborations, and partnerships can help to ensure that communities have the resources necessary to make resilient changes. 
PUSH Buffalo in Buffalo, New York is the spotlight example provided for the solutions development component of creating a community-driven resilience plan. Through engaging with residents, business owners, and public and private agencies operating within the area, PUSH was able to designate a 25-square block of a neighborhood as a Green Development Zone. These partners work together in the Development Zone to advance three cross-cutting, multi-sectoral goals: developing green and affordable housing, revitalizing vacant lots, and creating quality jobs within the community for community residents (whole systems thinking). Additionally, because the residents of this neighborhood were involved early and often throughout the development of the PUSH Green Development Zone, the "solutions that follow[ed were] . . . as interconnected as the web of interlocking problems impacted communities face." The collaboration between multiple stakeholders allowed for these types of intersecting solutions. 
7. Ensuring that the Planning Process is Kept "On Track"
When a community is involved throughout the design and development process of a resilience plan, its implementation is more likely to be successful. To best ensure that the essential component of keeping the planning process "on track" is realized, "community-based institutions can collaborate with local government to create tools that support the public and private sectors in effectively integrating the principles and practices of climate resilience into development efforts." In practice, actions like creating working groups to monitor accountability and developing checklists and specific recommendations for city planners and local decisionmakers can help keep this planning, and ultimately, implementation, on track. 
The case study spotlight for this key component focuses on the work done by the Center for Earth, Energy, and Democracy (CEED) in Minneapolis, Minnesota, which worked to ensure that equity and inclusion were considered throughout the city's development of its Climate Action Plan. As part of this work, CEED promoted the use of a tool — the Twin Cities Environmental Justice Mapping Tool — that combines data relating to air quality, demographics, and other factors. and the lived experiences and stories of impacted community members (planning processes as learning processes). Today, CEED continues to push for the inclusion of community-engagement strategies and equity considerations generally in all city-planning processes.
Publication Date: October 2021
Related Organizations:
National Association of Climate Resilience Planners
Sectors:
Resource Category:
Resource Types:
Best practice
Planning guides
Impacts: