District of Columbia's RiverSmart Program
Washington D.C.'s Department of Energy and Environment (DOEE) administers a variety of "RiverSmart" programs to fund projects that reduce stormwater runoff and water pollution. The programs provide financial incentives, in the form of grants and rebates, to fund green infrastructure projects that reduce and treat stormwater runoff from impervious surfaces. Although the RiverSmart program was developed to help the District address water pollution from stormwater runoff, it also supports climate resilience by diverting rainwater from the city's stormwater system to manage increasingly heavy rainfall events. District property owners who install rain barrels, green roofs, permeable pavers, shade trees, and landscaping projects that reduce and/or treat stormwater runoff from impervious surfaces on their property are eligible for grants and rebates from these programs to offset the costs of the investment. 
DOEE offers a variety of grants for green infrastructure projects through three programs: 
RiverSmart Homes: DOEE provides technical and financial assistance to help homeowners reduce stormwater runoff from their properties. The program provides assistance to help homeowners install stormwater reduction features, including rain barrels, shade trees, rain gardens, native landscaping, and removal of impervious surfaces and revegetation. A site audit is conducted to assess what features are best for the site and then DOEE will work with partners to help homeowners install green infrastructure projects. Homeowners must contribute a co-payment of between $50 (for a rain barrel) to $100 (for native landscaping). It takes approximately six to eight months for contractors to complete the project after the site audit. 
RiverSmart Communities: DOEE provides funding to nonprofit organizations and houses of worship to fund similar types of green infrastructure projects. In 2018 grants of up to $180,000 were offered. Projects were required to have a community outreach and engagement component and a plan for long-term maintenance of the project. 
Community Stormwater Solutions: DOEE provides grants to fund community-oriented projects designed to reduce stormwater pollution, reduce trash, promote environmental education, and build climate resilience in priority sub-watersheds.
DOEE also offers rebates to property owners that want to implement projects themselves, to help them offset the costs to install green infrastructure:
Rain Garden Rebate Program: District property owners can receive a rebate for installing a "rain garden", which is a garden designed to capture and improve stormwater infiltration on the property, preventing it from running into the city sewer system. Property owners are eligible for a rebate of $3 per square foot of treatment area, with a maximum rebate of $2,200. 

To qualify, the project must be greater than 50 square feet, redirect 400 square feet of stormwater from the sewer system, and be planted with vegetation native to the Chesapeake Bay.
Permeable Surface Rebate Program: District homeowners who remove impervious surfaces and replace them with permeable pavement or re-vegetate them  are eligible for a rebate. Impervious surfaces removed and replaced with vegetation are eligible for a $5/square foot rebate. 

To qualify, a minimum of 200 square feet of impervious surface must be removed from the site and replaced with vegetation or 100 square feet must be replaced with permeable pavers.
Green Roof Rebate Program: Property owners can receive a $10 to $15 per square foot rebate for the costs to voluntarily install a green roof designed to capture and improve treatment of stormwater. Properties of all sizes can apply, including residential, commercial and industrial properties. And funds are also available to defray the costs of structural assessment for buildings smaller than 2,500 square feet.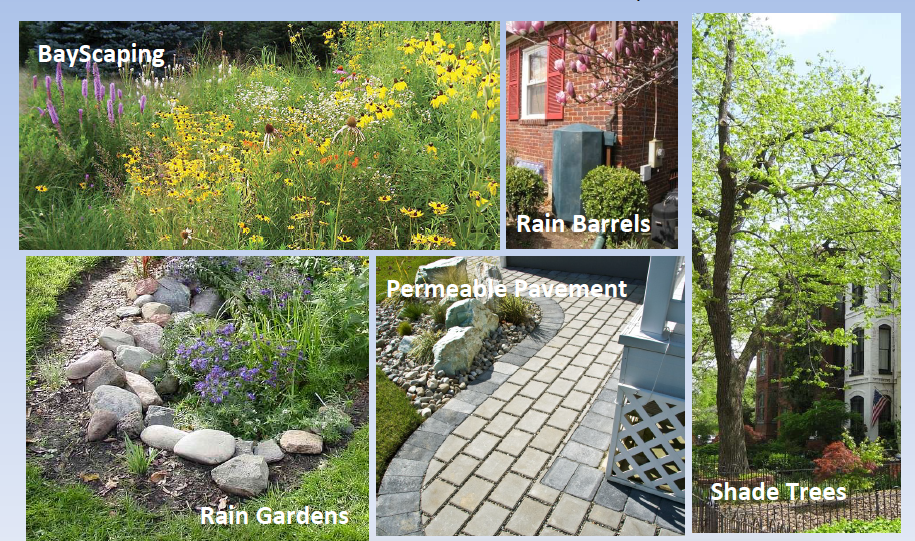 Homeowners are encouraged to consider the characteristics of their property and how they plan to use the space when determining what type of stormwater capture project is most suitable for the site. The rebate process and amounts are determined by project type and are provided as a direct reimbursement to homeowners once the project is completed, inspected, and approved. Both programs are administered by the Alliance for the Chesapeake Bay on behalf of DOEE. Based on funding availability, rebates are awarded on a first-come, first served basis, and property owners who have already received a RiverSmart Homes grant are eligible for rebate funding. 
The program is funded through a number of sources including the District's Stormwater Enterprise Fund. 
Publication Date: 2006
Related Toolkits:
Sectors:
Resource Category:
Resource Types:
Best practice
Funding program
States Affected:
Impacts: