Drought and Equity in California
Drought and Equity in California is the first statewide analysis of the impacts of the five-year and ongoing drought on California's most vulnerable communities. Three major impacts of the drought are the focus of the report, including water supply shortages, drought charges and water affordability, and the drought impacts on salmon fisheries. The Pacific Institute finds that water shortages and price increases affected access to safe, affordable water for Californians, with the most severe impacts on several vulnerable populations. The report concludes each section with a set of policy recommendations focused on improving resiliency to drought, and minimizing future consequences.
Numerous datasets were analyzed to provide a statewide perspective on domestic water shortages during the ongoing drought. The resulting information illustrates water shortage locations, types of water systems that were impacted, and the demographic and socioeconomic characteristics of the impacted communities. 
Inequities in access to water in California existed before the drought began in 2012, but the drought made these inequities more severe. Low-income families, those who are disproportionately burdened by multiple sources of pollution, and those who depend on aquatic ecosystems for their livelihood and traditions are highly vulnerable to problems of supply shortages, rising unaffordability, and insufficient streamflows.

Of the drought-impacted public water systems considered in the report, two-thirds served a disadvantaged community, and nearly one-third served a cumulatively burdened community.


Similarly, of the household shortages reported in Tulare County, two-thirds were in a disadvantaged community, and nearly 90 percent were in a cumulatively burdened community. The report's defines "disadvantaged communities" as having a median household income of less than 80 percent of the state median. "Cumulatively burdened communities" are those that rank in the top quarter of census tracts in the state for environmental burdens and socioeconomic vulnerability.

In low-income households which have little or no disposable income, drought charges exceeded state and federal affordability thresholds. Households earning less than $25,000 per year saw water costs rise from 1.8 to 2.1 percent of their household income. Households earning less than $10,000 saw costs rise from 4.4 to 5.3 percent of income.

In addition, declines in salmon populations, made worse by drought, have meant that tribes cannot obtain the fish that are an essential part of their diet and an integral part of their spiritual and cultural tradition. In addition to measures to protect and restore salmon populations, the report recommends providing emergency income assistance and insurance protection, as well as mechanisms for meaningful and timely tribal engagement with all levels of government.
The major impacts of supply shortages and rising costs - which affect people's access to water in their homes - are addressed in the first section. Domestic water shortages both in public and the non-public systems that serve very few people, such as private wells are discussed.
The second analysis looked at shortages reported by households served by non-public water systems and found that from January 2014 through August 2016, the state received 3,749 reports of shortages in households served by these systems. Most of the reports were concentrated in the counties that are in the San Joaquin Valley, with 1,571 (42 percent) in Tulare County alone. The severe drought impacts on Tulare County are discussed in detail in the report.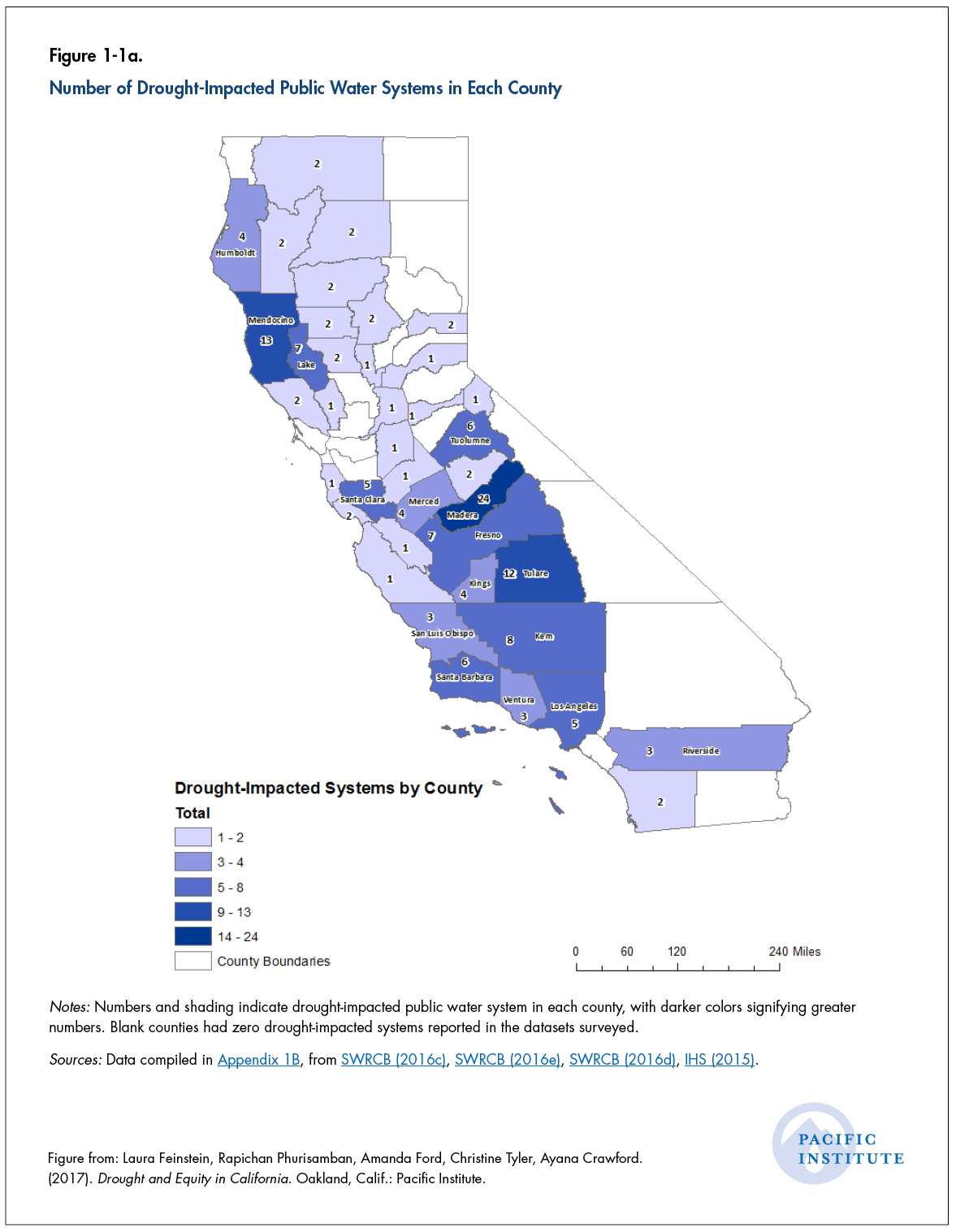 Section 2 examines drought surcharges, and how they affected water affordability for low-income households. Available data on drought charges imposed in 2015 was analyzed, including information on the structure of those charges, and the impact of the structure of drought charges on meeting basic water needs.
In addition, case studies were conducted on three water utilities, estimating the monthly bill, with and without drought charges, for an average-size household using 55 gallons per capita per day - and the results are detailed in the report. The two utilities with the greatest proportion of their service area in a Disadvantaged Community (DAC) were chosen: Elsinore Valley Municipal Water District and the City of Glendale Water and Power. 
DOE highlights the effectiveness of drought fees, penalties, and surcharges for managing drought - both by encouraging customers to save water, and ensuring financial stability for water utilities - however, they raise water affordability issues for low-income households.
Recommendations are given for three promising strategies for minimizing the impacts of drought charges on water affordability:
impose drought surcharges on water usage above some threshold, e.g., 55 GPCD, and adjust for household size;

target efficiency programs to low-income households; and

offer financial assistance programs to offset costs for low-income households.
The third section examines the impact of the drought on commercial and tribal fishermen reliant on salmon for their livelihood and cultural traditions. Droughts can impact salmon in many ways, along with the compounding effects of alterations to habitats, migration barriers, invasive species, and competing uses of water likely decreasing salmon's resilience during extended dry periods. For example, dams now block Central Valley Chinook salmon and steelhead from over 90% of their spawning habitat. 
For commercial fishermen, the salmon fishing fleet has declined by 80% since 1982. Native American tribes are also significantly impacted by salmon loss, as observed in their harvest and consumption patterns. For centuries, Native Americans in California and the Pacific Northwest have relied on salmon not only as a food source, but also as an integral part of their spiritual and cultural traditions - representing a loss of both physical and spiritual sustenance. 
This project was conceived of cooperatively by the Pacific Institute and the Environmental Justice Coalition for Water (EJCW).
Publication Date: January 9, 2017
Related Organizations:
Environmental Justice Coalition for Water
Sectors:
Cultural resources
Fish and fisheries
Resource Category:
Resource Types:
States Affected:
Impacts: