Eye of the Storm: Report of the Governor's Commission to Rebuild Texas
The Governor's Commission to Rebuild Texas was established just after Hurricane Harvey devastated the Gulf Coast region of the state in August 2017. Governor Abbott directed the commission to determine ways to improve the process of disaster response and to develop strategies for protecting the region against future storms. The Commission's report details the magnitude and impacts of Harvey; assesses the federal, state and local response to the disaster; and offers recommendations on how Texas can better prepare for future disasters. While climate change is not directly acknowledged as the cause or amplifier of the hurricane, the Commission developed resilience strategies that are outlined as a comprehensive framework for "future-proofing" Texas. These strategies address Avoidance or disincentivizing development in the floodplain, Resistance - such as flood control structures and resilient building codes; and Accommodation - including enhanced storm water drainage.
Hurricane Harvey brought four major climate impacts to the area along the Texas Gulf coast - river flooding, urban flooding, storm surge and hurricane-force winds. The report details these impacts, and further the direct and indirect losses to the local communities. Along with extreme numbers of lives, homes and livelihoods lost - other impacts are accounted for such as to public health, environmental damage, social effects, and long-term implications for the economy. Chapter 3 describes how "meteorological factors" contributed to increasing flood risks and discusses the "changing nature of flood threats in coastal Texas." This chapter details the current status and potential risks for the built environment, wetland, floodplain dynamics, and urban flooding.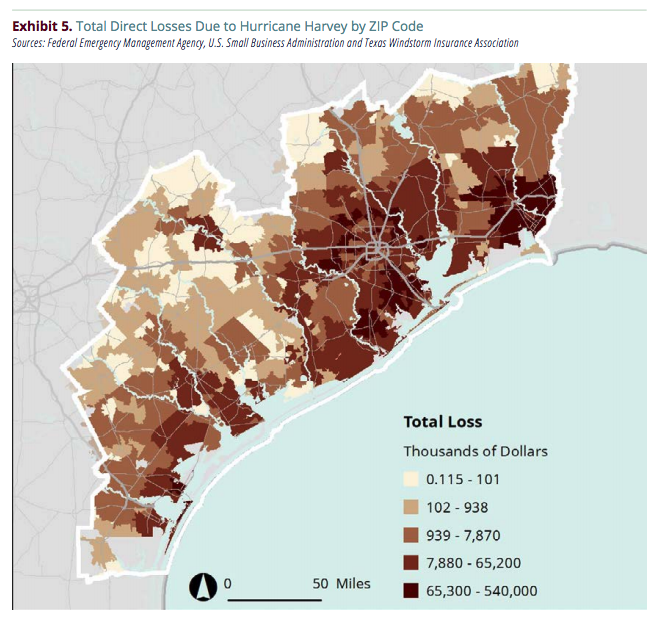 Chapter 5 describes the actions of local, state, federal and private responders in the days just before Harvey's landfall and in the weeks following - as well as the immediate problems they experienced, such as the need for a more interoperable communications systems. The Commission also identifies strategies to improve the state's current emergency preparedness and response system - by unifying responsibilities across agencies, and by providing better information, training and emerging technologies. 
Chapter 7 - Building a More Resilient Texas describes a framework for "future-proofing" Texas - with an ultimate goal "to ensure that future development along the coast considers the potential impact of future disasters." Recommendations are given to help the state and Gulf Coast region prepare for extreme flooding - and are described in terms of avoidance, resistance, and accommodation. A few key strategies are listed here that best speak to climate adaptation:
Avoidance
Identify properties in high flood-risk areas for city and county voluntary purchase and relocation programs.

Establish regulations to ensure new development does not cause flood damage in adjacent or downstream properties.

Use regulation and incentives to steer development away from high flood-risk areas.
Resistance
Develop a strategic plan for flood control infrastructure that includes long-term investments in maintenance and replacement.

Build flood defenses to protect key economic assets and major population centers from storm surge and major floods.

Establish "resilient" building codes for all new structures on the Texas coast.

Identify critical facilities facing high storm risks and plan to ensure their protection.
Accommodation
Enhance natural storm water drainage and storage across flood-prone landscapes.

Improve and enhance existing storm water drainage and storage facilities
The report summarizes the magnitude of Harvey's impacts:  "At least 68 people died directly due to Harvey's effects, nearly all from drowning, and about 35 more people died from indirect effects such as vehicle accidents and the inability to reach medical aid. Thousands of Texans were left homeless. FEMA reported that nearly 780,000 Texans evacuated their homes. More than 42,000 Texans were housed in 692 shelters; first responders rescued more than 122,000 people - and 5,234 pets. Harvey caused $125 billion in damage in Texas, more than any other natural disaster in U.S. history except Hurricane Katrina."
Publication Date: December 13, 2018
Related Organizations:
State of Texas
Governor's Commission to Rebuild Texas
Texas A&M University
Sectors:
Resource Category:
Resource Types:
Policy analysis/recommendations
States Affected:
Impacts:
Precipitation changes
Wind