Georgetown Climate Center Green Infrastructure Toolkit
From the Georgetown Climate Center, the new Green Infrastructure Toolkit is a comprehensive guide presenting a wide array of best green infrastructure practices from cities across the country. The tool is integrated with this Adaptation Clearinghouse to showcase some of the best examples available, whether you are just getting started, scaling up, determining how to pay for green infrastructure, or working to ensure that local policies are integrated with climate equity and environmental justice efforts in the community. The toolkit is intended to aid local governments nationwide in comparing best practices across cities, drawing lessons from different approaches, and crafting similar policies for their own jurisdictions.
Green infrastructure strategies seek to manage stormwater, reduce urban heat island effects, improve air quality, and promote economic development, among other sustainability goals. Many green infrastructure techniques addressed in this Toolkit are designed to manage stormwater - including techniques such as using permeable pavements and green roofs to both capture rainfall and retain it on site, keeping it out of the stormwater system. The Toolkit Introduction - Strategies and Techniques section - describes the range of green infrastructure interventions, how each works, the benefits each brings, and the type of sites where the technique can be deployed.   
The 'Getting Started' section focuses on the role of pilot projects as both demonstration projects and as stepping-stones towards larger-scale implementation, and presents:
various models for starting green infrastructure pilots,

tools to make those pilots most effective,

strategic approaches for choosing pilot sites, and

effective monitoring strategies to enable scaling pilots up into larger programs.
The Toolkit's 'Scaling Up' chapter investigates legal tools designed to integrate green infrastructure into: 
planning tools (including green infrastructure-specific plans and comprehensive plans),

regulatory tools (including zoning and building codes and stormwater ordinances),

incentive-based tools (including grants, subsidies, and stormwater fee adjustments), and

government operations (efforts involving public infrastructure, land, or facilities).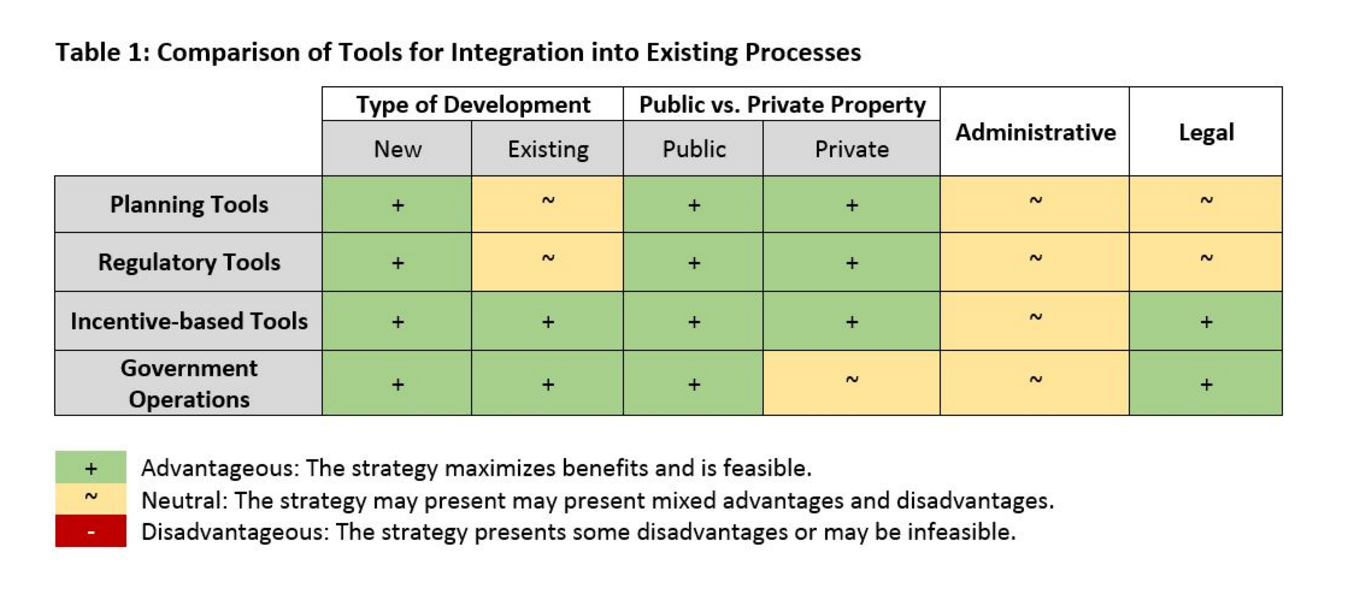 The 'Funding and Financing' chapter provides strategies that a local government can use to pay for green infrastructure program implementation. The tools covered in this chapter are broken down into five categories of: federal funding sources, state funding sources, local funding models, government financing options, and private financing options. For each of the funding or financing strategies, the toolkit provides an overview of how the mechanism can be used to pay for green infrastructure projects or programs.
Linked resources in the Adaptation Clearinghouse provide more detailed information about funding programs or descriptions of jurisdictions that have successfully paid for green infrastructure projects or programs using the various funding or financing tools. 
Publication Date: September 14, 2016
Author or Affiliated User:
Related Organizations:
Sectors:
Resource Category:
Resource Types:
Best practice
Tool (general)
Impacts: