Great Marsh Coastal Adaptation Plan
The National Wildlife Federation, in partnership with the Ipswich River Watershed Association, developed this adaptation plan for six coastal communities in northeastern Massachusetts (Salisbury, Newbury, Newburyport, Essex, Ipswich, and Rowley) that are in the Great Marsh and highly vulnerable to climate change. The report includes thorough reviews of vulnerability assessments of current and future coastal climate threats for the region and for each town. Near and long-term strategies that reduce risk and increase ecosystem and community resiliency are described for each of the six communities and regionally as well. 
As further detailed in the report, the Great Marsh is the largest salt marsh in New England, with over 20,000 acres of marsh, barrier beaches, and tidal estuaries. A complex of interconnected ecosystems that encompass coastal communities, while many areas are more developed and armored with engineered features to manage coastal flooding and stabilization.
The Vulnerability Assessment section summarizes projected climate impacts and the associated vulnerability of the six shorefront communities and natural communities along the Great Marsh. The results of vulnerability assessments on community exposure to climate change and sensitivity to climate hazards are highly detailed for each town. Each assessment describes vulnerabilities to critical infrastructure, barriers to flow (which cause flooding), and areas of greatest concern - that includes the locations, buildings and transportation assets and routes that are at highest risk to flooding, sea level rise, storm surge and erosion. The assessments identify the demographics, socio-economics, habitats and species also at risk to these climate impacts. 
Chapter 4 - Adaptation Strategies for the Great Marsh coast includes regional strategies and town-specific strategies such as nature-based solutions, building retrofits, policy measures, and outreach and education initiatives.
Regional scale strategies aim to reduce shared vulnerabilities that span across jurisdictions. They focus on broad targets, including specific habitats (such as dunes, salt marsh, and freshwater riparian systems), types of infrastructure (buildings, roads, and shoreline stabilization structures), and conservation goals (enhanced stormwater management, land conservation, and species diversity).
The town-specific Strategies and Recommendations section highlights adaptation strategies for the each of the town-specific assets and areas of concern identified in the vulnerability assessments. Numerous municipal policy measures have been identified that incentivize resilient, climate adaptive development and/or prohibit development in hazard-prone locations. Below is an example of strategies identified for one asset in Salisbury, found within a complete set of recommendations for the town.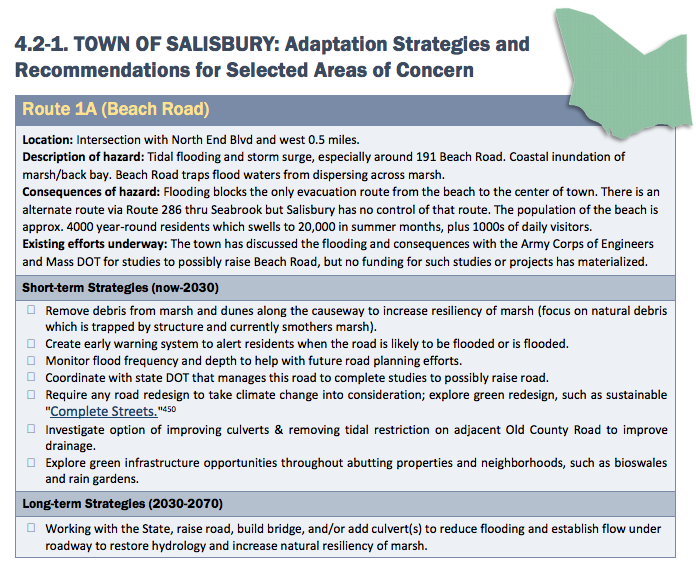 Publication Date: December 2017
Authors or Affiliated Users:
Related Organizations:
Sectors:
Resource Category:
Resource Types:
States Affected:
Impacts: