Heat and Social Inequity in the United States
This interactive website provides a series of maps depicting the vulnerability of each county in the U.S. to heat as a result of climate change. Drawing on global climate models and socioeconomic metrics, these maps allow for county-level analysis of heat risk and can be used to bolster community engagement and preparedness planning. 
The website includes five maps showing different layers of information. The first four show determinants and a brief synopsis on how each of these indicators affects a community's vulnerability to heat:



Compare heat vulnerability scores across counties to determine where interventions are most needed.
Heat and humidity – affect how hot it feels outside and the ability of thehuman body to cool down;
Social vulnerability – affects the exposure of different populations uniquely at risk to heat events, such as the elderly, socially isolated and low-income populations, and outdoor workers.
Medical access – affects a county's ability to handle surges in heat illnesses that can stress health resources; and
Physical environment – the quality of housing and tree coverage can reduce the health effects of extreme heat and urban heat islands. 
The fifth map is a composite measure of each of the four indicators to provide "Heat Vulnerability Score" for each county in the U.S. The map identifies those counties that are most vulnerable to heat-related risks as a result of future temperatures and humidity, the social vulnerability of county residents, medical access of county residences, and housing conditions and tree canopy in the county.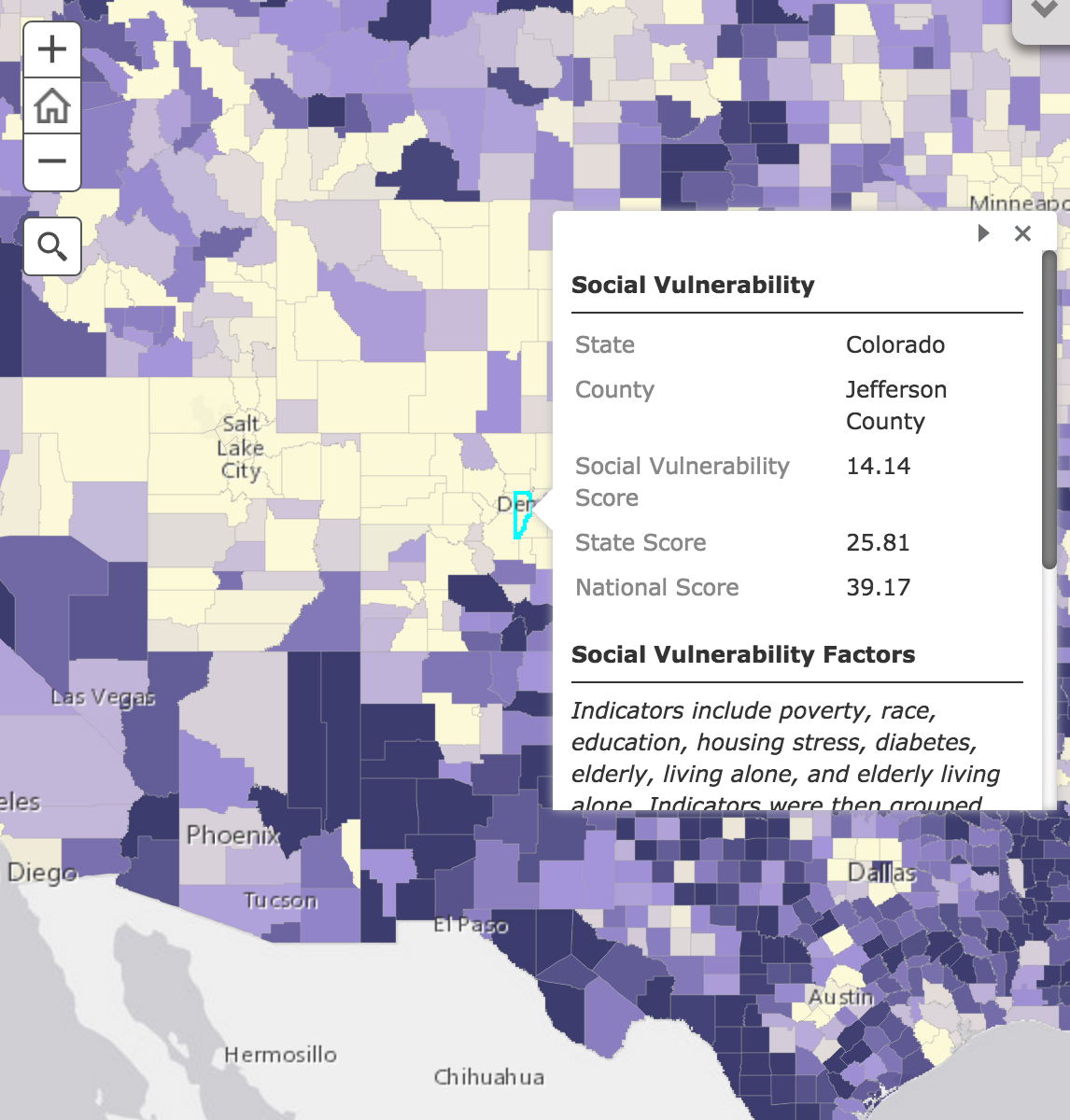 The composite map allows users to compare vulnerability across counties; it also can help resource providers determine where the demand for care will be highest. Within each map a user can click on individual counties to display county-specific data, and see a chart comparing the county score to the state and national average scores.
This application was developed by Four Twenty Seven, a climate change risk and adaptation consultancy.
Publication Date: August 2015
Related Organizations:
Sectors:
Resource Category:
Resource Types:
Impacts:
Air temperature
Socioeconomic