Louisiana Coastal Land Use Toolkit 2.1
Developed by the Center for Planning Excellence (CPEX), the Louisiana Coastal Land Use Toolkit contains development standards that are designed to support hazard mitigation and natural resource protection in the coastal areas of Louisiana. The Toolkit offers a customizable regulatory framework for land use and development, in particular for those communities facing coastal and stormwater flooding. The Toolkit includes model zoning and subdivision codes that can be used to build more resilient coastal communities that are adaptive to these climate impacts and others, by adopting sustainable development and Smart Growth principles. The model ordinances can be used individually and tailored for the needs of each parish or municipality, or may be combined to create a complete development code. 
The Louisiana Coastal Land Use Toolkit is a companion guide for coastal communities to use along with the Louisiana Land Use Toolkit. The coastal Toolkit offers additional ordinances for coastal areas and waterfront development, and addresses community and parcel-level flooding concerns through model stormwater regulations and nature-based solutions. 
Components or modules offered for the coastal Toolkit include the: 
Implementation Handbook

Zoning Code

Subdivision Code

Additional Ordinances
Each module is described in more detail below, with an emphasis on how the model codes can be used to balance population growth while sustaining natural areas and ecosystem services.  
I. The Implementation Handbook is the "user's manual" and comprehensive guide for CPEX's original Louisiana Land Use Toolkit, and the Coastal Land Use Toolkit. The Steps to Implementation described include the processes for first adopting a local comprehensive plan by a parish or municipal government, and all that is required for mapping, customizing, adopting and administering either Toolkit. CPEX asserts that the Handbook is the starting point and should be consulted before beginning any implementation process. Please refer to the Louisiana Land Use Toolkit synopsis in this Adaptation Clearinghouse, which offers a comprehensive summation of the Implementation Handbook.  
II. The Zoning Code module is a basic model zoning ordinance that provides regulations for building types and land uses within coastal communities. Key provisions encourage urban areas to grow inward or become more compact, while rural areas, natural areas, and ecosystem services are maintained or expanded. The model code can be adopted as a stand-alone zoning code, although CPEX explains that it is "most effective when adopted in combination with the Subdivision Code and the Additional Ordinances as a complete development code." 
The stated "Purpose" of the Zoning Code is to address coastal sustainable development and community resilience. Some of the primary zoning goals include to promote public health, enhance property values, reduce impervious surface areas and the heat island effect, provide open space, increase use of natural stormwater best management practices, and more. The Intent section addresses the implementation of these goals, and incorporates "Smart Growth" principles such as:
Making development decisions predictable, fair, and cost effective.

Preserving rural lands, open space, and critical environmental areas.

Creating mixed use neighborhoods with a range of housing opportunities.

Directing development towards existing communities and compact building design.
The Zoning Code is organized around a framework which offers model ordinances at four spatial classifications — from a regional scale to the individual parcel scale building site. The model code is designed to support decisionmakers in establishing standards for broader regional jurisdictions into more area specific ordinances, to ensure that appropriate land uses are occurring in each designated zone, and to align with local characteristics and priorities. 
The Zoning Code includes the following elements: 
Regional Growth Sectors

Context Areas

Zoning Districts

Building Types
Regional Growth Sectors

designate where growth is planned to occur, including: Preservation, Restricted Growth, Anticipated Growth, and Infill Sectors. Guidance in establishing and mapping these growth regions is offered in the Implementation Handbook. Once identified, the appropriate Context Areas within each growth sector can be established.

Context Areas

can be used to further move down the zoning scale by transitioning from the regional growth designations to the more local scale. According to CPEX, Context Areas

are a fundamental starting point for utilizing the Toolkit and adopting model codes. Context Areas are used to "ensure that the right zoning districts are applied in the right places." There are six general Context Areas including: Natural, Rural, Urban, Suburban, Center, and Special.  

Zoning Districts

further refine the Context Areas — and include Agricultural, Residential, Mixed Use, Commercial, and Special Purpose Districts within each context. Numerous types of Waterfront Districts are identified within zones to support resilient infrastructure on watercourses in coastal communities. For example, in the Rural Context District zoning code, the Rural Working Waterfront district is "

intended to accommodate water-oriented light manufacturing, warehousing, wholesale and limited agricultural processing uses. This district should only be applied in areas where the land use pattern is rural and where the lack of dry, buildable land requires smaller lots than in other rural zoning districts. [This] district allows buildings up to two stories in height

."

Building Types

are presented that are suitable for each Context Area and are representative of those currently found in Louisiana's coastal communities. Building Types can allow policymakers to move beyond just zoning or spatial classifications to also identify structures and structural designs that are compatible with their associated Context Areas and Zoning Districts.
The Coastal Land Use Toolkit Zoning Code organizes these Zoning Districts and Building Types within the appropriate Context Areas, i.e. Natural, Rural, Urban, Suburban, Center, and Special. As compatible with each of these Contexts, the model code includes suitable Zoning Districts; Building Types and Dimensions; Street, Alley and Block Patterns; and Parking and Mobility Options, along with representative illustrations for adoption by Toolkit users.  
Additional model zoning ordinances are provided for overlay districts, including Water Frontage. Taking flood risk into account, the purpose of this frontage is to allow access to the watercourse, and allow development to occur on adjacent high ground, if appropriate. There are two Water Frontage Zones, including: 
Zone A: Protective Buffer — "to provide a natural or landscaped buffer between the edge of the water and the buildable area of the lot...[and] water quality protection for the watercourse and reduces runoff from the site."
Zone B: Restricted Use Area — "to be occupied predominantly by open areas, accessory structures, or other low intensity uses such as landscaping, outdoor dinning or recreation areas"
III. The Subdivision Code module is "a basic subdivision ordinance that recognizes different places require different rules," and uses Context Areas to apply the appropriate standards. The Subdivision Code offers model General Provisions, definitions of Regional Growth Sectors, and development ordinances for each Context Area. Subdivision Standards are depicted for: 
Blocks and Cul-de-sacs

Street and Alley Standards

Streetscapes

Stormwater Management 

Utilities
Many Street, Alley, and Streetscape Standards are identified and fully illustrated to help policymakers translate discrete ideas into practice. The streetscape is the area immediately adjacent to the street that can accommodate pedestrians and convey stormwater runoff. The Toolkit encourages an "Enhanced Stormwater Approach" that includes a planting area designed to collect, convey, detain, and filter stormwater runoff, and offers a number of development options. For example, the Bioretention Swale Option is delineated as: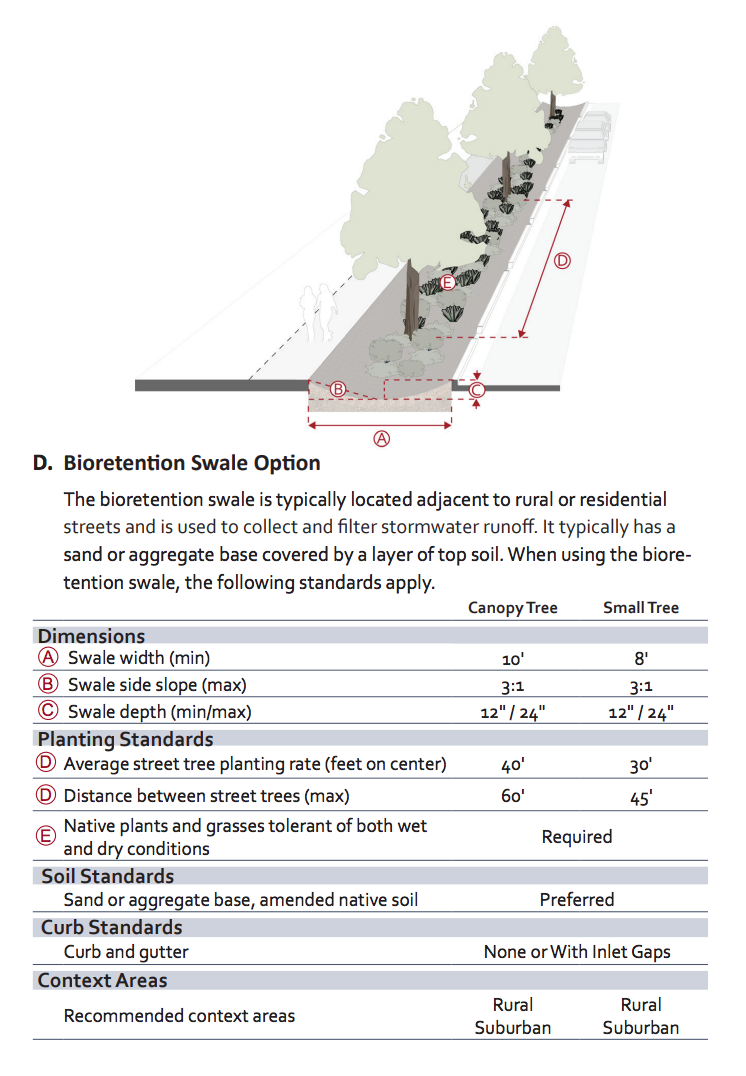 The Coastal Subdivision Code also includes best management practices, and model ordinances for Stormwater Management. Standards are established for the following practices:
Clearing and Grading

Erosion Control

Sediment Control

Waterway and Watercourse Protection

Drainage

Construction Site Access

Post-Construction Stormwater Management
Construction phase stormwater management best management practices control erosion and sediment runoff during site clearing, grading, and the building process.
The Subdivision Code also includes an Article on Administration, presenting detailed model ordinances with administrative Procedures for: Common Review, Site Development Permitting, Subdivision, Text Amendment, and Development Agreements procedures. 
IV. The Additional Ordinances of the coastal Subdivision Code can be used to supplement the Zoning Code, or can be used by a community interested in heightening or updating their zoning requirements. Additional Ordinances are provided for Overlay Districts and Site Development Standards, including Airport, Rural Corridor, and Historic Overlay Districts; and Parking, Landscaping, Tree Preservation, Outdoor Lighting, Signs, Outdoor Storage and Display Standards.   
Landscaping and Tree Preservation ordinances highlight how new trees can be planted, or existing trees can be protected, providing more tree canopy coverage to help communities to reduce the impacts of stormwater runoff and extreme heat associated with increased impervious surface and developed areas. Tree Preservation requirements address the preservation of protective bioshields, heritage tree preservation, and tree canopy coverage. "Bioshields are vegetated buffers that occur along watercourses and around wetlands that serve to slow storm surges and protect development from storm debris." Heritage trees are considered those that are of a certain age, diameter, a rare species, or "any tree or group of trees specifically designated by the [Governing Body] for protection because of its historical significance, special character or community benefit."
This module also includes Articles and Provisions for Flood Damage Reduction.  As required by the State of Louisiana statute La. Rev. Stat. 38:84, local governments are required to adopt their own regulations designed to minimize flood losses, and comply with the federal flood insurance act. To implement this state mandate and achieve the benefits of creating more resilient communities, CPEX supports coastal communities in adapting to flooding by offering model codes in the Toolkit that specifically address flooding. Additionally, the Toolkit has adopted FEMA's National Flood Insurance Program basic model ordinance and "made modifications to streamline and clarify the requirements while enhancing select standards to provide better protection for the community and position adopting communities to receive reduced flood insurance premiums through FEMA's Community Rating System."
The model ordinances included adhere to the following Methods of Reducing Flood Losses (as stated in the Toolkit):
"Restrict or prohibit uses that are dangerous to health, safety, or property in times of flood, or cause excessive increases in flood heights or velocities

Require that uses vulnerable to floods, including facilities which serve such uses, be protected against flood damage at the time of initial construction

Control the alteration of natural floodplains, stream channels, and natural protective barriers, which are involved in the accommodation of flood waters

Control filling, grading, dredging, and other development which may increase flood damage

Prevent or regulate the construction of flood barriers which will unnaturally divert flood waters or which may increase flood hazards to other lands"
CPEX is a statewide nonprofit planning organization in Louisiana whose mission is to bring people, culture, and planning together to make great communities happen.
Publication Date: August 2012
Related Organizations:
Center for Planning Excellence
Related Toolkits:
Sectors:
Resource Category:
Resource Types:
States Affected:
Impacts: