Louisiana Land Use Toolkit 3.0
The Louisiana Land Use Toolkit was created by the Center of Planning Excellence (CPEX), as a model development code to support economically, culturally, and environmentally sustainable development for communities of Louisiana. The Toolkit applies "Smart Growth" principles to future development planning, aiming to create resilient communities, revitalized neighborhoods, increased land value, affordable housing, and protected rural, natural, and open space areas. The Toolkit is a free, online resource designed for Louisiana parishes and municipalities to tailor to local needs by adopting a zoning code, a subdivision code, or an individual ordinance — or to be customized into a complete development code.
The Toolkit was drafted to serve as a flexible planning and zoning framework that can be adapted in diverse Louisiana jurisdictions to a variety of different environments or neighborhood characteristics. There are specific rules for six distinct "context areas" of: Natural, Rural, Suburban, Urban, Center, and Special. The model codes take into account the unique culture, traditional development patterns, and building types in Louisiana, as well as the requirements of Louisiana law. 
The Louisiana Land Use Toolkit includes the following modules: 
Implementation Handbook:

a user's manual that provides a step-by-step guide to getting started and implementing the Toolkit.

The remainder of this resource summation goes into more detail about the Implementation Handbook. 

Zoning Code:

includes zoning districts, building types, allowed uses, and basic parking and landscaping standards — for communities who want to update their zoning, or do not have zoning currently. 

Subdivision Code:

includes the basic block, street, and utility requirements needed for the subdivision of land — for communities that either do not have or are not ready for zoning, but are still in need of basic rules for development. As such, the Subdivision Code can be used independently or in addition to the Zoning Code. 

Additional Ordinances:

contains template codes for specific components such as signs, historic preservation, landscaping, and parking — for communities that already have zoning or want to upgrade their requirements. 
The Implementation Handbook is an instruction manual that allows for a community to convert the Toolkit into a customized zoning code, subdivision code, or development code. The Steps to Implementation are explicitly detailed, and include the processes for first adopting a comprehensive plan, and all that is required for mapping, customizing, adopting, and administering the Land Use Toolkit.  
I. Adopt a Comprehensive Plan: CPEX explains that in order to use the Toolkit to develop a zoning, subdivision, or a complete development code, a community must first do the following: 
Step 1: Develop a Shared Community Vision — It is recommended to engage the public as much as possible in the visioning process, while adhering to Smart Growth strategies for future development and land use. 
Step 2: Develop a Growth Management Strategy — Development, such as new roads or services, can generate growth in that area — which must be coordinated with land use and facility planning in the comprehensive plan. A Smart Growth Management Strategy avoids sprawl and focuses in existing developed areas where capacity for services already exists, reducing the costs for the community and enhancing livability, among other benefits. A healthy growth strategy avoids development in environmentally sensitive and flood-prone lands, like vulnerable floodplains and wetlands, and preserves the rural and natural lands around the community.
Step 3: Create a Future Land Use Map — This map projects how land uses might change over time. The zoning map and Toolkit must be consistent with the projections of this map. 
Step 4: Identify Barriers to Plan Implementation — This diagnostic will help to identify existing regulatory barriers to implementing the comprehensive plan and specific plan goals. 
II. Mapping the Land Use Toolkit: A successful mapping process should result in maps that effectively communicate the shared community vision established in the comprehensive plan. 
Step 1: Map Regional Growth Sectors — The regional growth sectors provide policy guidance for future growth at the regional level considering issues such as sensitive ecosystems, proposed utility and street systems, and locations of schools or green spaces, for example. The Toolkit proposes a community to identify four regional growth sectors (i.e. Preservation, Restricted Growth, Infill Growth, and Anticipated Growth Sectors):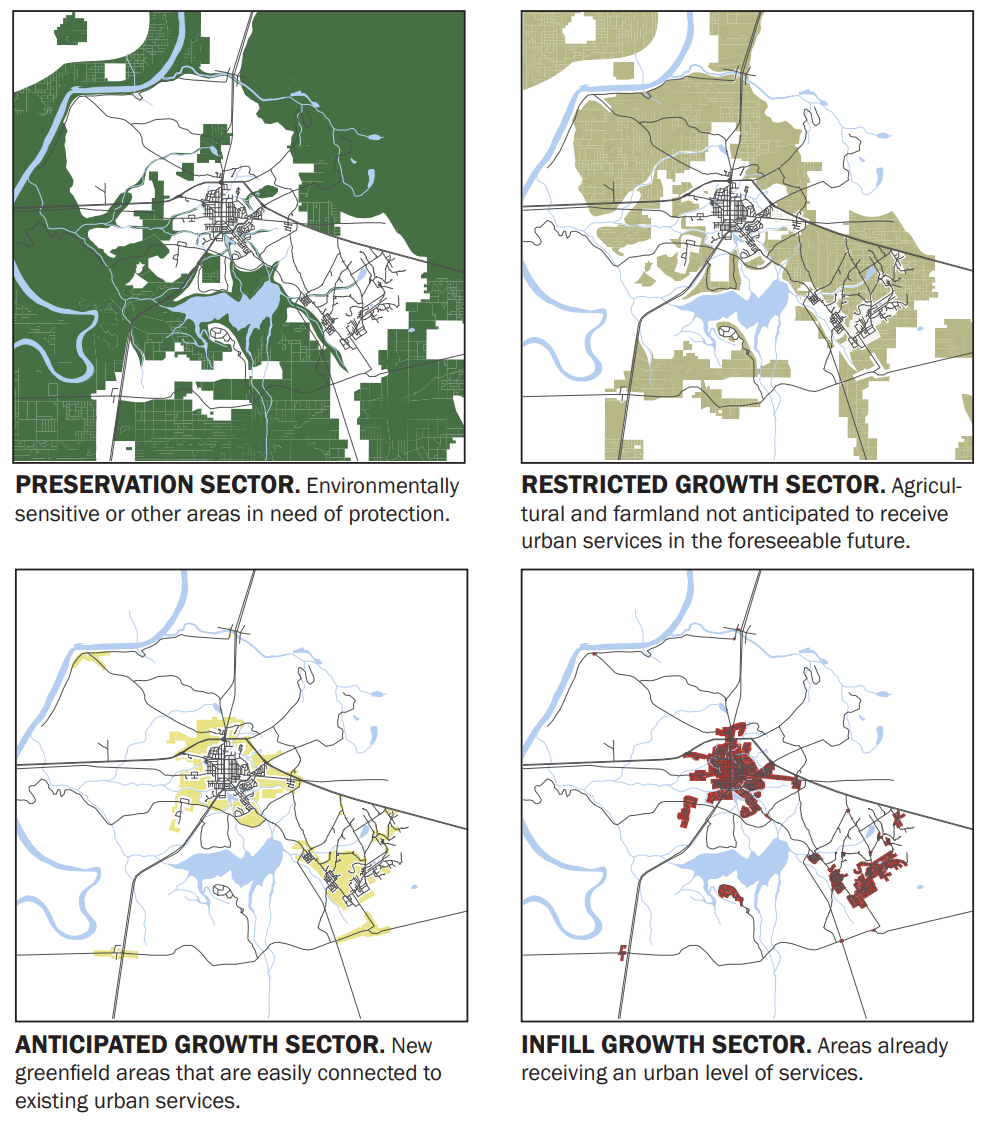 Step 2: Map Context Areas — The majority of the codes in the Toolkit are organized around six context areas with different standards — Natural, Rural, Suburban, Urban, Center, and Special.
For example, the Toolkit allows for two zoning districts in the Natural Context Area: Agriculture and Conservation. The Agricultural District preserves large lots, with 40 acres required per single-family house. "This district is intended to protect farming, ranching and timber lands and other agricultural uses while conserving undeveloped areas." Conservation Districts are used for any land designated for preservation or conservation, such as wildlife refuges or parks, and areas not fit for development due to environmental or hazard constraints, such as floodplains and wetlands.
Step 3: Map Zoning Districts — Land use requirements for development at the parcel level are distinguished by zoning districts.
III. Customizing the Land Use Toolkit
Step 1: Modify Buildings Types — A series of building types are included to help set lot dimensional standards per zoning district. 
Step 2: Modify Allowed Uses — Define allowed use categories (e.g., residential, commercial, industrial) by zoning district in order to fit a community's priorities or preferences for  land uses with different zoning districts
Step 3: Review Street and Block Standards — Dimensional standards for the construction of new streets and blocks are included in the Toolkit.
Step 4: Determine Applicable Site Development Standards — This step supports site-level development standards, such as for parking, lighting, and landscaping, that are characteristic of individual communities.
Step 5: Modify Approval Procedures — The Toolkit provides a model set of approval and administrative procedures for development permits.
Step 6: Update the Definitions — It is recommended to tailor a list of defined terms as related to the zoning updates and changes. 
IV. Adopting and Administering the Toolkit
Here the Handbook addresses how to gain public support through community meetings, public hearings, and an overall transparent process. Managing and administering the Toolkit can be supported through a set of model application forms CPEX prepared and made available for download on the Toolkit website.
CPEX is a statewide nonprofit planning organization in Louisiana whose mission is to bring people, culture, and planning together to make great communities happen.
Publication Date: April 2019
Related Organizations:
Center for Planning Excellence
Related Toolkits:
Sectors:
Land management and conservation
Rural
Resource Category:
Resource Types:
Planning guides
Tool (general)
States Affected: