Mecklenburg County, North Carolina: Charlotte-Mecklenburg Storm Water Services, Flood Risk Assessment and Reduction Community Guidebook
The Flood Risk Assessment and Reduction Community Guidebook was developed as part of an initiative led by Charlotte-Mecklenburg Storm Water Services (CMSWS) of North Carolina, with support from the U.S. Department of Homeland Security (DHS) Science and Technology Flood Apex Program, to help communities nationwide to adapt to flooding. Based on years of developing the CMSWS flood mitigation program and tools, the Community Guidebook details the process of acquiring data to assess flood hazards and risk, and to evaluate and prioritize strategies to mitigate that risk. Building upon this data-driven framework, the guide then offers a plan to implement, measure, and track the success of a program over time. While examples in this report are focused on flood hazards and mitigation strategies for Charlotte, North Carolina, the fundamental concepts are designed to be used by floodplain communities nationwide.
Climate change has increased the frequency, intensity, and unpredictable nature of storms and flooding. According to this report, flooding claims more lives and causes more economic damage than any other type of disaster annually in the United States. In most flood-prone regions, homes were once built and/or continue to be built in the floodplain. Adaptation and flood mitigation planning will help to reduce the likelihood and severity of impacts from floodwaters to communities by getting ahead of them, while also restoring the natural resilience of floodplains.
The guidebook supports flood hazard mitigation and resilience planning with comprehensive guidance and actionable strategies to support the following processes: 
Getting Data

Assessing Risk 

Evaluating Mitigation Options

Developing a Community Mitigation Strategy 

Funding and Implementing the Strategy 

Monitoring and Communicating the Strategy
Getting Data
Each community has a unique array of characteristics, such as geography, infrastructure, existing data and hazard planning, funding, and priorities. As such, CMSWS recognizes that there is no "one-size-fits-all" approach to assessing and reducing flood risk. However, there are common denominators in all of flood-prone communities that are leveraged throughout the guide.
Considerations around collecting the most relevant or valuable data are discussed in terms of assessing the level of availability, coverage, resolution, quality, maintenance, and purpose of that data. 
In the guidebook, CMSWS identifies four broad categories of data that are generally necessary to conduct a risk assessment, including foundational, hazard, vulnerability/risk, and supplemental data. Each is discussed in terms of use and value, along with examples and the means of accessing the most appropriate data sources.  
Foundational Data 
Foundational data includes datasets that are necessary to construct, enhance, or provide the essential context to evaluate or comprehend other flood-risk-related data — one of the most important being ground topography. This information "largely governs where excess rainfall or coastal surge waters naturally collect and flow by gravity, topography is an essential component in the development of flood hazard data." CMSWS also recommends the use of baseline community-level data, such as demographics or regulatory data layers. 
Hazard Data
Riverine and coastal flood information can be integrated with topography and base mapping to produce flood hazard datasets and predictive mapping tools. Commonly used maps are Federal Emergency Management Agency (FEMA) Flood Insurance Rate Maps (FIRMs), with associated GIS layers. Additional supplemental data sources such as historic flooding and damage records, local flood studies, and open-source tools can be used to help develop flood hazard information. FEMA's Hazus Program, for example, provides software distributed as a GIS application with open-source tools for flood risk assessments. 
Vulnerability/Risk Data
Flood vulnerability data can be integrated into mapping, and help guide decisionmaking efforts as a part of adaptation planning processes. Vulnerability and risk assessments should comprehensively include data on all of the different land uses and structures in a community. Traditionally, however, these types of assessments often have a more limited focus on buildings, such as homes and businesses, to the exclusion of other land uses and sectors like agriculture, natural resources, habitats, at-risk communities, public health, the local economy, and more. 
Assessing Risk 
After gathering available data, CMSWS suggests that local decisionmakers combine and utilize that data in ways to evaluate flood risk. Flood risk may be estimated by determining the frequency and magnitude of flooding along with quantifiable impacts to people, the built and/or natural environment, the economy, or other priority local assets. 
A flood risk assessment will define and predict flood hazards, identify vulnerabilities to priority assets, and ultimately assess the consequences each hazard poses to the identified vulnerabilities. The consequences of flood damage can be documented or measured in different ways. This damage can be quantified in terms of the financial cost. However, a strict financial cost approach can be limiting and fail to capture non-quantifiable or qualitative impacts. As such, CMSWS suggests using a points system to also capture a broader range of impacts or indirect losses. Ultimately, these two types of direct quantitative and indirect qualitative impacts assessments could be combined into one points-based system to help a jurisdiction more comprehensively evaluate overall risk from flooding. 
The guidebook provides a step-wise analysis and support for jurisdictions on performing a Risk Assessment. Specific items policymakers can consider in a flood risk assessment may include frequency, depth, and duration of flooding; access to properties and critical care or facilities; the type of impacted facility; and local socioeconomics and social vulnerability. CMSWS also provides more detail for developing methods for designing and implementing a relative risk scoring system as well. 
Overall, CMSWS believes that a comprehensive approach to flood mitigation would include both flood risk assessments and the development of a plan that includes community flood risk and reduction strategies, as discussed in the next three steps.
Evaluating Mitigation Options
In the guidebook, CMSWS offers a general overview of the various flood mitigation options a jurisdiction can consider to reduce or completely remove flood risk, as well as the advantages and disadvantages of these strategies.  
General flood mitigation strategies described in the guide and in the image below include to: 
Protect-in-place

Control the hazard

Remove the risk 

Increase awareness

Implement economic safety net

Prevent future risk 
Protect-in-place strategies may include structural elevations, abandoning and filling basements, and floodproofing structures. Stormwater detention facilities and stormwater system management can help to control the hazard. Property acquisitions, structural removals or demolitions, structural relocations, and resale are examples of removing the risk.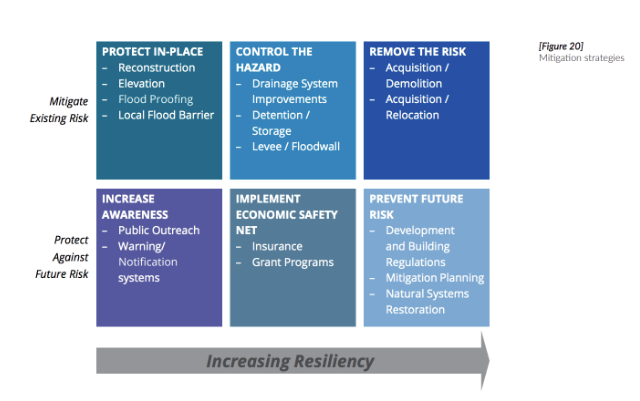 Developing a Community Mitigation Strategy 
Each community has a diverse portfolio of assets and priorities along with different  local contexts and capacities to develop specific flood mitigation strategies. Accordingly, individual data systems will have to be considered at both community-wide and parcel levels. In addition, broader considerations, such as funding, regulatory capabilities, political environment, community values, and socioeconomics will also shape the mitigation strategy. 
If and when a jurisdiction gets to the point of producing a community mitigation strategy, this is where CMSWS suggests merging the previous three steps. In other words, this will allow governments to align flood risk information with potential mitigation strategies in the form of a community-wide strategy. CMSWS emphasizes that the development of a robust mitigation strategy should involve many levels of review, assessment, and input from a variety of sources and stakeholders. In addition, governments should create an iterative the evaluation process that will be ongoing as strategies and methodologies will evolve over the course of implementation. 
Charlotte-Mecklenburg's Floodplain Buyout Program is an example of a community-wide approach to supporting voluntary retreat in a riverine floodplain. For more information on this comprehensive flood adaptation strategy, Georgetown Climate Center composed a case study on this program: Managing the Retreat from Rising Seas — Charlotte-Mecklenburg County, North Carolina: Floodplain Buyout Program. 
Funding and Implementing the Strategy 
The guidebook concludes by identifying potential funding sources and tips to implement a community flood-risk mitigation strategy. CMSWS encourages decisionmakers to start by evaluating funding needs and opportunities according to three main sets of questions: 
Timing — When is the best time to invest?

Strategy — How should money be invested? and

Source — Where will the funding will come from? 
In particular, CMSWS highlights one specific funding source: stormwater fees. Stormwater fees are CMSWS's primary funding mechanism. Specifically, the guidebook states: 
For several reasons, there has been a heightened interest in establishing stormwater fees to fund local stormwater programs, including: soaring stormwater management costs; increased competition for limited tax funds; regulatory consequences of underfunding stormwater services; increasing data availability that allows for a stormwater fee; technology for implementing and maintaining a fee is readily available and affordable; legal precedent for fees as the concept of a stormwater fee is more mainstream; and increased public willingness to support fee-based funding if it can be shown to be equitable. A popular driver to base the fee on is the impervious area which has the greatest impact on, or contribution to, poor water quality and flooding. Flood mitigation can become a significant expense to the stormwater program, but it can also produce substantial public benefit.
This guidebook is part of a larger initiative that includes enhancements to a data-driven framework and set of associated tools, referred to as Risk Assessment/Risk Reduction (RARR), that has been developed and implemented by Mecklenburg County, North Carolina. RARR is a data-driven framework and set of tools that dynamically assess, evaluate, and prioritize mitigation strategies at the individual building level.
Publication Date: April 6, 2021
Related Resources:
Sectors:
Resource Category:
Resource Types:
Adaptation plan
Planning guides
States Affected:
Impacts: