Model Protocols for Assessing the Impacts of Climate Change on the Built Environment under NEPA and State EIA Laws
The Sabin Center for Climate Change Law at Columbia Law School published these model protocols for government agencies assessing climate change impacts to determine categorical exclusions (CEs), and while preparing environmental assessments (EAs) and environmental impact statements (EISs). The protocols recommend a precautionary approach to assessing and disclosing impacts and suggest evaluating and disclosing climate change impacts when conducting environmental reviews, using multiple projection scenarios when assessing potential impacts of climate change, having appropriate scope and depth of analysis for the magnitude of risk of a project, and assessing climate impacts in the contexts of a future baseline, the purpose and need of a project, and the potential vulnerability of a project to climate change impacts. With these model protocols, the Sabin Center also released a paper summarizing the legal and empirical research used for developing these protocols.
The CE protocols recommend reviewing CE lists to consider modifying existing CEs due to climate-related considerations, as well as considering potential climate change impacts before approving a CE for a particular action. The EA protocols recommend using a checklist (provided on page 9) to evaluate the potential impacts of climate change on a project and evaluating whether climate change impacts will influence the significance level of risks, such as the risk of hazardous waste spills at a coastal facility.
The EIS protocols consist of the following four steps:
Identifying climate change impacts during the scoping process – including soliciting information from relevant stakeholders and taking note of a project's location and nature

Evaluating the impacts of climate change – including identifying sources of information and uncertainty, as well as adaptation measures for impacts with significant risk

Justifying the final decision – including describing how climate impact analysis influenced operational practices and mitigation measures

Communicating results to the public – including providing a summary for public review. The protocols provide the below table as a model for presenting determinations to the public.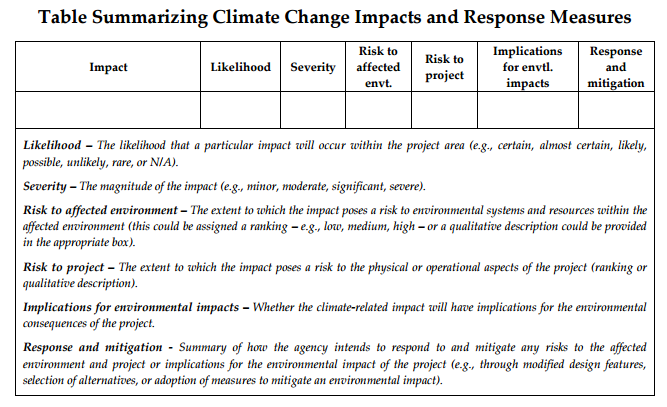 Publication Date: August 14, 2015
Related Organizations:
Sectors:
Resource Category:
Resource Types:
Assessment guide
Best practice