Natural Hazard Mitigation Saves: 2017 Interim Report
This National Institute of Building Sciences report highlights the benefits of implementing natural hazard mitigation strategies, concluding that a $1 investment in hazard mitigation saves $6 in future disaster costs (updating past estimates of a $4 savings). As part of the analysis, the report considers the benefits of mitigating future costs from sea-level rise and increasing flood risks.  In addition to the losses avoided, the report estimated that 600 lives could be saved and 1 million non-fatal injuries avoided with common sense investments in hazard mitigation.  
The study analysed the benefits of two different sets of mitigation strategies:
Federal grants for mitigation projects - The Institute looked at 23 years of data on mitigation projects funded by the Federal Emergency Management Agency (FEMA), the Economic Development Administration (EDA), and the U.S. Department of Housing and Urban Development (HUD).

The mitigation projects considered included:

flood-proofing structures (elevation or dry-flood proofing),
acquisition of flood-prone properties,
wind resistant construction,
earthquake resistant construction, and
fire resistant construction.
Beyond code requirements - The report also analyzed the benefits of building standards that exceed the 2015 model building codes and found that $1 in costs mitigation gained through enhanced codes would save $4 on future losses.  The International Code Council publishes and updates model building codes (residential, commercial, and wildland-urban interface) that are often incorporated by reference and used by many states and local governments to regulate the design and construction of buildings.  

Enhanced codes considered included:

higher flood resilience standards,
the FORTIFIED Home Hurricane standards, 
enhanced standards for wildland-urban interface construction, and
water, energy, transportation, and communications infrastructure and systems will be assessed in future phases of work.
In assessing the costs and benefits of different mitigation approaches, the study used a more robust benefit-cost analysis (BCA) process capturing values not typically captured in federal agency BCA processes.  The report provides detailed methodologies for assessing the vulnerability of structures and for estimating benefits across a range of factors.
Costs: included additional costs to construct to higher standards and different hazard mitigation approaches.
Benefits: included reductions in deaths and injuries, repair costs, sheltering costs, lost revenues and business interruption, lost economic activity, lost service of critical facilities (e.g., hospitals, fire stations), environmental impacts, historical and cultural impacts, lost tax revenues, insurance costs, and emergency responses costs. 
Discount rate: The study also used a 2.2% discount rate, which is lower than the 3% or 7% rate that is commonly used for most federal grants, and assumed a 75-year economic life for buildings. The lowered rate is justified to recognize the future benefits of mitigation based upon considerations of sea-level rise and climate impacts.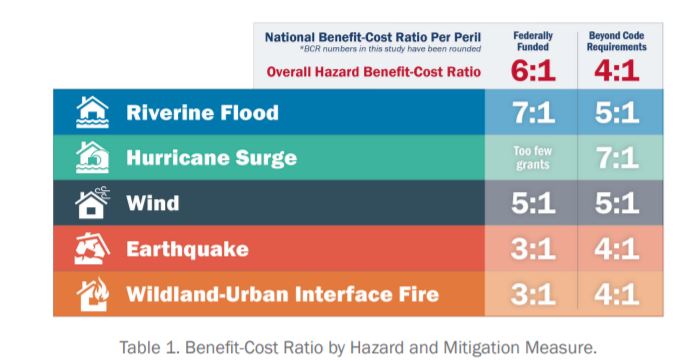 The National Institute of Building Sciences is a non-profit organization bringing together experts from government, labor, consumer interests, and professional disciplines (such as architecture and engineering) and the Multihazard Mitigation Council brings the expertise and perspectives of homeowners, commercial and industrial property owners, finance, insurance, and the public sector to questions of disaster resilience and mitigation.  Other report sponsors included FEMA, EDA, HUD, the International Code Council, Insurance Institute for Business and Home Safety, and the American Institute of Architects. 
Publication Date: December 2017
Related Organizations:
National Institute of Building Sciences
Sectors:
Resource Category:
Resource Types:
Policy analysis/recommendations
Impacts: