Nature-Based Goals and Actions in Local Mitigation Plans
The Environment law Institute (ELI) report "Nature-Based Goals and Actions in Local Mitigation Plans" examines the extent to which nature-based strategies (NBS) are included in the hazard mitigation plans (HMPs) written by county and regional authorities. About three-fifths of the HMPs reviewed by ELI include some type of nature-based mitigation, with the plurality of actions being in restoration and "conservation/preservation/management."

ELI reviewed 103 hazard mitigation plans in 11 states: Alabama, California, Florida, Iowa, Louisiana, Minnesota, Mississippi, Texas, Virginia, Washington, and Wisconsin. Of these 103 HMPs, 63 included some sort of NBSs. The vast majority of the plans they reviewed were county plans, but seven were regional (multi-county) plans. ELI only included actions in its survey that explicitly mentioned natural infrastructure or NBS.
About half of the measures fall into what ELI categorizes as restoration and conservation/ preservation/ management. The former category focuses on restoration of natural habitats such as wetlands, beaches, streambanks, and floodplains. The latter category focuses on preserving wetlands, streambanks, and ecosystems. Another third of the projects cover green infrastructure, such as bioswales, rain gardens, and green roofs; establishing funding or programs to support NBS; and land use measures, which includes acquiring properties and converting the land to open space. The Appendix lists all the individual nature based actions categorized by ELI.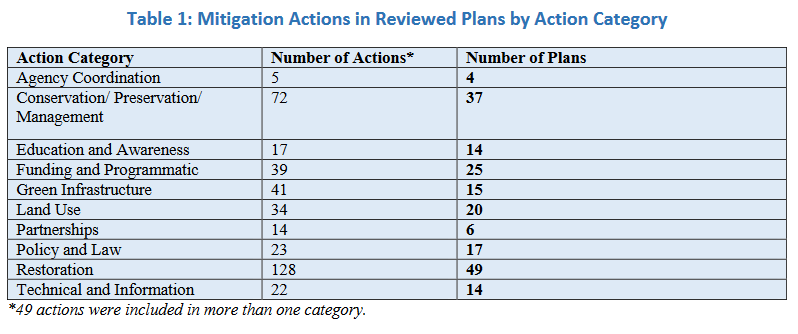 The ELI report concludes:
More specific steps can be taken by local governments to target and set priorities for nature-based mitigation measures.

More demonstration projects, which could receive FEMA funding, should be undertaken to identify multiple benefits of these projects.

Local plans should include more detail or local specific actions.

Local governments should work with partners on such matters as developing plans, gathering data, helping maintain projects, and educating the public.
ELI also recommends that local governments:
include natural resource protection and restoration experts on their planning teams;

integrate broad and specific actions into plans; and

include monitoring and assessment.
The report was prepared by Environmental Law Institute staff, with funding provided by the U.S. Environmental Protection Agency through a Wetland Program Development Grant. An advisory committee comprised of 14 representatives from state emergency management agencies, federal agencies, conservation organizations, and hazard mitigation associations provided comments on the methodology, results, and final report.
Publication Date: May 2021
Authors or Affiliated Users:
Rebecca Kihslinger
Avi Li
Heather Luedke
Related Organizations:
Sectors:
Land management and conservation
Resource Category:
Resource Types:
Assessment
Policy analysis/recommendations
Impacts: