NIST Community Resilience Planning Guide for Buildings and Infrastructure Systems
The National Institute for Standards and Technology (NIST) Community Resilience Planning Guide details a six-step process for community leaders to develop and implement a resilience plan, primarily focusing on planning for recovery of community functions after extreme weather events. The guide provides a methodology for communities to develop long-term plans by engaging stakeholders, establishing performance goals for buildings and infrastructure systems, and developing an implementation strategy. Using the guide, communities will be able to integrate resilience plans into their economic development, zoning, mitigation, and other local planning activities that impact buildings, public utilities and other infrastructure systems.
The report presents a proactive process to develop community resilience, and to ensure critical functions of the community are supported during and after a disruptive event occurs. It is designed to help prioritize improvements to buildings and infrastructure systems based on the role of these structures in supporting social institutions' functions during recovery. It also addresses infrastructure dependencies and the cascading effects of system failures.
The guide details the following six-step planning process that a community can use, and tailor to its particular circumstances: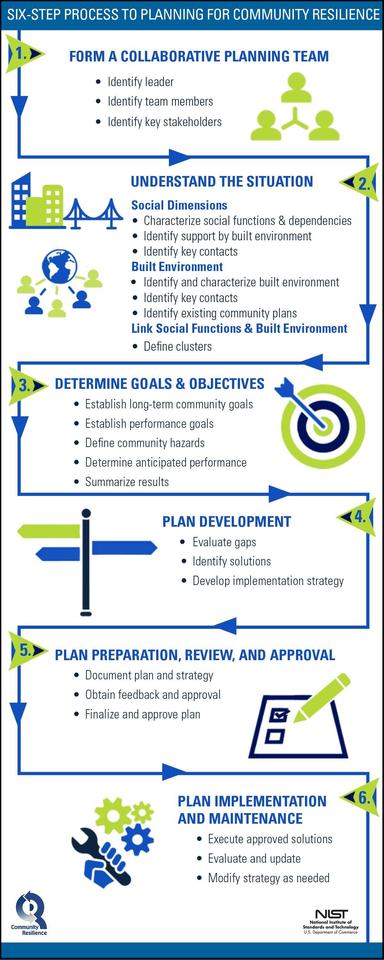 Form a collaborative planning team with strong, inclusive leadership to engage public and private stakeholders, and community members.

Understand the situation by characterizing the existing social functions, buildings and infrastructure systems of the community, and how they are linked.

Determine goals and objectives based on long-term community goals and desired social functions, recognizing that community resilience is built over time and that social needs should drive performance goals for buildings and physical infrastructure systems.

Plan development includes evaluating gaps between the desired, future performance and the anticipated current performance of buildings and infrastructure systems following a disruptive event, and identifying and prioritizing solutions to address the gaps.

Plan preparation, review, and approval depends on broad dissemination and transparent engagement with all stakeholders, community leaders and members.

Plan implementation and maintenance requires regular, transparent reviews and updates to the implementation strategy and solutions.
A fictional community, "Riverbend," illustrates the six-step process and how disaster resilience can be integrated into community planning through a comprehensive review of each step, provided at the end of the Guide.
The NIST Community Resilience Economic Decision Guide provides a standard economic methodology for evaluating investment decisions aimed to improve the ability of communities to adapt to, withstand, and quickly recover from disruptive events. This Guide is designed for use in conjunction with the Planning Guide for Buildings and Infrastructure Systems.
If you have trouble accessing this resource, you can access a 2017 web archived version at the link here: http://web.archive.org/web/20170207020933/https://www.nist.gov/el/resilience/community-resilience-planning-guide. 
Publication Date: October 29, 2015
Related Organizations:
National Institute for Standards and Technology (NIST)
Related Resources:
Sectors:
Resource Category:
Resource Types: