NOAA Coastal County Snapshots
From NOAA's Office for Coastal Management, this website provides the capability to view flood exposure by county for U.S ocean and Great Lakes coasts. Snapshots detail a county's demographic, infrastructure and environment within the flood zone. The Coastal County Snapshots provide "snapshots" or short reports on the topics of a county's: Flood Exposure, Ocean Jobs or Wetland Benefits. The snapshots offer county-level facts, and easy-to-understand charts and graphs that describe complex coastal data.
Flood Exposure Snapshot gives a brief overview of the county's demographics, infrastructure, and environment within the flood zone (defined primarily by FEMA's 1% annual chance flood zones mapping). 
Wetlands Benefits Snapshot provides a quick overview of how wetlands support the coastal community through economic productivity, reducing flood impacts, and improving water quality. 
Ocean Jobs Snapshot shows the economic value of jobs in the chosen county that are dependent on oceans or the Great Lakes.  "Ocean and Great Lakes jobs" are defined as employment in six economic sectors that use ocean and Great Lakes inputs, either directly (like seafood markets) or indirectly (like hotels on the beach).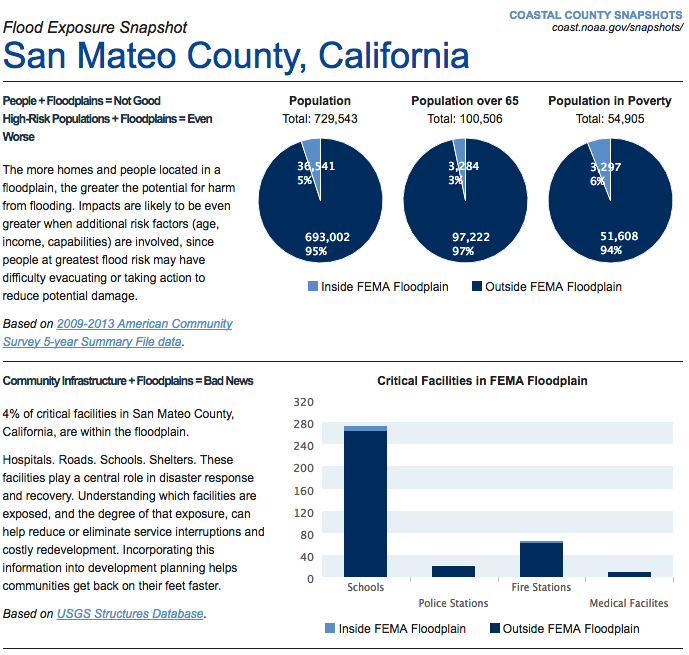 The following data have been updated as of February 2016:
Added close to 400 counties in the Flood Exposure Snapshot
Updated floodplain data, demographic data, critical facilities data, and land cover change data in the Flood Exposure Snapshot
Updated floodplain data and land cover data for the Wetland Benefits Snapshot
Related Organizations:
Sectors:
Resource Category:
Resource Types:
Impacts: