PREPdata - Partnership for Resilience and Preparedness climate datasets
PREPdata (at www.prepdata.org) is an open-source, map-based platform designed to support climate adaptation decision-makers in visualizing a region's vulnerability or resiliency to climate change through localized climate, physical, and socioeconomic datasets. The Partnership for Resilience and Preparedness (PREP), co-led by World Resources Institute and Future Earth, developed the tool.   
Customizable dashboards can be built for a region that build upon multiple datasets and mapped elements for an area. Some have been developed already and are available on the site, such as this partial image of Sonoma County's Climate Resilience Dashboard: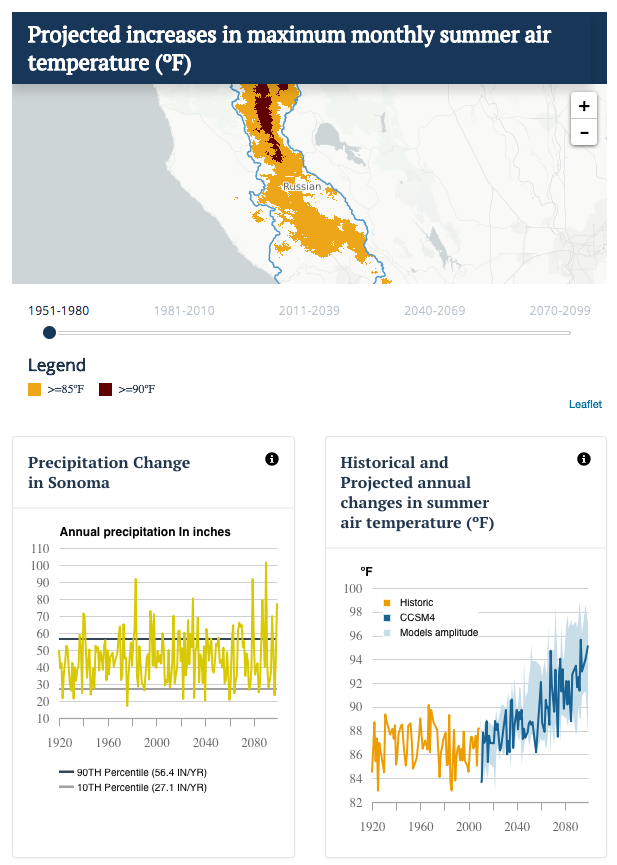 Some of the core datasets include:
Climate data for temperature, precipitation, extreme events and coastal risk. 
Exposure data (what could be affected) for people (population/"terrestrial human footprint"), agriculture (cropland extent, frost free season), infrastructure (reservoirs and dams, ports, nuclear power plants, roads).
Vulnerability data for Socioeconomics (based on GDP), and Indices of Vulnerability (mapped overlay from the Climate Change Index from ND-GAIN).
Other datasets are available including mapped locations for airports, dams, coral reef, wetlands, etc.; and visual data for urban heat island effect, city water intake locations, tree cover, surface water extent, landslide potential - and more.   
Publication Date: 2018
Related Organizations:
Partnership for Resilience and Environmental Preparedness (PREP)
Resource Category:
Resource Types:
Impacts:
Air temperature
Precipitation changes
Socioeconomic