Ready to Respond: Strategies for Multi-Family Building Resilience
Ready to Respond: Strategies for Multifamily Building Resilience is a compilation of strategies for retrofitting affordable housing buildings in order to make these properties more resilient against climate hazards and extreme weather events. Enterprise Community Partners, Inc. (Enterprise) developed the U.S. Department of Housing and Urban Development (HUD) funded resilience manual to provide guidance to affordable multifamily building owners on retrofit strategies that will help protect and adapt their properties to a variety of climate hazards typical to the Northeastern United States.
The manual is primarily a collection of 19 practical resilience strategies presented in the categories of: Protection, Adaptation, Backup, and Community. Protection strategies are designed to reduce a building's vulnerability to extreme weather, such as flood proofing and backwater valves. Backup strategies provide critical needs for when a facility loses power or other services. Community strategies as presented in the report are strategies that encourage behavior which enhances resilience.
| | |
| --- | --- |
| | This report is motivated by the understanding that multifamily housing is often occupied by low-income residents who are particularly vulnerable to disasters. The paper notes that short-term displacement can result in long-term homelessness and disruptions to local economies. Additionally, loss of rental income due to evacuation or property damage can make it more difficult for property owners to provide affordable housing.  |
Adaptation Strategies are described as those that improve a facility's ability to adapt to changing climate conditions and cover the topics of:
Envelope Efficiency
Elevated Equipment
Elevated Living Space
Surface Stormwater Management
Window Shading
Distributed Heating and Cooling
With each of these strategies, there is an introductory graphic to help the reader easily visualize what is being covered; a 'Description & Function' section that explains the strategy and how it works; a section called 'Strategy Into Action' that gives specific detail on how to implement the strategy; implications on 'Operation & Maintenance'; and relative information on cost (low to high). Case studies are given for each strategy that illustrate real life examples of effective implementation, along with details on background, strategy specifics and cost. 
In addition, the manual offers guidance on determining a property's vulnerability to various hazards, finding which strategies are relevant to a particular building, and getting started with a resilience plan. Useful related resources are given for each strategy as well as in the Appendix. 
Enterprise houses a suite of "Ready to Respond Tools for Resilience" on their website including these retrofit strategies, an anonymous survey to evaluate your organization's preparedness efforts; the "Ready to Respond: Disaster Staffing Toolkit" to help develop comprehensive disaster plans to protect buildings, residents and business operations; and over 100 training videos on disaster preparedness, building infrastructure, resident engagement and more.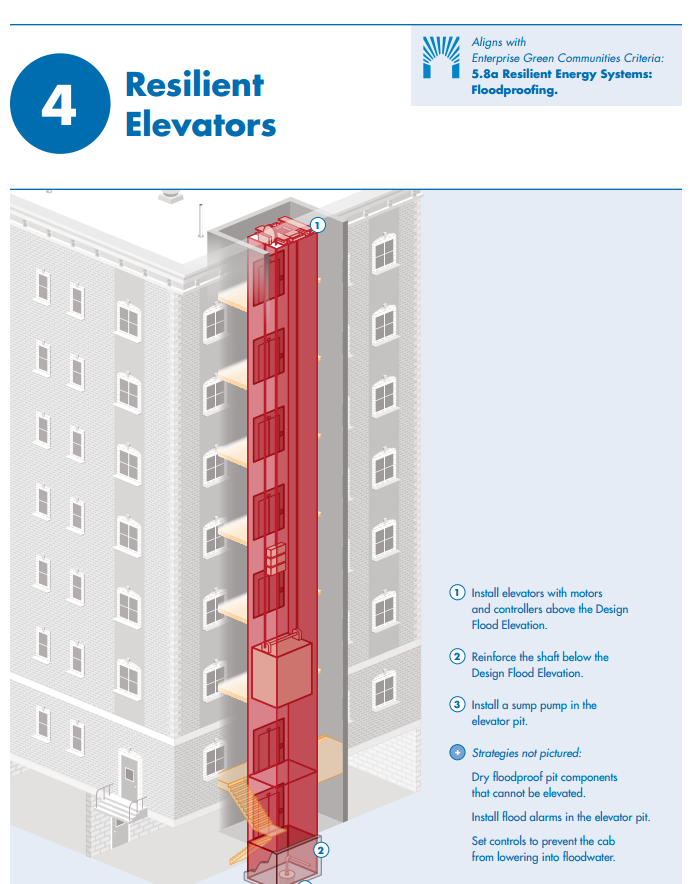 Publication Date: December 1, 2015
Related Organizations:
Sectors:
Resource Category:
Resource Types:
Impacts: