Rhode Island: STORMTOOLS for mapping coastal flooding
STORMTOOLS is a set of comprehensive mapping tools providing a series of maps and data sets that depict the sea level rise and storm surge in Rhode Island. The site now features a set of data layers for municipalities. STORMTOOLS is intended as a way to make the data outputs of a complex set of modeling processes freely available, and is designed to help homeowners and municipalities in Rhode Island better understand their risks from coastal storms and flooding, and to plan for sea level rise.
STORMTOOLS is accessed online through ArcGIS.com and can be used by anyone - there is no need to download any software, and does not require extensive training. The maps are high resolution, and the user can type in an address or zoom to an area of interest and toggle on and off the different storm and sea level rise scenarios in order to better understand their risk.
The site provides a method to map storm inundation, with and without sea level rise, covering all of Rhode Island's coastal waters. Predictions are provided that show water extent and depth at any given point for nuisance floods (1, 3, 5, and 10 year recurrence intervals) and the 25, 50, 100, and 500 year storm scenarios at the 95% confidence interval. Sea level rise of 1, 2, 3, 5, and 7 feet on their own as well as combined with each storm scenario are also modeled.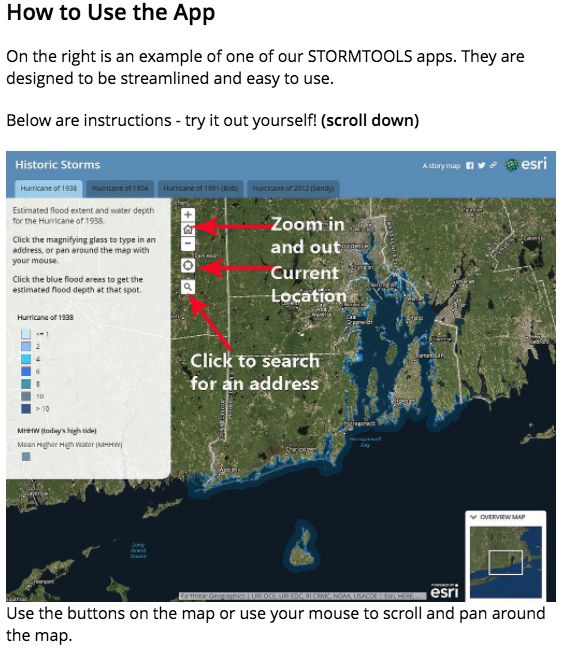 STORMTOOLS for Beginners is a interactive map of Rhode Island's coast that portrays the localized risk of coastal inundation.  This map allows the user to enter an address in Rhode Island, and determine 3 aspects of projected climate impacts on a specific property:
Vulnerability to storm surge

Depth of the water on a property during a 100-year (1% chance) coastal storm

Projected sea level rise
STORMTOOLS: Coastal Environmental Risk Index (CERI) uses state of the art modeling tools (ADCIRC and STWAVE) to predict storm surge and wave, combined with shoreline change/erosion maps, and damage functions to construct a CERI. CERI has been designed as an online GIS based tool, and is fully compatible with current flooding maps, including those from FEMA. The basic framework and associated GIS methods can be readily applied to any coastal area. The approach can be used by local and state planners to objectively evaluate different policy options for effectiveness and cost/benefit.
STORMTOOLS is developed and provided by the Rhode Island Coastal Resources Management Council, University of Rhode Island Environmental Data Center, University of Rhode Island Department of Ocean Engineering and Graduate School of Oceanography, Rhode Island Sea Grant and the Coastal Resources Center.
Publication Date: 2016
Related Organizations:
University of Rhode Island
Sectors:
Resource Category:
Resource Types:
Mapping tool
Modeling tool
Tool (general)
States Affected:
Impacts: