San Francisco Bay Shoreline Adaptation Atlas
From the San Francisco Estuary Institute (SFEI) and the San Francisco Planning and Urban Research Association (SPUR), the San Francisco Bay Shoreline Adaptation Atlas offers nature-based coastal climate resilience strategies for the San Francisco Bay Area region of California. The Atlas presents a new view of the Bay area in a map divided into areas with common physical characteristics for which specific adaptation strategies can be developed to prepare for sea level rise. The report is intended to inform the regulatory community, regional governments, landscape designers, planners, developers, engineers, and other members of local communities in coordinating and planning for regional resilience - including flood control, transportation, parks, land use, and ecosystem restoration.
Diverse regions along the Bay shore are vulnerable to sea level rise in different ways. Therefore, coordinating adaptation strategies from a place-based, landscape-scale approach using the Operational Landscape Unit (OLU) framework presented in the report is recommended. The Atlas divides the Bay shoreline into 30 distinct OLUs which are science-based, geographic planning units within which the types and conditions of natural processes such as the flow of sediment and water are commonly shared. With their boundaries defined by geomorphic characteristics, the OLUs therefore cross cities and counties to instead follow "nature's jurisdictions."
Many maps are provided of the various types of spatial data (eg. elevation, watershed orientation, habitat type, infrastructure, and housing density, among others) used to help differentiate one OLU from another, and to identify which adaptation measures may be best tailored to a given area.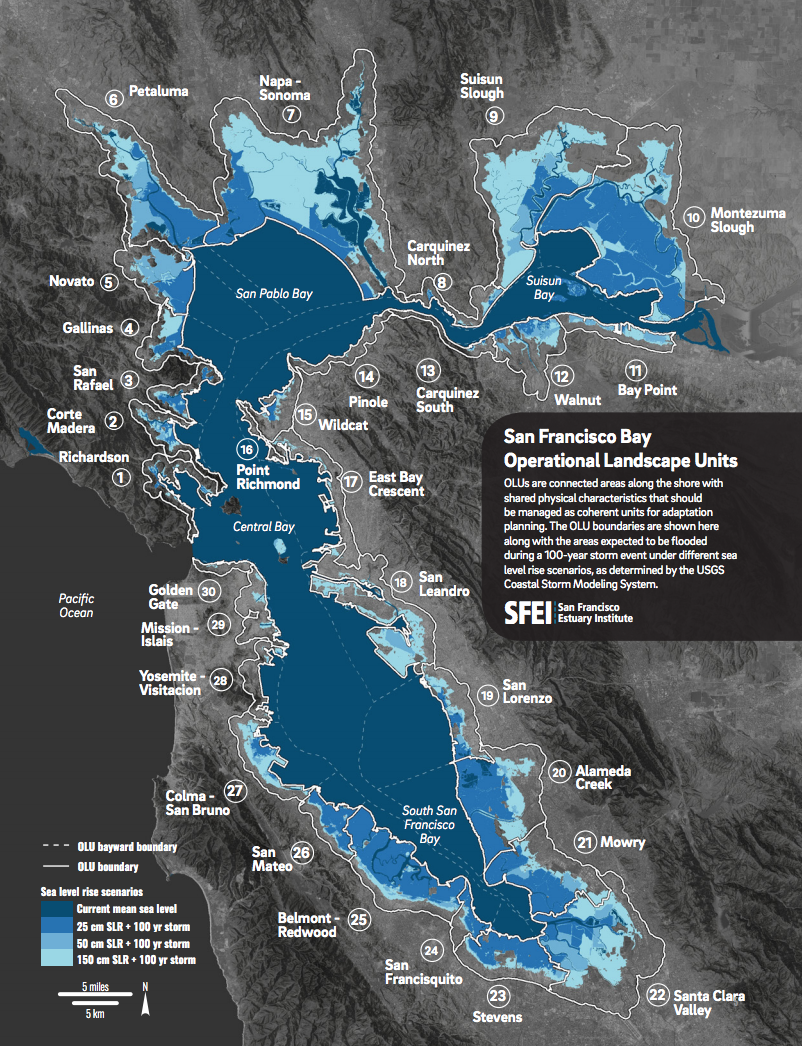 The OLUs represent areas that could be managed as coherent units for adaptation planning. Chapter 4 identifies 27 adaptation measures that can be variously combined according to the specific needs of each OLU, organized into four categories:
Nature-based measures

(eg. near-shore reefs, tidal marshes, beaches, green stormwater infrastructure)

Conventional physical (grey) infrastructure

(eg. flood walls, levees, bulkheads)

Policy and regulatory measures

(eg. zoning, building codes, setbacks and buffers)

Financial measures

(eg. tax incentives and conservation easements)
The report shines a spotlight on natural and nature-based adaptation strategies which work with natural processes and landforms to support resilience while also offering multiple benefits including and beyond sea level rise protection (eg. habitat enhancement, water filtration, carbon sequestration, and recreation, among others). Maps indicating suitable locations across the region for nature-based adaptation measures are provided, as well as detailed maps for each OLU demonstrate where different adaptation measures can be effectively combined. Alongside each map is also a discussion of the suitability of the various adaptation measures selected for each OLU as well as discussion of policy, regulatory, and financial adaptation approaches and opportunities for each OLU.
Chapter 6 describes how to use the OLU framework and the information provided in the report in an adaptation planning process. Communities are encouraged to work together and across jurisdictional boundaries on long-term resilience strategies. Intentional engagement of community-based stakeholders and upholding principles of equity and environmental justice throughout an OLU planning process is recommended also.
Publication Date: April 2019
Related Organizations:
San Francisco Estuary Institute (SFEI)
Sectors:
Resource Category:
Resource Types:
Best practice
Mapping tool
Tool (general)
States Affected:
Impacts: