The Kresge Foundation Climate Resilience and Urban Opportunity Initiative: Evaluation Report
The Kresge Foundation established the Climate Resilience and Urban Opportunity (CRUO) initiative in 2014 to advance climate resilience by building capacity within low-income urban communities. Kresge believes that climate resilience requires a comprehensive approach which incorporates climate change mitigation, adaptation, and social cohesion. CROU offered $29 million over 5 years to 15 community-based nonprofit organizations (CBOs) across the U.S. to advance equitable climate resilience. This report reviews the impact of the initiative, outcomes and lessons learned from across the funded projects. It primarily summarizes the key insights and lessons from the development and outcome evaluations of the CRUO initiative. The report describes the Evaluation Methodology, and the impact of the CRUO initiative design on local communities and on the climate resilience field. 
Kresge states that CRUO "was designed to demonstrate that large-scale, transformative change can and should be led by low-income urban communities," and was successful at doing so. The initiative was carried out in two phases which first funded the CBOs in a nine-month planning phase, that was followed by a three year implementation phase. Along with the 15 CRUO CBOs and their partners, Kresge also invested in additional non-profit organizations focused on climate resilience and/or equity issues working at the national level - to support the CBOs throughout the initiative.
The program also integrated evaluation and learning processes throughout, which allowed Kresge and grantees to adapt and evolve projects over the years. The evaluation process included a developmental phase evaluation, and an outcome evaluation focusing on assessing the impact of the overall strategy, and implications of the projects across the 15 CRUO communities.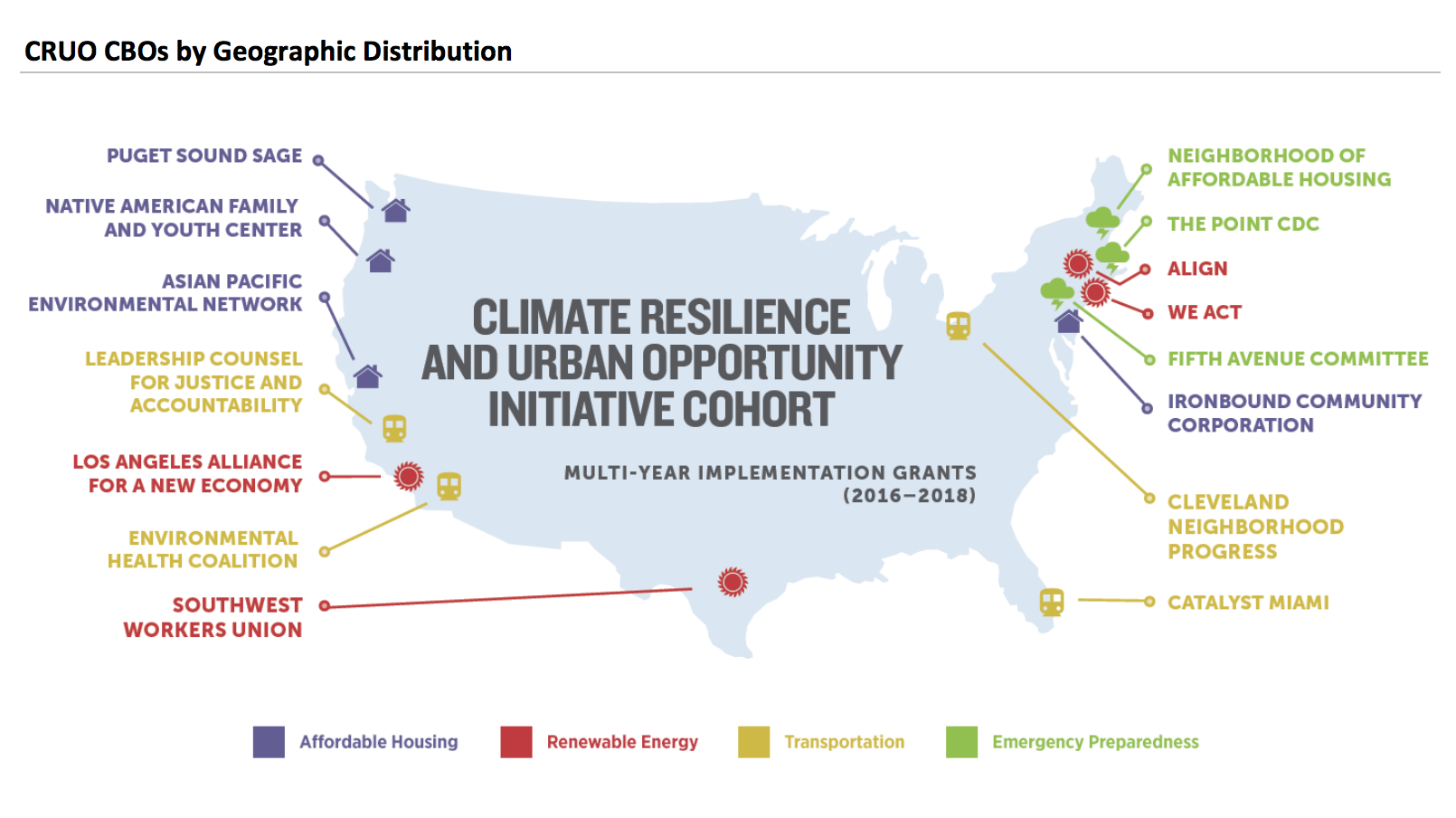 The CRUO evaluation team offers several insights and lessons in the report as related to:
the value and impact of funding CBOs,
the value of staff and advisory competency to bridge fields,
managing (and embracing) risk, and
ensuring sustainability of impacts.
The CRUO initiative focused its investments on CBOs primarily led by people of color who already had experience working on racial equity issues in low-income urban areas.These CBOs were supported in incorporating or advancing climate resilience issues in their work.

Kresge also supported national, field-building organizations to work with CBOs to "advance learning that could inform the field and ensure alignment of an equitable climate-resilience agenda." By matching place-based CBOs and national organizations, Kresge supported the emergence of a new set of strategies for their respective goals.
Some highlights of the many Key Insights and Learnings as described and further detailed in the report include findings that:
CRUO's intentional design, which used a two-phased funding strategy (i.e., planning and implementation phases) supported by developmental evaluation, strategic thought partnership, and flexibility for configuring local partnerships, contributed to strong relationships and an environment among grantees that emphasized learning, creative problem solving, adaptation, and meaning-making.

Ensuring sustained impact (such as equitable climate resilience) requires looking beyond policy wins to support on-going policy implementation phases.

F

ield building in emergent areas can benefit from linked investments in both community-based efforts and in more national issue-focused activities.

Peer exchange and learning was universally valued by the CRUO cohort. They were viewed as important mechanisms for building organizational capacity and creating a field and ecosystem capable of advancing a more aligned climate resilience agenda with a focus on equity.

CRUO CBOs were influential in advancing equity-centered climate resilience policies and plans that will directly benefit communities and help better prepare communities for future climate-related disasters.

 

See Table 5 for some of the CRUO's "Major Policy Wins"

 

- a portion of as seen here: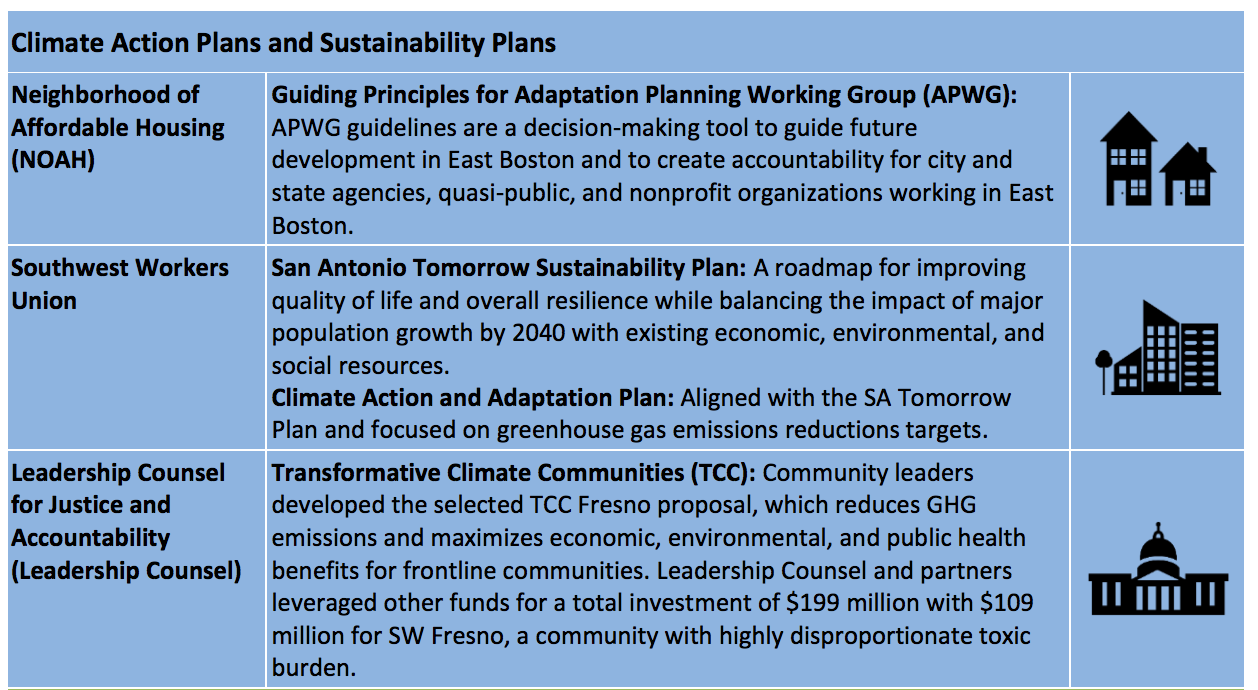 Kresge notes that: Throughout the years we worked together, we were impressed and humbled by the clarity, commitment, and passion that drove the advocates' work. Their vision is for bold, transformative change that will bring about a just and climate-resilient future for all communities. It is a vision we should unite behind.
Publication Date: December 10, 2019
Related Organizations:
Sectors:
Resource Category:
Resource Types:
Best practice
Case study
Progress report